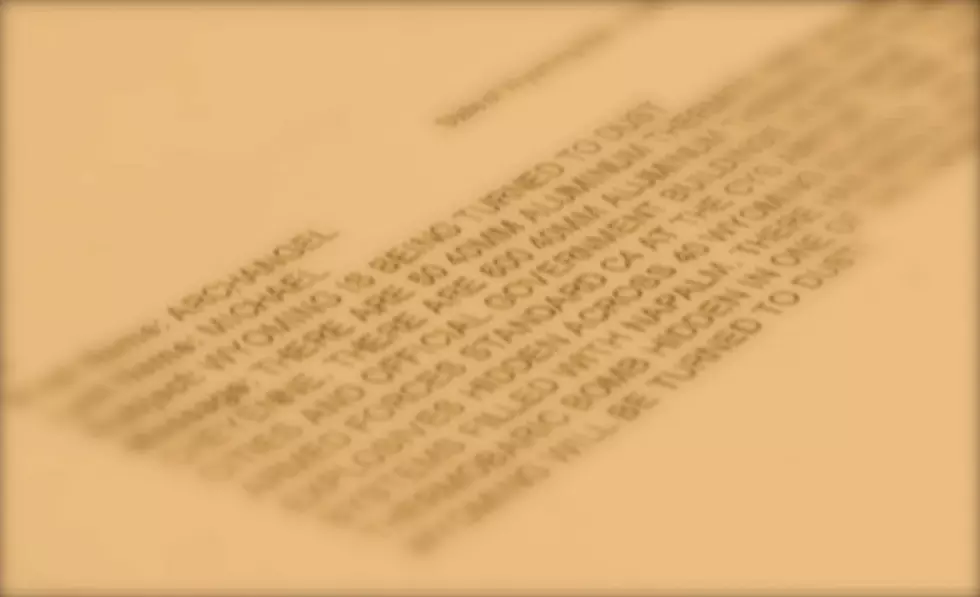 Statewide Bomb Threat Provokes Confusion, Caution, Closings
Tom Morton, Townsquare Media
The only apparent threat to Wyoming on Thursday was a great cloud of unknowing emitted from the Office of Homeland Security, which sent a memo of possible bombings statewide that went everywhere and nowhere, and elicited responses of everything and nothing.
"The State of Wyoming has received an anonymous email with threats made against state facilities and schools across the state and the Cheyenne Regional Airport.... The state is investigating this email traffic with our partners within the federal and state law enforcement community. Please take necessary precautions per your local protocols."
The Office received the threat about 9:30 a.m. from the state's enterprise technology system, the agency that handles electronic communications, said its deputy director Larry Majerus.
"We consider these threats viable until proven otherwise, so our effort was to get information out to all of our local and state law enforcement folks, schools, any of the facilities that might be concerned or listed in the threat," Majerus said.
"At the local level, we have a lot of experience and capability in the law enforcement arena that will quickly look at these kinds of threats and let them review them according to their own criteria," Majerus said. "That's what we hope happens."
The bombing threat from "Archangel Michael" was written in all capital letters and ended with, "TODAY WYOMING WILL BE TURNED TO DUST!"
The aftermath of the memo's limited release wasn't dusty so much as it was fuzzy, judging by how authorities interpreted the admonition to "Please take necessary precautions per your local protocols."
In Natrona County about noon, K2 Radio learned of the alleged threat from an employee, who received an email from Casper College spokesman Chris Lorenzen, who received an email from another employee about it referencing a notification of college personnel only.
The college did not send the kind of widespread public alert through social and other media like it does for immediate and credible threats. Instead, the college low-balled a news release: "At this time, we are taking the necessary precautions in response to the announcement. We will remain in contact with law enforcement until the matter is resolved."
Casper College did not close.
Likewise, the Natrona County School District acted cautiously.
District spokesman Kelly Eastes said about 1 p.m. that the district was working with the Natrona County Emergency Management Office and district officials to determine the threat. Once authorities made recommendations, the district intended to notify parents, he said.
The district called it off at the last minute with this news release about 2:30 p.m.: "The threat has been determined to be a hoax by Wyoming Department of Homeland Security and by local law enforcement. There is no danger to students and Natrona County schools continue their normal school activities."
The Natrona County Sheriff's Office heard about the threat from the OHS between 11 a.m. and noon, Sgt. Aaron Shatto said. During a statewide conference call with other agencies about 1 p.m., the Sheriff's Office determined it was not credible, Shatto said.
Inconsistent responses, depending on local authorities' decisions, were reported elsewhere in Wyoming, according to local newspapers and social media sites:
A K2 Radio reporter received a call from a man in Rock Springs, who said his wife worked at Western Wyoming Community College, which was locked down. She couldn't get any information, so she told her husband, who called us.
By 1:15 p.m., Albany County Sheriff Dave O'Malley determined the threat had been vetted and deemed less than credible.
The University of Wyoming stayed open, but authorities urged people to be vigilant.
Laramie County Community College's Albany County Campus was on heightened alert, but all classes and activities are continuing as scheduled.
Western Wyoming Community College was placed on lockdown.
Sweetwater County schools were shut down.
All Rock Springs government buildings, with the exception of law enforcement, were shut down.
Eastern Wyoming College in Torrington shut down for the day.
The Cheyenne Regional Airport was evacuated and cleared.
Northwest College in Powell announced at 12:24 p.m. that employees should leave the campus and told resident students to go to their respective residence halls. The lockdown was lifted at 1:25 p.m.
Park County School District School No. 1 was on alert, but did not lock down its schools.
In Uinta County, at least one education program sent people home, but other schools and government buildings remained open.
Campbell County schools and Gillette College remained open.
Sheridan County schools remained open.
Carbon County schools were placed on lockout, but schools continued operations.
At 1:38 p.m., this email was blind-copied to media outlets:
"(Cheyenne, Wyo.) – This morning, the Wyoming Office of Homeland Security received notice of an anonymous email with threats made against state facilities, schools statewide and the Cheyenne Regional Airport. Several other states have received similar emails.
"The Wyoming Office of Homeland Security has shared this email information with the appropriate authorities. If any information develops validating the threat, the appropriate parties will be immediately notified."
As of Thursday evening, the Office of Homeland Security had not issued a statement about the validity of the threat.
==============
Townsquare Media reporter Nick Learned contributed to this report.
==================
This is the message sent by Archangel Michael:
"THERE ARE 50 40MM ALUMINUM THERMITE PIPE BOMBS ACROSS OFFICIAL BUILDINGS IN CHEYENNE. THERE ARE 600 40MM ALUMINUM THERMITE PIPE BOMBS HIDDEN ACROSS MULTIPLE BIG CITIES AND OFFICIAL GOVERNMENT BUILDINGS IN WYOMING. THERE ARE 50 SETS OF COMPACT U.S. ARMED FORCES STANDARD C4 AT THE CYS AIRPORT. THERE ARE 500 POUNDS OF RDX AND PETN PLASTIC EXPLOSIVES HIDDEN ACROSS 40 WYOMING SCHOOLS, AND 10 SCHOOLS HAVE HAD THEIR FIRE SPRINKLER SYSTEMS FILLED WITH NAPALM. THERE HAS BEEN A MOAB WEAPON OF MASS DESTRUCTION THERMOBARIC BOMB HIDDEN IN ONE OF THE 3 MOST POPULATION DENSE CDPS IN WYOMING. TODAY WYOMING WILL BE TURNED TO DUST!"
(MOAB is the acronym for "massive ordinance air blast," the most powerful non-nuclear weapon, of which only 15 exist.)