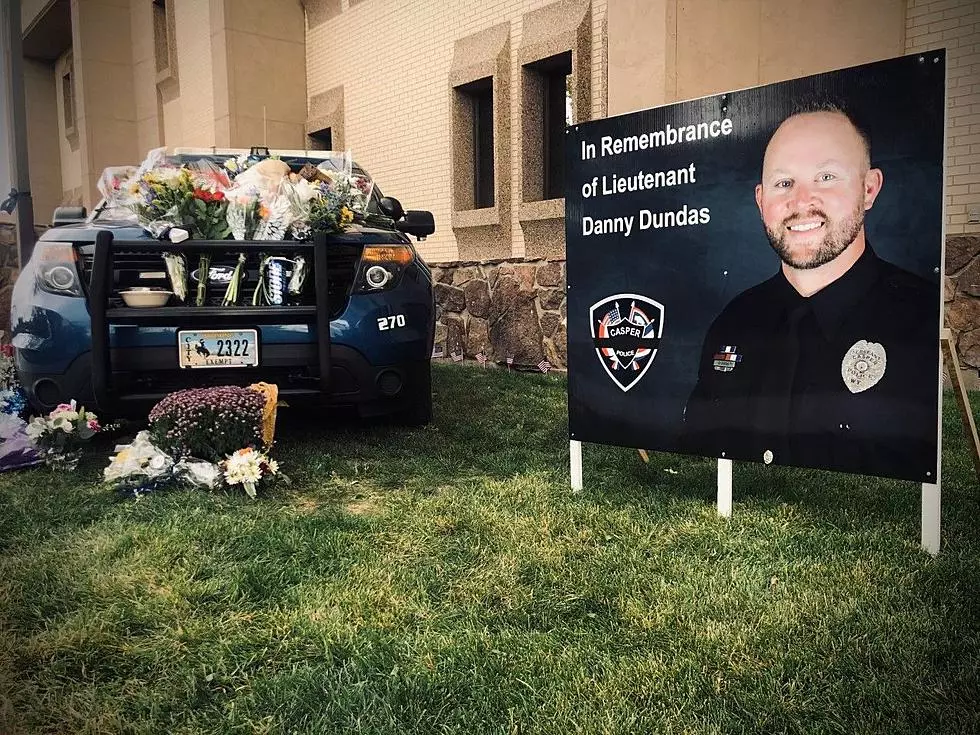 Parents of Lt. Danny Dundas Establish Casper College Scholarship in Honor of Their Son
Nick Perkins, Townsquare Media
Casper College announced that the parents of Casper Police Lieutenant Danny Dundas, David and Karla Dundas, have established a scholarship for Casper College in honor of their late son.
That's according to a press release from the college, which stated that the Lt. Danndy Dundas Memorial Scholarship will offer two students $1250 for both fall and spring semesters at Casper College.
In order to be considered for the grant, each student must have a cumulative 2.0 GPA, they must be enrolled in a minimum of six credit hours, and they have to be or have been a first responder in fire or law enforcement, or the be child of a first responder in fire or law enforcement.
"Danny was a lieutenant with the Casper Police Department and loved serving his community. My husband and I established this scholarship to honor him and keep a piece of him alive," Karla Dundas stated. "We hope that the recipients of this scholarship get on YouTube and watch a Lt. Dundas with Casper Police Department video and get a sense of who he was and how he incorporated wit and humor into a stressful job."
Lt. Dundas was a shining beacon in the Casper Police Department. Always with a smile on his face and a quick joke, Lt. Dundas was an integral member of the force. He was beloved by colleagues and community members alike.
Dundas died by suicide in September of 2021. The Casper Police Department announced that he had died in the line of duty and, when Lt. Dundas died, so too did a part of the community.
"There will never be another Danny Dundas," Bob Dill, a family friend, said of Dundas at his funeral. "His love and dedication to his family, friends and coworkers and the entire Casper community will live on forever."
Read More: 'There Will Never Be Another Danny Dundas'
Dill wasn't the only person to offer tributes to his fallen friend. Immediately after it was announced that Dundas had died, countless tributes poured in from hundreds of different people; some who knew him well, some only a little. But all were moved by Lt. Danny Dundas.
"I always just knew him as Danny," Officer Scott Cogdill said. "If you ask people who knew Danny about Danny, before a single word is spoken, a smile will probably spread across their face. This will typically be followed by a deep breath and a laugh that varies in volume."
Chief of Police Keith McPheeters agreed.
"In my 30 years of police work, Danny Dundas was and still is the finest police sergeant I've ever encountered," McPheeters said. "His team loved him with a passion. They believed in him and would do anything for him. This, ladies and gentlemen, is his true legacy."
And now, that legacy will impact the lives of Casper College students. Even in death, Lt. Dundas is trying to make the lives of others better. And now, with his parents help, he will get to help students find their own path, much like he found his path to the Casper Police Department.
"A lifelong learner, Danny Dundas had a degree in criminal justice and certificates from many job-related trainings throughout the country," the press release stated.
As this writer previously wrote, "People become police officers for many different reasons. Some of those reasons are good, some aren't so good. Some police officers are good and some police officers are bad. But every once in a while, there's a police officer who is the living embodiment of everything that is good, everything that is pure, everything that is right about that profession. Because, for that officer, it's not about the badge and it's not about the gun - it's about the lives saved and the lives changed.
"Lieutenant Danny Dundas was one of those officers. He ruled with kindness; not with an iron fist but with an open heart. And now, we grieve. We grieve for him and we grieve for his family and for his friends and for his colleagues. We grieve for our community because it will never be as great as it was when Lt. Dundas was a part of it. But we'll try. We will try to move forward, we will try to be better, we will try to shape ourselves into the community that Danny Dundas knew we could be. We will honor him. We will remember him. And we will live our lives as best we can, to be a testament to his."
Read More: PHOTOS: Tributes Already Pouring in For Fallen Casper Police Lieutenant Danny Dundas
Those interested in applying for this or any scholarship, can do so at this link.
Funeral Procession for Lt. Danny Dundas