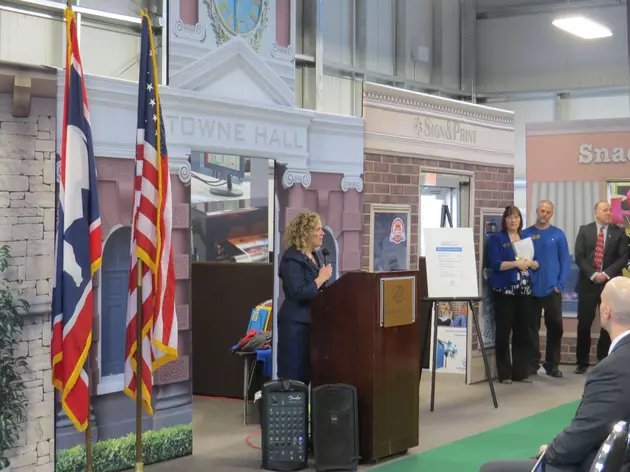 Going Down To WyoTowne; Big Classroom Teaches Big Financial Lessons
Tom Morton, Townsquare Media
A make-believe community in a building in north Casper will serve as the classroom for elementary school students learning the real-world travails and joys of money, jobs, government and life.
WyoTowne is a place within a larger Young AmeriTowne program to imbue children with the skills of financial literacy, Wyoming Superintendent of Public Instruction Jillian Balow told businesspeople, civic and education officials, and nonprofit leaders especially those with the Boys and Girls Clubs of Central Wyoming.
The fifth-graders of seven Natrona County School District elementary schools will have learned some of those skills -- balancing a checkbook, using a debit card -- when they soon set foot in the town in the coming weeks, Balow said Tuesday at the dedication of WyoTowne in the All American Center, 910 Barbara St.
"But just beyond those skills of buying and purchasing, they learn to invest, they learn about the realities of budgeting, of spending, of saving," she said. "They diversify. And those are very real-life skills that we don't just get from learning to buy and sell our goods."
Two years from now, all elementary schools will be participating in the program.
Wyoming deserved it, Balow said.
"This (WyoTowne) is a big step in the right direction," she said. "The sooner we start instilling financial literacy skills in kids, the better basis they have for learning that later in life."
WyoTowne, the first of its kind in the state, will be a great place to start.
The town itself features storefronts of businesses such as radio and television, a newspaper, a bank, a print shop, a hospital, an energy company, an energy business, and a town hall.
And it's up to the students to make it work, said financial literacy center director Michelle Worden.
The curriculum has 17 lessons starting with a personality inventory, learning how to apply and interview for a job, and participate in staff meetings as they prepare for their day in the town, Worden said.
Every business will need a commercial and a sign and the money to pay for them, and a check to pay the medical center for health insurance premiums, she said. "It's all inter-related."
The students work their jobs, deposit their paychecks at the bank, and visit other businesses including a snack shop on their breaks, and take home the products they buy, Worden said.
If they break the law, like running when they should be walking, they have to fork over their hard-earned money to the local authorities, she said. "The judge listens to what's going on, and if they're fined, it's a $2 fine."
If they need health care, it's a $2 co-pay at the medical center, Worden added.
And if they work for the energy company, they may find out that there may not be a job there tomorrow.
"The kids really get the idea that, 'Hey this is what goes on in real life,'" she said. "That nothing is for free, that they have to engage and be a productive part."