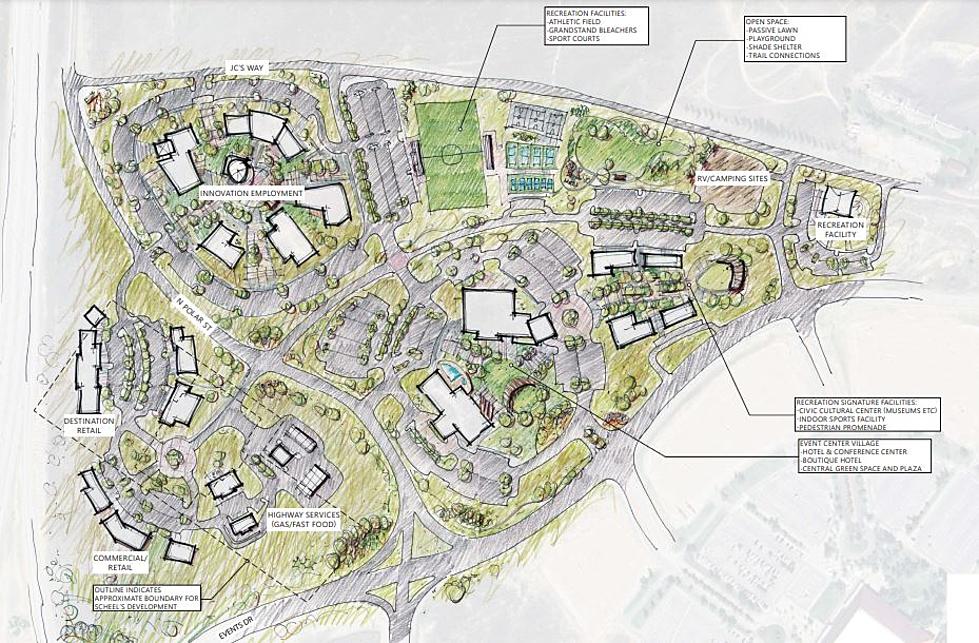 City of Casper to Set Public Hearing on Grant Application for Huge North Platte Project
North Platte Park Master Plan, City of Casper
At the Casper City Council Meeting tonight, council members are set to establish Oct. 17 as the public hearing date for a grant application that would support a North Platte Park Foundational Infrastructure Project spanning over 100 acres of city land near the Ford Wyoming Center.
The Wyoming Business Council BRC Community Readiness Grant is a maximum of $500,000 and must be matched by 20% (half cash).
Previously known as "Community Enhancements," this grant aims to improve community aesthetic or quality of life under Wyoming Statue 9-12-601.
The Metropolitan Planning Organization is largely in charge of backing funding for the project.
In accordance with grant stipulations, the project's efforts to make the community more attractive for business development must be documented through appropriate planning.
The project team kicked off the planning process on May 18 with a workshop. The group explored words and language to describe the landmark space in Casper:
"Adjacent to significant attractions, including the Ford Wyoming Center and the Bureau of Land Management's National Historic Trails Interpretive Center, the property holds great potential for leveraging these economic drivers. With the pending development of the Wyoming Sports Ranch, additional interest will be placed on the adjacent City of Casper owned properties" reads the introduction to the project's Master Plan.
On June 8 the city of Casper held a public workshop.
About 30 people attended, according to the City of Casper, including area landowners, community youth, Casper business-owners, and residents.
The workshop yielded input concerning land-use and transportation considerations.
Many favored experiential recreation opportunities like destination recreation, camping spots, and bike trails.
The plan lists several steps and strategies for implementing the large project, including branding. Rather than allowing happenstance to name the area, the plan recommends establishing a name that adds value to the property.
Example: Casper Highlands, the Oil City's Experience Adventure District.
The Casper City Council approved the simple Master Plan on Sep. 19.
Several groups and individuals are listed for contributing:
Casper Area Metropolitan Organization - Beth Andress and Renee Hardy
City of Casper - Liz Becher, Craig Collins, Zulima Lopez, Andrew Beamer, and Alex Sveda
Ayres Project Team - Matt Ashby, Josh Olhava, Lily Sider, Craig Stofel, Tiara Wuethrich
WWC Engineering - Garrett Zimmer
READ ALSO: Construction Begins on 130K Acre Sports Ranch in Casper
Wake Me Up When September Ends
Rotary Park, Sep. 27, 2023
Gallery Credit: Kolby Fedore
Beartrap Festival 2023
Gallery Credit: Kolby Fedore, Townsquare Media