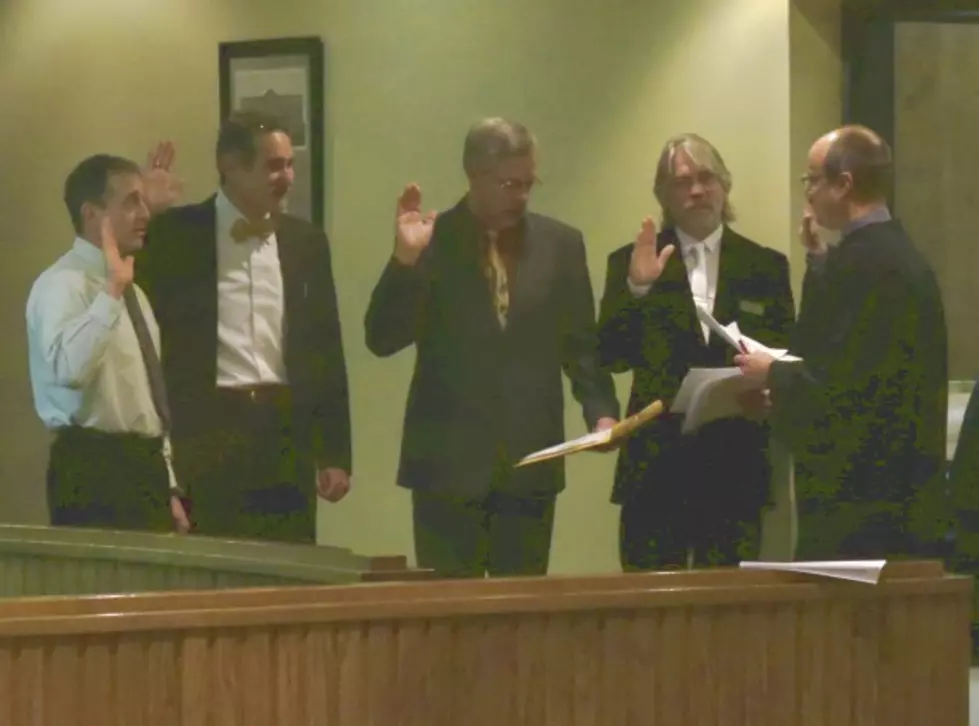 New Casper City Council Sworn In For New Year
Karen Snyder, K2 Radio
Changing of the guard for Casper city council at their first meeting in 2013. Mayor Kenyne Schlager stays on as Mayor after Vice-Mayor, Paul Meyer, chose not to move forward.
Both were re-sworn in for the new year along with four new council members. Mayor Schlager welcomed Daniel Sandoval for Ward I, Craig Hedquist for Ward II and Steve Cathey for Ward III. Bob Hopkins, also representing Ward I, was out of town and will be sworn in later in the month.
"I think you bring a perspective that's gonna be very helpful. There are things that I personally have not thought about that you guys have already raised this evening and I appreciate that. So, I'm looking forward to working with you all."
Out going members Kate Sarosy, Bill Brauer, Kim Holloway, and Maurey Daubin were commended for their service.
Keith Goodenough, who continues as the third councilman for Ward I, pointed, in closing, to six consistent drama free years between council members. He says he hopes that will continue.
"Its really detrimental to an elected group if you have all that under the surface stuff, because then you've got it in for the guy who gave you a bad time for the next two years." The comment, delivered in a light-hearted way, brought laughter to the close of the meeting.
Next city council work session takes place Tuesday, January 8th.