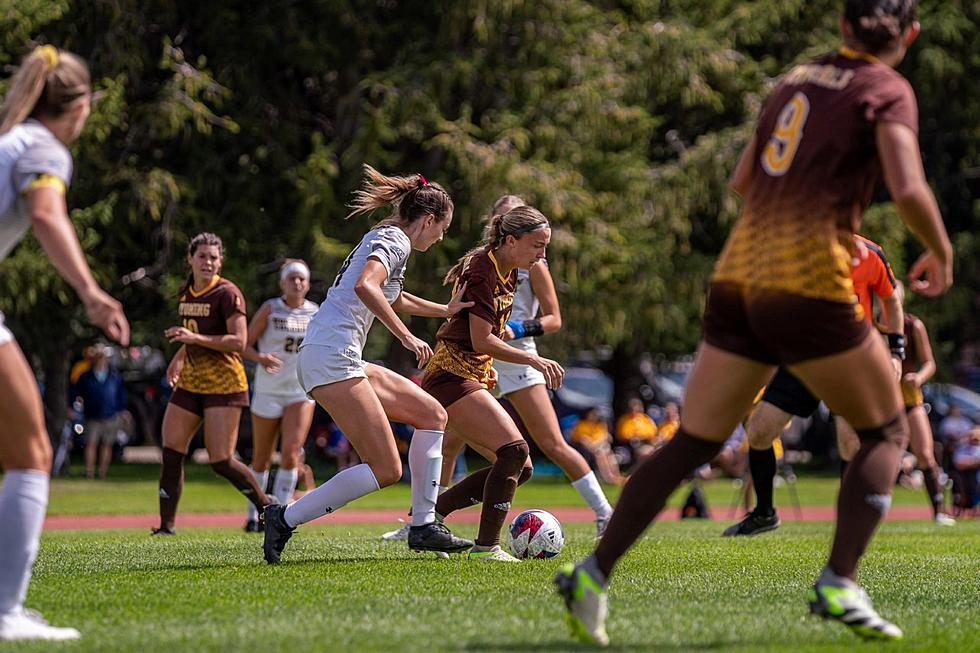 UW Closes Book on Non-Conference Play with 2-1 Victory at North Dakota
University of Wyoming soccer head coach Colleen Corbin wanted her team to record its most complete outing Thursday against North Dakota in its final non-conference match of the season. While it wasn't the start-to-finish performance Corbin was looking for, it was enough to log a 2-1 victory and an unbeaten road trip./ UW courtesy photo
* University of Wyoming press release
GRAND FORKS, N.D., – University of Wyoming soccer head coach Colleen Corbin wanted her team to record its most complete outing Thursday against North Dakota in its final non-conference match of the season.
While it wasn't the start-to-finish performance Corbin was looking for, it was enough to log a 2-1 victory and an unbeaten road trip.
"Overall, I'm really happy to come away with a win and to feel like we showed and competed this week," Corbin said. "Big-picture view, going on a big road trip and coming away with a tie and a win, is a really good spot for us to be. But we'll look to fine-tune some stuff heading into conference."
The Cowgirls' offense dictated the pace, at times, on Thursday. And when it was clicking, it was firing to the tune of 23 shots, the most in a single game this season.
Alyssa Glover led the way with five and a pair of those found the back of the net. The first occurred in the opening half, as she was on the receiving end of passes from Maddi Chance and Jamie Tatum in the 26th minute.
Glover's second score – and fifth of the season, which is tied for the conference lead – happened shortly after the halftime break. She bested North Dakota goalkeeper, Madi Livingston, in the 47th minute.
"(Glover) is confident and engaged," Corbin said. "She's very composed in front of goal. She's clinical. She doesn't get overanxious in certain moments. She does a really good job managing herself and managing herself within the space she's playing in.
"I'm just really happy for her that she's been able to perform at such a high level right now."
North Dakota earned its lone score during the 79th minute. Evelyn Pazienza netted a goal with the assist going to Mary Gasaway.
Livingston concluded the contest with seven saves for the Fighting Hawks. Haley Bartel got the start for Wyoming – her fourth of the season and third straight – and registered five saves.
"(Bartel) stepped up in a big way this week and helped us get the results we were looking for," Corbin said. "One of my favorite things about her is she's super competitive, and she's got a really high work rate. She's another kid looking for feedback and wants to grow and wants to learn and wants to do well for herself and the team and cares a lot about the success of the team."
Chance and Raegan Richardson each had four shots, while Tatum and Kiley Ballek had three apiece.
Wyoming returns home for MW play. The Cowgirls open with UNLV on Sept. 21 before hosting Nevada on Sept. 24.
From Bison to Triceratops - All of Wyoming's Official Things
Every state in our nation has chosen things that represent the state in one way or another to be official state things. Like a flower, or animal.
Wyoming
is no different.
The Equality State, or the Cowboy State, depending on which state slogan you want to go with, has a state flower. But did you know we also have a state tree and a state fish? Yes, we even have a state code.
To be an official thing, a member of the state legislature must write and submit a bill to the legislature declaring that a thing will be the official state thing. Then the legislature votes to pass the bill, or not, if it passes, the governor signs the bill into law and we have a new official state thing.
Here is what we have so far, all of Wyoming's official things. Now you can win big on Wyo Trivia Night if that's a thing that exists.
- From Bison to Triceratops - All of Wyoming's Official Things