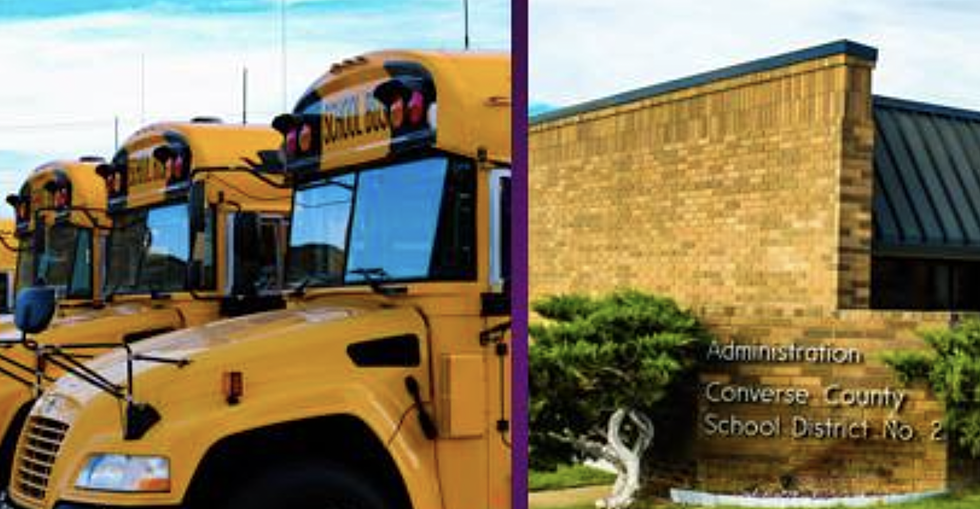 Glenrock Schools Close on Monday Due to Storm
Converse County School District #2
The Glenrock School District -- Converse County School District #2 -- will close all schools and buildings on Monday due to the forecasts of snowfall, drifting snow, wind and hazardous blizzard-like conditions, according to an announcement from the district on Sunday night.
Buses will not run, either.
The district will make up the day through a temporary virtual education day on Friday, April 21.
The schools will send additional messages, so follow the directions provided by your child's school for more information regarding the next steps for virtual learning when the day draws near.
The district added it sent this information by email/text/phone call to all parents/guardians and staff via SchoolMessenger.
As of Sunday night, the Riverton office of the National Weather Service is predicting snow could be heavy at times in Converse County on Monday. The chance of precipitation is 100%, and new snow accumulation could range from 5 inches to 9 inches.
East winds will be 5 mph to 15 mph, increasing to 15 mph to 25 mph in the afternoon. Gusts could reach as high as 35 mph.
Likewise, snow could be heavy on Monday night to Tuesday morning, with widespread blowing snow after noon until 5 a.m.
East-northeast winds will range from 20 mph to 25 mph, with gusts as high as 40 mph.
Chance of precipitation is 100%. New snow accumulation of 9 to 13 inches possible.
Check on current conditions at the National Weather Service's website.
Check the Wyoming Department of Transportation's website for travel advisories and closures.
Stay safe.
Casper Fire-EMS Throwback Thursday Pictures