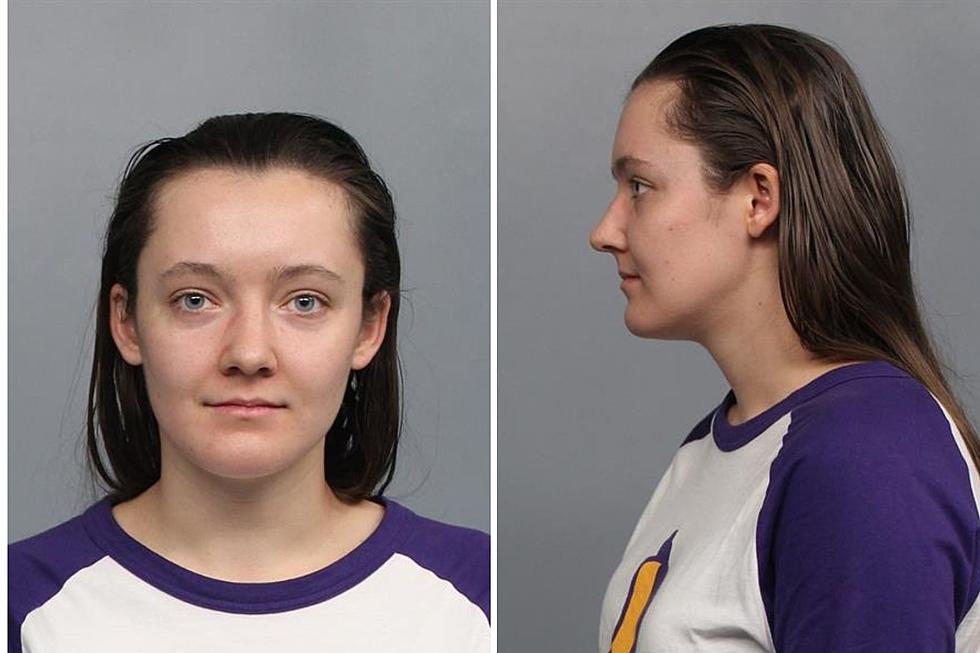 Casper Arson Suspect in Women's Clinic Fire Freed on Bond
Lorna Roxanne Green. Courtesy Natrona County Sheriff's Office.
A federal judge on Tuesday ordered the woman accused of setting fire to a Casper women's clinic in May to be released on a $10,000 unsecured bond, according to the minutes of her detention hearing in federal court.
Federal authorities arrested Lorna Roxanne Green, 22, last week and charged with one count of arson, which is punishable by five to 20 years imprisonment and a $250,000 fine.
Green was held until the arraignment, preliminary hearing and detention hearing today by videoconference before U.S. Magistrate Judge Stephanie Hambrick.
She waived her right to a preliminary hearing, according to the minutes of the 15-minute hearing.
Besides being released on bond, Hambrick ordered Green to surrender her passport; restrict her travel to Wyoming; live at her residence; submit to searches of her person, residence, vehicle, computer or office based on a reasonable suspicion of a violation of the conditions of her release; allow the U.S. Probation officer to visit her at any time at her home or elsewhere; not use, possess or have access to firearms or ammunition; remove firearms from her residence; maintain full-time employment or full-time employment or a combination of both.
The judge also ordered Green to avoid all contact with codefendants, co-conspirators and witnesses.
The minutes did not identify who any codefendants, co-conspirators or witnesses may be.
Federal prosecutors had filed a motion for pre-trial detention, saying she is accused of committing a crime of violence, there is a serious risk that she will flee, and for the safety of the community.
She is being represented by Casper attorney Ryan Semerad, who did not return a phone call seeking comment on Monday, according to The Associated Press.
The fire was set at the Wellspring Health Access Clinic, 918 E. Second St., early May 25, 2022, a month before it was set to open. The clinic would provide services including OB/GYN, gender affirming care, and abortion procedures.
The U.S. Bureau of Alcohol, Tobacco, Firearms and Explosives offered a $5,000 reward for the person who could provide information about the case. Law enforcement released photos from video surveillance cameras at the clinic.
The case had gone cold until an anonymous donor put up an additional $10,000 in early March.
After the Casper Police Department announced the $15,000 reward, it received 12 leads, with four of them identifying Green as the suspect.
The BAFTE investigated further and Casper police and FBI agents executed search warrants at Green's house on East 16th Street.
"Green stated she did not like abortion and was having nightmares which she attributed to her anxiety about the abortion clinic, so she decided to burn the building," a BATFE agent wrote in the affidavit accompanying the arson charge.
A review of various sources did not indicate that she overtly held anti-abortion views.
The 2018 Kelly Walsh High School yearbook shows Green, then a junior, participating in a school orchestra and a science club.
The 2019 KWHS yearbook did not list her involvement in any other extracurricular activities.
The Associated Press reported Green was a high school and community college honors student interested in science and math. On Instagram, she posted about a March 14, 2022, party celebrating the number pi — 3.14 — featuring pies and other round treats.
Four days before the fire, Green posted photos of butterflies she said she'd taken at an Ames, Iowa, garden she'd visited with her grandmother.
Ten days after the fire, Green posted about competing in a 60-mile gravel-road bike race outside Sheridan. She finished 185th out of 247 participants, according to the race results.
In September, she posted about losing her pet hedgehog, Hedgie, in her backyard. And in December, she posted a Casper College commercial in which she was an actor. Green has attended Casper College part time for several years and the ad hasn't been released, College spokesman Christopher Lorenzen said.
Last week, Wellspring Health Access issued a press release about the arrest and its plans:
"Over the last 10 months, our team has worked tirelessly to renovate the facility after the arson attack, all while the perpetrator remained at large, so that we can finally open our doors to the patients who need us," the press release said.
"Now that a suspect has been arrested, we can continue our singular focus on providing quality reproductive health care to the Casper community in a safe, compassionate environment."
2022: This Year in Photos