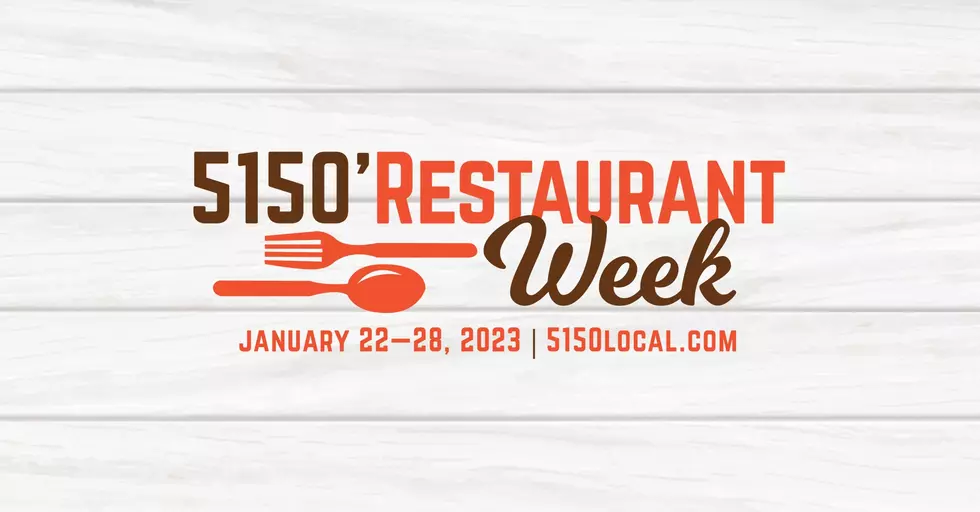 5150 Restaurant Week, Featuring Exclusive Food and Beverage Deals, Starts Sunday
Photo Courtesy of 5150' Local
5150 Restaurant Week is almost upon us.
For the past few years, the last week of January has played host to this community fellowship, courtesy of 5150' Local and Visit Casper. It's a week-long sale at various eateries across Casper, offering patrons various deals on food and beverages.
"During the week, local restaurants as well as breweries and coffee shops are coming together to offer special pricing on select items on their menu," 5150' Local wrote on their Facebook page. "The pricing at each location includes $3.07 for Wyoming's area code, $18.90 for the year Wyoming became a state, and $51.50 for the elevation of our beloved city."
From January 22 through January 28, countless businesses across Casper are participating to offer patrons a chance to save some money and spread some pride throughout the community.
Not only does 5150 Restaurant Week offer up sweet deals on food and beverages; it also gives patrons a chance to win a free $50 gift card.
According to  Visit Casper, interested patrons will download a free mobile passport. Every check-in on the passport enters patrons into a drawing for the $50 gift card.
"Get a taste of all things Casper during 5150′ Restaurant Week," Visit Casper wrote. "Our local restaurants, breweries, tasting rooms and coffee shops have come together to create a city-wide menu for a week of taste testing and fine dining. Get a great deal on an old favorite, try something new, support local establishments and most importantly, celebrate Casper's culinary scene January 22 - 28, 2023."
Numerous Casper restaurants are participating in Restaurant Week, including Backwards Distilling Company, Black Tooth Brewing, The Branding Iron, Donnels Candies, Eggington's, FireRock Steakhouse, Johnny J's, Racca's Pizzeria, Scarlows Art and Coffee, The Drinkery and The Eatery, both by Cory, The Fort, Yellowstone Garage, and many more.
To see the full list of participating restaurants, visit this link.
Casper has an incredible food and drink scene and 5150 Restaurant Week is the perfect opportunity to see all that this town has to offer. Eat. Drink. Be merry. And do it all..together.
Top 33 Casper Restaurants Residents Want Back Now