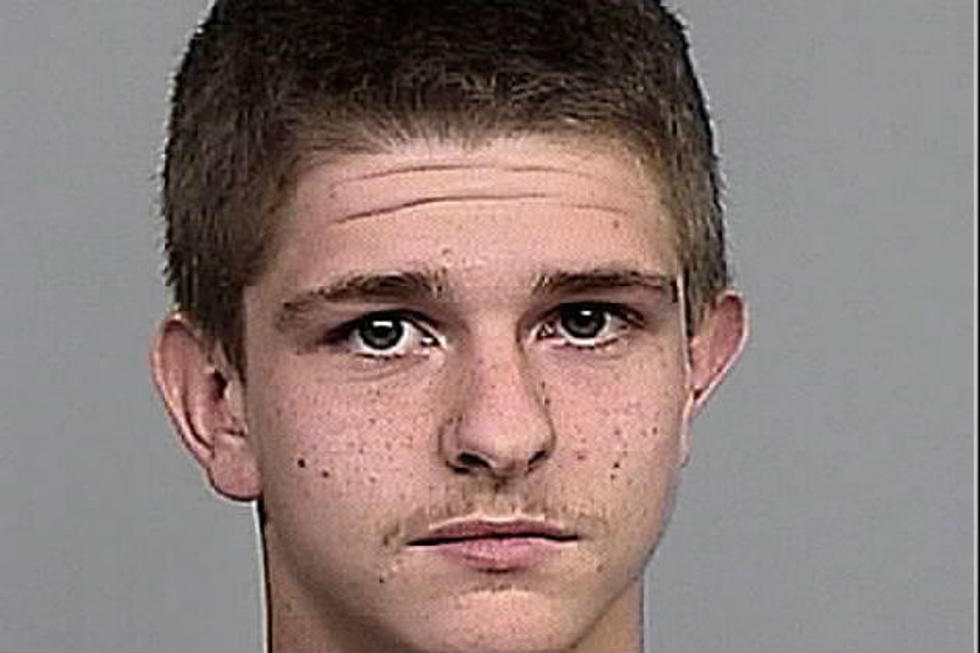 Casper Man Accused of Having Sex With Underage Girl, Could Face 62 Years in Prison
Natrona County Detention Center
A Casper man previously arrested on drug and DUI charges is now accused of felony sex crimes against a minor.
Bryce A. Dacus, 21, waived his preliminary hearing Tuesday morning in Natrona County Circuit Court on charges of sexual exploitation of children, sexual abuse of a minor in the second degree and two counts of sexual abuse of a minor in the third degree.
Should he be convicted of all four counts once the charges are bound over to Natrona County District Court, Dacus could face up to 62 years in prison and $40,000 in fines.
Charging papers say the investigation began before 8 a.m. on July 18, when a report of a teenage girl sleeping in a gutter led an Evansville police officer to find a juvenile female asleep on the street.
The girl allegedly said she and another girl had run away and drank heavily the night before. As the officer investigated, one of the girls allegedly said she had consensual sex with Dacus in a vehicle at about 5 p.m. the previous day, "and she was concerned about it," court documents say. A sexual assault kit was completed July 18.
The victim participated in a forensic interview at the Children's Advocacy Project on Aug. 2. She told investigators that she and Dacus had sex in the backseat of a green pickup truck.
Later in the interview, the victim reportedly disclosed she and Dacus had sex on two previous occasions in 2016.
The victim also allegedly claimed Dacus knew she was underage.
A detective later reviewed an arrest report from July 17 which shows Dacus was taken into custody after police stopped a green pickup truck at about 11 p.m. near CY Avenue and 15th Street, some five to six hours after the victim said she and Dacus had sex.
Dacus was booked into jail that night on charges of meth and marijuana possession. When police stopped the pickup he was riding in, Dacus was with another man, a woman and two juvenile females.
The detective also determined the sexual intercourse the victim described as having taken place in April 2016 had been reported to the Casper Police Department on April 12, 2016, and the case was still active.
On August 3, two detectives and an investigator from the Wyoming Department of Family Services interviewed Dacus while he was in custody at the Natrona County Detention Center.
Dacus allegedly said he had not seen the victim since 2015, but later said she had called him and asked him to pick her up. Dacus claimed he never had a sexual relationship with the victim because he had a "baby mama" who was with him "24/7."
When asked how he and the victim met, Dacus allegedly said they met at "the fair," and afterward police had come to his house looking for the girl, who had been reported as a runaway. Dacus said the victim continued to contact him afterward on Facebook, specifically asking to have sex on multiple occasions.
Investigators told Dacus that the results of the sexual assault kit would be sent to the state crime lab for DNA testing; Dacus reportedly said his DNA would not be found in the kit.
During the interview, Dacus said he "didn't ever know how old [the victim] really was," according to the police affidavit.
Dacus later allegedly described an incident in which he claimed the alleged victim "started unbuttoning my pants" and initiated sexual contact.
"I didn't know what else to do, a man's instinct is a man's instinct," Dacus told investigators, saying he then had sex with the victim, though he, "didn't take her to the truck or anything." He reportedly said the sexual intercourse took place "next to the trash," according to court documents.
Dacus allegedly went on to tell a detective that the victim had lied to him about her age, "and now come to find out she's probably not even [redacted] yet."
Charging papers allege the victim was at least four years younger than Dacus.
Investigators got a search warrant to take DNA from Dacus. He was subsequently arrested.
Public defender Dylan Rosales on Tuesday asked for a reduction in Dacus' bond before Natrona County District Court Judge Steven Brown, saying Dacus has lived in Casper all his life and could work if he could post bond.
Assistant District Attorney Dan Itzen opposed the request, saying Dacus has failed to appear in court on at least three occasions, failed to comply twice and has had his probation revoked twice. Itzen also said Dacus has been arrested on a number of DUI and trespassing charges.
"I do have a kid on the way, and I would like to be there," Dacus told Brown.
Brown declined to reduce the bond amount, saying the safety of the community and ensuring Dacus would appear for court hearings were his priorities.
Dacus remains in custody on $50,000 cash or surety bond. His arraignment in Natrona County District Court is pending.