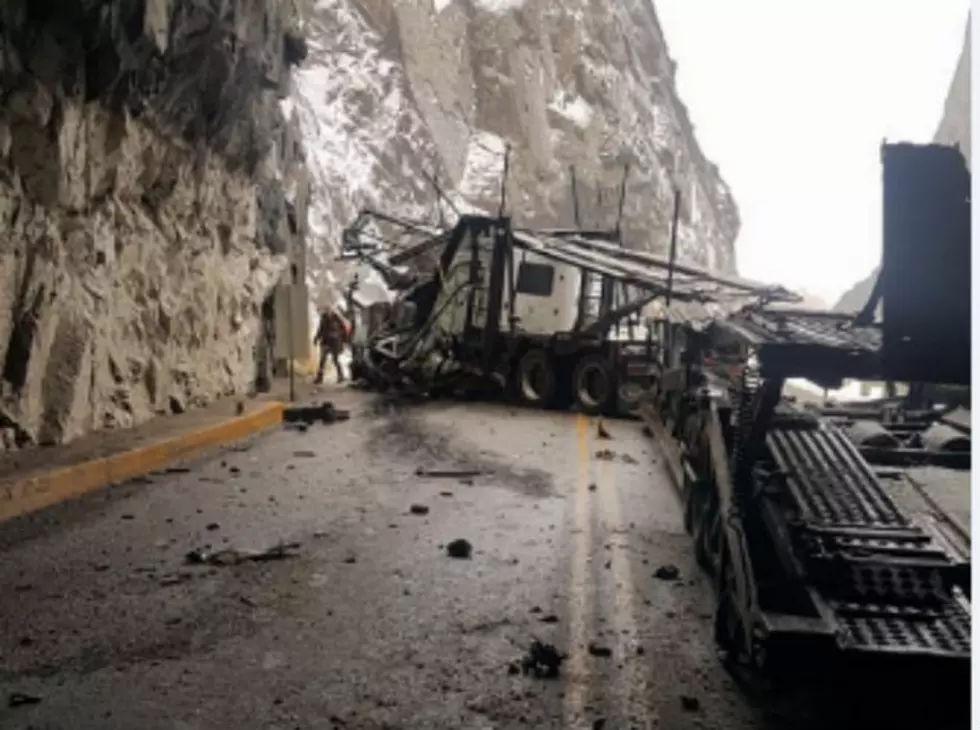 Canyon Tunnel Crash Closes Road In Fremont County
Binnie Bleak Murphree via Facebook
A crash in the canyon tunnels in Fremont County over the weekend caused shut down Highway U.S. 20 for more than five hours and caused significant damage to the vehicles and roadway. It happened at milepost 116 at the south end of the canyon inside the tunnels, about 2:20 p.m. Saturday, January 20th.
According to the Wyoming Highway Patrol, a tractor-semitrailer driven by a 61-year-old man from Brighton, Colorado was driving too fast when he took the north tunnel too fast.  Due to frost on the roadway, his vehicle crossed the double yellow line and into the northbound lane where a 61-year-old Powell man was driving a Dodge Pickup towing a trailer with a Jeep loaded on it. The pickup driver tried to get over to the right, but due to a narrow emergency shoulder, sidewalk and canyon walls, he was unable to get out of the way.
The vehicles sideswiped, and the pickup had the front driver's side door was completely That driver suffered minor injuries to his left arm and was transported to the Riverton hospital.
The semi suffered severe damage and jackknifed, blocking both lanes of travel. That driver suffered minor injuries to his left leg. He was cited for Failure to Use Extreme Caution in Hazardous Conditions and Careless Driving. A witness said he was driving too fast going into the tunnels.
Cody Beers with the Wyoming Department of Transportation says WYDOT had the flashing amber lights at milepost 127 indicating "Roads may be icy next 14 miles", and it had been flashing since the evening before.  There are also two speed limit signs going into the tunnels, one with flashing white lights around it.
Roads were closed for over 5 hours until the wreckers removed the damaged vehicles and debris spread over the roadway. The motorists trapped in the canyon were able to continue on their way after about three hours. Also, Beers says five school buses had to be turned around to Shoshoni due to the road closure.
WYDOT assessed the tunnels and found no structural damages. However, about 300 feet of road surface was damaged when the tractor was pulled out of the tunnel.