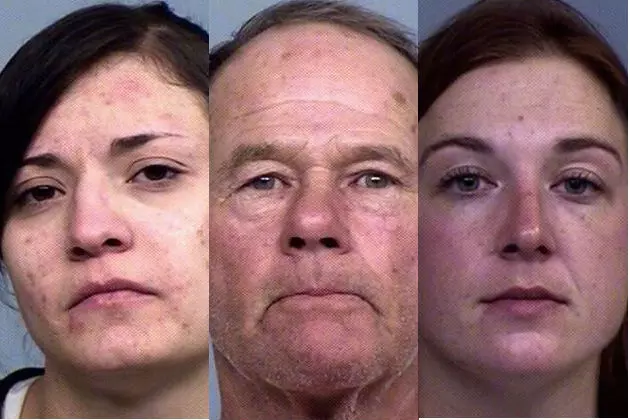 Auto Burglary Call Leads to Three Methamphetamine Arrests in Casper
Natrona County Detention Center
A reported auto burglary in the Seton House parking lot led police to arrest four people on drug and interference charges early Thursday morning.
Everette William Phillips, 60, was arrested along with 23-year-old Vanessa Jordan Lovato and 28-year-old Rose Autumn Rocco for possession of methamphetamine.
Courtney Renee Smith, 25, was arrested on an interference charge.
Court documents say an auto burglary in progress was reported shortly before 2 a.m. in the Seton House parking lot.
Witnesses said they saw a man inside a parked vehicle. The man reportedly got into a white diesel truck, driven by a man, which left northbound.
Casper police officers reportedly found the truck at the Loaf N Jug on Center Street. Phillips, the driver, was inside the store while Lovato, Rocco and Smith were sitting in the truck's passenger seats.
Lovato was allegedly wearing a green ball cap that matched a description given by the people who reported the burglary.
The affidavit says the people who reported the burglary were brought to the Loaf N Jug, where one of them positively identified Phillips as the man driving the truck they had seen.
Phillips allegedly told officers he had picked Lovato up a few blocks away as she was getting out of an unknown vehicle.
Lovato reportedly claimed she had permission to be inside the vehicle, but was vague about who owned it or where the owner could be found.
According to the affidavit, an officer noted that Lovato's pupils were dilated, her arms were moving uncontrollably, her speech was rapid and her dialog shifted focus as she spoke with police.
When asked about methamphetamine use, Lovato reportedly told an officer she had last used methamphetamine about a week ago. She also said she did not want officers searching her backpack.
Court documents say Phillips told officers that Lovato had been using methamphetamine heavily for several weeks, and he was trying to get her help.
Phillips reportedly gave an officer permission to search the truck and retrieve the backpack.
An officer allegedly found three used syringes in the backpack along with Lovato's driver's license. Lovato was arrested.
At that point, Rocco allegedly got out of the truck and tried to walk into the store. When asked, she reportedly told an officer she was headed inside to use the restroom.
The officer asked Rocco about methamphetamine and whether she was trying to get rid of evidence, which Rocco denied.
An officer searched Rocco and allegedly found two used syringes in her left sneaker. Rocco was arrested, after which an officer allegedly found a jeweler's bag in Rocco's purse which contained suspected methamphetamine residue.
Court documents say Lovato told an officer that Phillips had "a ball" of methamphetamine and had probably disposed of it as well as syringes he had. She also allegedly said that Phillips recently gave her bad methamphetamine, which was likely the reason for her condition.
Officers allegedly found a spoon on the driver's seat of the truck as well as a used syringe on the floor directly under the driver's seat.
Phillips denied having or getting rid of any methamphetamine. He was arrested.
Smith allegedly told officers her first name was Kaylee. No driver's information out of Wyoming could be found for a Kaylee Smith.
Phillips reportedly told police that he believed Smith's real name to be Courtney.
The system did return information for a Courtney Smith, including an arrest warrant for probation violation.
Smith eventually admitted that her real name was Courtney. She was arrested on the warrant and for interference.