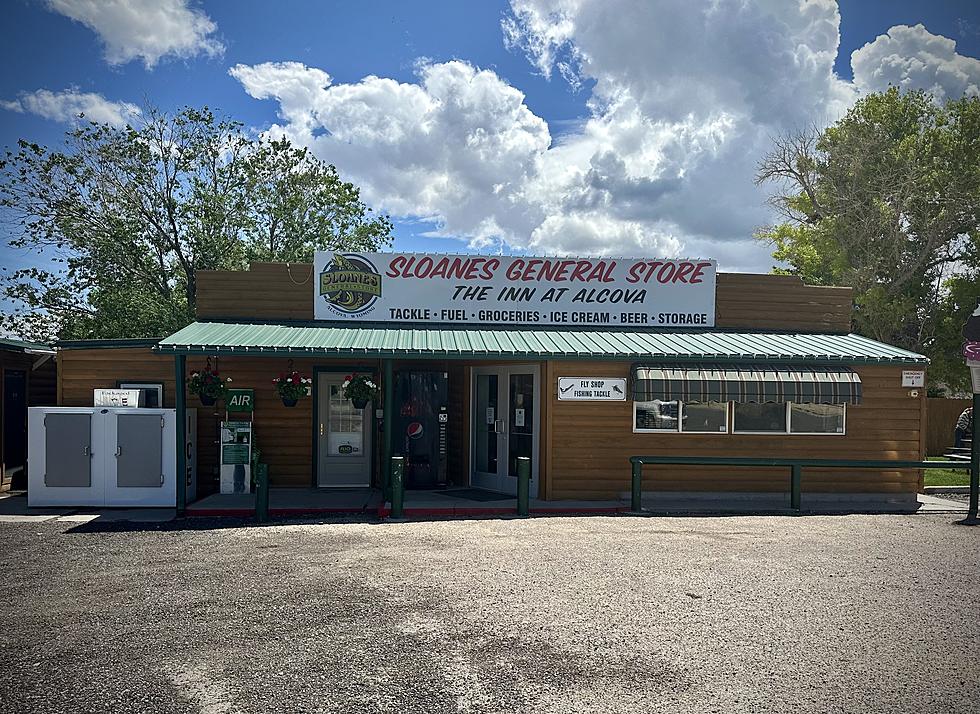 Alcova Gas Station and Store has been in Business for 119 Years
Sloane's General Store; Photo by Kolby Fedore, Townsquare Media
About 30 miles from Casper is the tiny town of Alcova, Wyoming, with a population around 50. The public school has since closed. There's still an active church and a small diner.
Sloane's is the sole gas station in town, but they sell a lot more than fuel.
The store has been in business since 1904 when Fred Sloane opened shop.
Since then, it's had less than 10 owners.
You can find just about everything you'd need on your way to the lake, the river, or camping, and then some.
The now-owners of the store bought the place about nine years ago.
Brian Black used to work for Apple. He was often away from home and says he always wanted to own a business; after all, that's what he went to school for.
One day he was reading the newspaper and saw that the store was for sale. He and his wife Jenny bought it soon-after.
Black's son, Josh, is the store manager. It's a family business with no more than 5 to 15 employees year-round.
But despite it's size, they stay busy.
"We sell between 50 and 60 three-gallon tubs of ice cream a week," says Black. "During the Fourth of July it's usually double that."
In case you're wondering, Huckleberry and Moose Tracks seem to go first.
Mosquito repellant, fishing tackle, and sunscreen line the store-walls along with an aisle of grocery-items including milk and eggs.
The 119-year old store also sells merchandise online, and it's been fun for the owners to ship shirts and such around the country to people who either want a Wyoming souvenir, or happen to be named Sloan.
"We try to use as many local products as possible," says Jenny. The store boasts an epic craft beer section featuring many of Wyoming's local craft brews.
Frequenters are well-aware of the ice cream, but not everyone notices the cabins out back. There are ten cabins with kitchens that people can rent, including outdoor grills and an other-worldly view.
Besides locals, the couple caters to hunters and fishermen. They're well-known for their sack lunches with home-made sandwiches and cookies.
The store has served people from all over the world, over a dozen countries that the owners are aware of thus far.
They've repainted things, redone the floor, and upgrading the refrigeration. But the owners have strategically preserved the store to maintain its rich historical character. Long before they bought the business, their son remembers coming to Sloane's on trips to the lake.
"I've been hunting and fishing my whole life" says Josh, "so talking to people about where to go and what to do is my favorite thing about talking to customers."
Sloane's Gas Station and Store is Over 100 Years Old
Sloane's General Store
On your way to the lake, the river, or camping around the small town of Alcova, Wyoming, you know thee place to grab an ice-cream-cone is Sloane's. It's been in business since 1904.