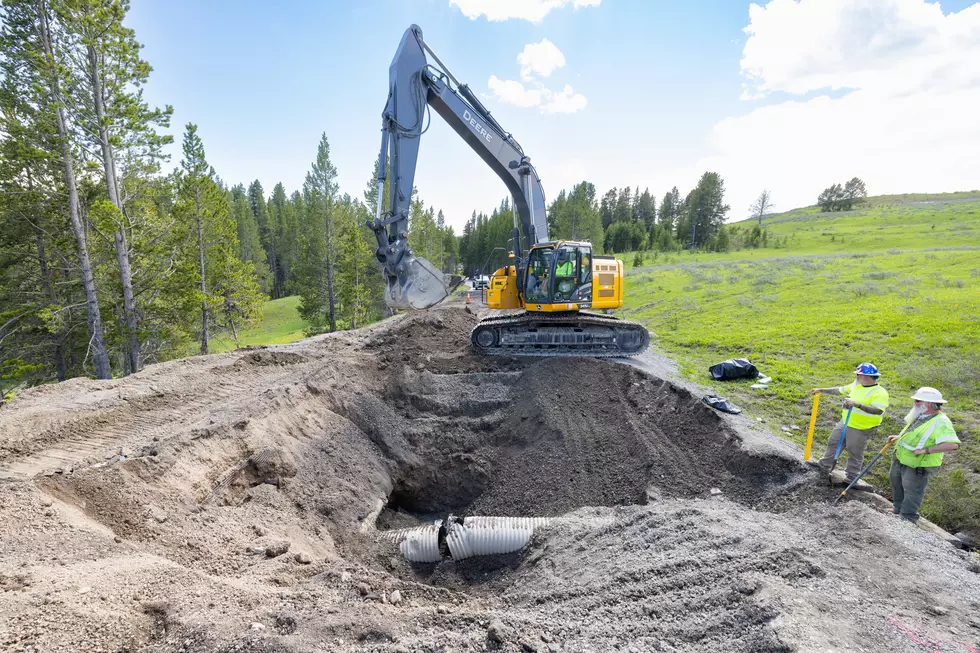 Wyoming Gets Almost 2 Billion From Infrastructure Bill
National Park Service via Getty
Following the passage of the Bipartisan Jobs and Infrastructure bill in November 2021, Wyoming is set to receive around $1.9 billion in federal funding to address a variety of issues across the state.
According to a fact sheet by the White House, Wyoming will receive, over the course of five years, $1.8 billion for federal highways, $27 million for electric vehicle charging stations, $100 million to expand broadband access, $25 million for wildfire and cybersecurity protection, $335 million for water infrastructure, and $72 million to support airports.
Wyoming Representative Liz Cheney and both of Wyoming's senators, John Barrasso and Cynthia Lummis voted against the final bill.
Aikta Marcoulier, SBA Region Eight Administrator, said that projects in Wyoming have had their funding allocated, but they haven't yet gone out to bid.
Marcoulier said this is the first time this much money has been available that small businesses can take advantage of.
"I want to make sure that our small businesses know that there's money...So we're trying to get the word out on that, because this is 1.9$ billion that they haven't had ever before," Marcoulier said. "And so we want them to know that this is an opportunity, we want you to be able to compete, there's an emphasis on underserved communities, minority communities as well, and that there's people there to help you. You don't have to go through this blindly, that there's actually people that can dig this up, find the actual details and get you ready."
Luke Reiner, director of the Wyoming Department of Transportation (WYDOT), said that the this isn't the first time they've gotten federal funding for highways, but that they haven't gotten this much funding in a while.
"We did get a spike during I believe early in the Obama administration, ARRA. I'd have to look back and see what the numbers were there, but there was a big spike in what they gave to transportation departments then and that was an effort to get people to work and put money back into the system. But other than that, the money is about the highest we've ever seen...It's actually really helpful this year because as you know inflation is out there, and the inflation in construction is north of 20%...And so from that standpoint it probably couldn't come at a better time and is helping us out a lot. If it wasn't for inflation the money would go further, but we're happy it's here because it does let us complete the jobs we plan to do."
Reiner said the money they are getting for bridges will help to keep up some of the poor bridges throughout Wyoming.
"Bridges are pretty key, right if a bridge falls down while you're on it, it's a bad day for everybody," Reiner said. "So we've worked really hard to keep our bridges in good shape. That being said, there are still poor bridges out there. But our percentage of poor bridges is actually pretty low. So this is a nice effect on us to even tackle that low percentage. So my message to the travelling public is hey don't worry about the bridges, they're in good shape. And if we find one that's not we'll do an emergency repair on it."
Below is an image of all of the major projects that WYDOT is currently undertaking across the state.
WYDOT said they would be able to provide an accurate number of poor bridges in Wyoming at some point in the near future.
During the 2022 fiscal year, WYDOT's State Transportation Improvement Program, which outlines the projects the department is working on, showed that 83.6%, or $421,745,034, of these projects, are funded through the federal government, and the remaining 16.4%, or $82,638,213, is from state funds.
Marcoulier said they believe there'll be a system in place to encourage local investment, and it's important for money from the bill to stay local.
"Our local businesses can be competitive on those grants and that those grants aren't being awarded out of state, or out of the country I should say as well...Every dollar spent in your state or locally changes hands seven times before it leaves, that's the basic stat," Marcoulier said. "Out of every dollar, 68 cents stays in your local economy. So if you spend it locally, that money stays locally rather than is sent to someone else in a different state or even worse out of the country. So for any investment made locally, that changes hands that many more times in a general sense, those taxes are paid locally, everything stays there in the state...To build that infrastructure, the roads, broadband, a lot of that money is going to those types of things. So at the end of the day, that enhances the ability for businesses to do business with operations. So that's what a lot of the money is focused on."
Rob Creager, a Senior Policy Advisor for Governor Mark Gordon, said that there are several areas that they hope to focus on, including highways, airports, broadband, water infrastructure, forming a hydrogen hub, and electric charging stations.
In the majority of these areas, Creager said they are still waiting for guidance from the federal government before they can begin pursuing them.
The Jackson Hole airport applied for and received $8 million from a competitive grant out of the $72 million available for Wyoming airports over the next five years.
While Jackson is the only one to receive funding so far, Creager said airports in Riverton, Cody, and Sheridan have also applied for the funding in this grant cycle.
Glenn Januska, director at the Casper/Natrona County International Airport, said that they weren't able to get funding from the first round of grant funding but are putting together a proposal to repair their control tower, and hope to be ready by the next cycle.
Januska said they've also received around $1.3 million from the infrastructure bill this year, which they'll receive each year for the next four years, which they're putting to good use.
"There's a need. You could double the funds that we have every year and we'd have a need for funds," Januska said. "Airports are fairly capital intensive when you think of runways and taxiways and ramps and buildings and roadways and parking lots. So the money we have, we certainly have good uses and necessary infrastructure. The challenge of course is, at the same time that money comes out, there's money for highways, there's other aspects for the infrastructure. So there's a lot more money out there, but there's not necessarily a lot more contractors, so then you start dealing with contractor availability and how competitive, how many projects they have going out, and of course inflation and supply chain issues."
Wyoming signed a memorandum of understanding along with Colorado, Utah, and New Mexico in February to get some of the $8 billion available for hydrogen hubs across the country, which Creager said they hope to hear something on by September.
Creager said he's worried the federal government may put too many restrictions on some of the money.
"The White House and some of the federal agencies are starting to either expand their authority outside of the bill language itself, which is going to make some things problamatic," Creager said. "A good example is just last week they put a proposed rule, the U.S. Department of Transportation put out a proposed rule for highway emissions on vehicles. That is not in the bill itself, and essentially what the USDOT, if this rule were to go through, would put frankly an undue burden on states, especially rural states, to come up with a two and four year emission reduction plan which again is not in the federal legislation itself, but this is outside of the bill...Hopefully, the USDOT will take a second look at that and realize it's not going to work for rural states, especially in the west."
A Little Bit About All 23 Wyoming Counties
30 Wyoming Attractions To Visit