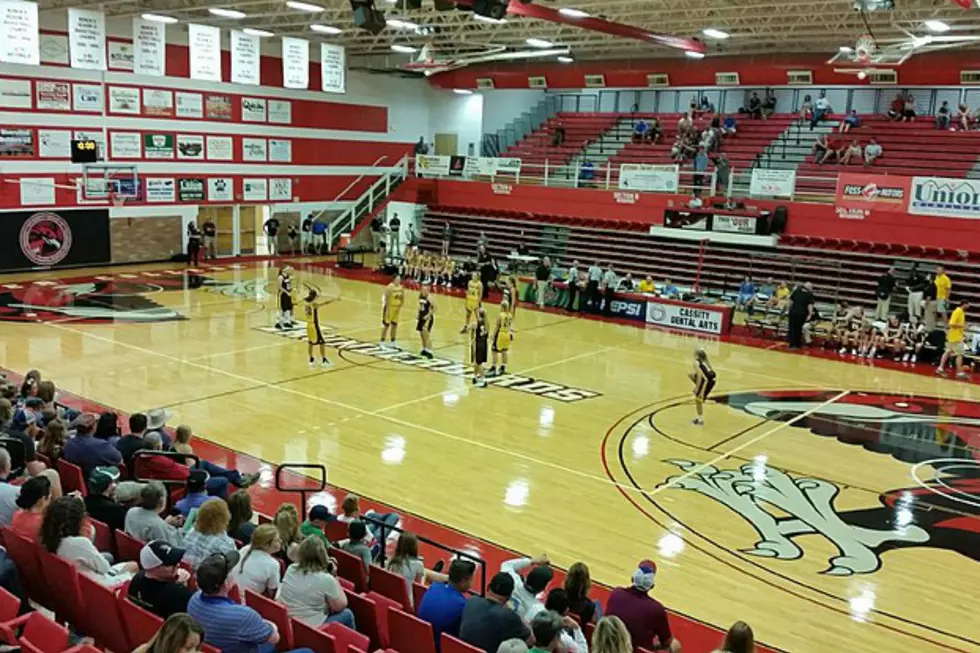 Wyoming Coaches Association North-South All-Stars Revealed
Frank Gambino, WyoPreps.com
The coaches and athletes that will be part of the annual Wyoming Coaches Association North-South All-Star Games have been announced.
The games are set for Saturday, July 20 at Casper College. The volleyball match starts at 1 p.m., followed by the girls' basketball at 3 p.m. and the boys' basketball at 5 p.m.
These games will cap the WCA Coaching Clinic, Hall of Fame Banquet and All-Star week. Those involved were chosen by a committee of high school coaches that selected players from the northern half of the state to face off against players from the southern half. It's an event for graduated seniors only.
A new component to this year's all-star activities is the Union Wireless Community Awareness Event on Thursday, July 18. Each all-star team will visit Make-A-Wish, Special Olympics, and/or the Boys and Girls Clubs of Casper to meet, interact, and share some pizza with members of those groups.
The coaches and athletes report Wednesday, July 17 and will go through seven practices over the four days to prepare for the games.
The North All-Stars won all three games in 2018.
Here are the rosters and coaches for each 2019 all-star team.
South Volleyball:
Hailey Anderson – Southeast
Ajahonna Archuleta – Evanston
Katie Banks – Green River
Ailee Bugas – Mountain View
Kaylie Critchfield – Evanston
Olivia Muir – Star Valley
Kassidy Nelson – Lyman
Olyvia Pacheco – Rawlins
Haedyn Rhoades – Douglas
Janae Teichert – Cokeville
Leona Teichert – Cokeville
Ashlyn Titensor – Laramie
Head Coach: Angela Rhoades – Douglas
Assistant Coaches: Brecia Hansen – Lyman, Roxanne Jolovich – Southeast, Melissa Hoopman – Douglas
North Volleyball:
Alexa Caballero – Worland
Grace DuBay – Natrona County
Kristin Klaahsen – Arvada-Clearmont
Taylor Lee – Sheridan
Eli Olsen – Buffalo
Paige Powell – Cody
Mikka Rogers – Hulett
Ashley Steffen – Shoshoni
Aubrie Stenerson – Powell
Lauren Steveson – Newcastle
Grace Trandahl – Wright
Hartly Thorington – Powell
Head Coach: Stephanie Birch – Cody
Assistant Coaches: Randi Bonander – Powell, Charee' Critchfield – Cody
South Girls Basketball:
Jennifer Aadland – Laramie
McKinley Bradshaw – Lyman
Abby Erickson – Cheyenne East
Charity Harmon – Mountain View
Noelle Peterson – Encampment
Kammie Ragsdale – Pine Bluffs
Ellie Schmitt – Southeast
Olivia Smith – Lyman
Alexandria Trosper – Wyoming Indian
Miranda Wagner – Rawlins
Head Coach: Katie Cline – Rawlins
Assistant Coach: Jennifer Scheer – Southeast
North Girls Basketball:
Kinley Erickson – Ten Sleep
Carlee Flanagan - Riverton
Abby Geer – Thunder Basin
Alisyn Hutton – Big Horn
Madison Miller – Thunder Basin
Calyn  J. O'Neal – Dubois
Sydney Schmidt – Big Horn
Kindall Seamands – Wright
Lexus Voelker – Newcastle
Kendall Wright - Greybull
Head Coach: Max Mills – Shoshoni
Assistant Coaches: Michelle Dahlberg – Buffalo, Olivia Thompson – Shoshoni
South Boys Basketball:
Andrew Fornstrom – Pine Bluffs
Danny Gosar – Pinedale
Derek Lionberger – Rock Springs
Jordan Malm - Torrington
Lain Mitchelson – Farson-Eden
Tanner Muchmore – Cheyenne East
Tucker Norman – Pine Bluffs
Erik Oliver – Cheyenne East
Chase Stoeger – Green River
Braxton Yeager – Green River
Head Coach: Laurie Ivie – Green River
Assistant Coaches: Rick Mitchelson – Farson-Eden, Josh Lewis – Green River
North Boys Basketball:
Tristan Bower – Sheridan
Antonio Coando – Lander
Tyce Dahlberg – Buffalo
Davion McAdam – Kelly Walsh
Cade Ostenson – Newcastle
Treyton Paxton – Riverton
Ethan Price – Rocky Mountain
Hunter Rouse – Kaycee
Aaron Thiele – Buffalo
Cody Thompson – Wright
Head Coach: Allen Von Eye – Newcastle
Assistant Coaches: Pat Winland – Rocky Mountain, Jason Humble – Kaycee
Volleyball Officials:
Kathy Hamer-Smith – Torrington
Penny Schild – Gillette
Girls Basketball Officials:
Katie Reeves – Sheridan
Jesse Birch – Cody
Boys Basketball Officials:
Frank Gonsales, Jr. – Worland
Rich Sweeny – Sheridan
TJ Tavegie – Buffalo