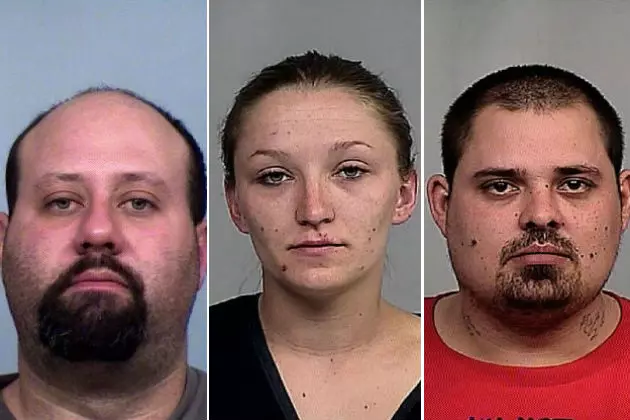 Traffic Stop Leads to Three Arrests, Drug Bust at Casper Home
James Rachel, Amber Gollnick, Donald McIntosh. Courtesy: Natrona County Detention Center.
Three people were arrested Wednesday on felony drug charges including delivery, possession and child endangerment after police stopped a man for driving while his license was suspended.
James Ryan Rachel, 30, was booked on charges of possession of methamphetamine, child endangerment with methamphetamine, felony possession of a controlled substance, and delivery of a controlled substance.
Amber Kay Gollnick, 24, was arrested for felony drug possession and child endangerment with methamphetamine.
Donald Ray McIntosh, 31, is accused of possession of methamphetamine and possession of marijuana.
It all started with McIntosh, who was stopped shortly after 11 a.m. by Casper police for driving while his license was suspended.
Court documents say while an officer was speaking with McIntosh, he saw McIntosh reach between the driver's seat and the center console.
The officer ordered McIntosh out of the Subaru and saw a sandwich bag containing marijuana sticking out from between the seat and the center console.
The officer also allegedly found two more bags of marijuana and a jeweler's bag of methamphetamine.
McIntosh allegedly told a detective that the "stuff" officers found came from his girlfriend's daughter, who the detective knew from past law enforcement work to be Gollnick. McIntosh reportedly told the detective where she lived, and deputies went to her home.
According to the affidavit on Gollnick, detectives smelled marijuana coming from the residence as soon as they arrived. They knocked, Gollnick answered and reportedly allowed them inside her home.
Detectives asked to search the residence, but Gollnick reportedly said said she'd like them to have a search warrant before doing so.
Officers then did a protective sweep of the home and found Rachel along with a young girl in a side bedroom.
While waiting for the warrant, an officer checked the couch for weapons and allegedly found a glass marijuana pipe between the cushions.
Gollnick reportedly called a family member to pick up her daughter before officers executed the search warrant.
Officers executed the warrant shortly before 1 p.m. and allegedly found a variety of drugs and paraphernalia.
Court documents say the search turned up three joints in a box in the living room as well as the glass pipe found in the couch and 10 hydrocodone pills inside a sandwich bag in Gollnick's purse.
Officers also allegedly found drugs in the bedroom as well, including pink amphetamine pills and unknown pills on top of a dresser; a plastic bag of marijuana inside the dresser along with a digital scale and a glass methamphetamine pipe; a plastic bag containing five bags of marijuana; a shave kit with items belonging to Rachel which contained joints and suspected acid wrapped in tin foil; and a grinder pipe on top of plastic bins.
Gollnick allegedly told officers that she knew there was marijuana in the home and McIntosh had been there earlier that day to buy marijuana from Rachel.
Gollnick reportedly said she didn't know about the other drugs and would never allow her children to be around drugs, adding that she had never smoked around the children and that Wednesday was the first time she had ever met McIntosh.
Rachel reportedly did not want to speak with police.
The marijuana found inside Rachel's shaving kit reportedly weighed 58.34 grams, while the acid reportedly weighed .36 grams.
Gollnick and Rachel were both arrested following the search.