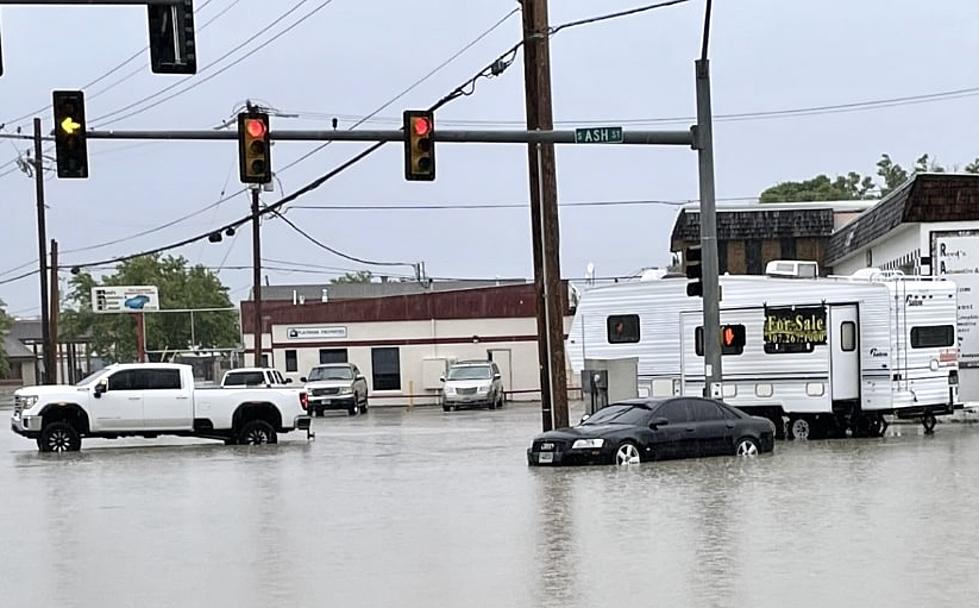 National Weather Service Issues Flash Flood Warning for Natrona County.
Tom Morton, Townsquare Media
The Riverton office of the National Weather Service has issued a flash flood warning for Natrona County, as several intersections and some Casper intersections were inundated and stopped traffic.
The flash flood warning is in effect until 6:15 p.m. today, Thursday.
A flash flood watch is still in effect for much of Wyoming until Friday evening.
At 5:05 p.m., emergency management reported thunderstorms and flooded roadways in Casper, the Weather Service says.
"Flooding has closed Interstate 25 through town due to high water accumulation, as well as many streets around the interstate as in downtown Casper.
"Between 1.0 and 1.75 inches of rain have fallen.
"Flooding is still occurring on many roadways around Casper," the Weather Service says,
Besides the roads, the Weather Service says flooding could occur in small creeks and streams, urban areas, highways, and underpasses as well as other drainage and low lying areas.
In Casper, the rain intensified about 3 p.m.
Several intersections were flooded include Ash and Collins streets and South Poplar and West Collins streets.
The Weather Service offers these suggestions to keep safe:
Turn around, don`t drown when encountering flooded roads. Most flood deaths occur in vehicles.
Be aware of your surroundings and do not drive on flooded roads.
Stay away or be swept away. River banks and culverts can become unstable and unsafe.
Please report observed flooding to local emergency services or law enforcement and request they pass this information to the National Weather Service when you can do so safely.
Sloane's General Store
On your way to the lake, the river, or camping around the small town of Alcova, Wyoming, you know thee place to grab an ice-cream-cone is Sloane's. It's been in business since 1904.
Last Day of Casper City Hall Before Renovation
Renovations start in early June