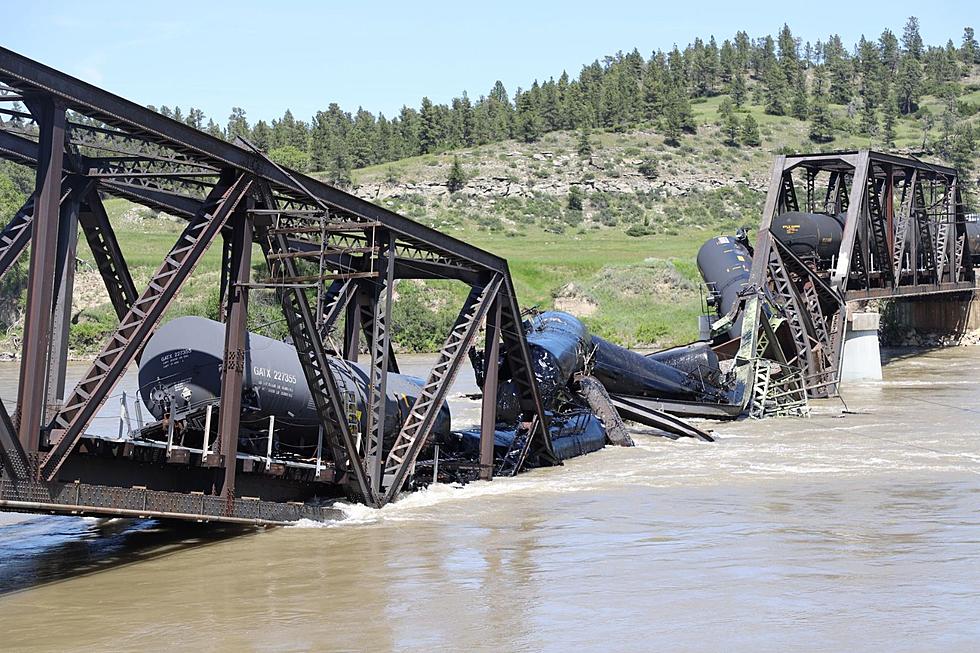 Bridge Collapse Puts Rail Cars in Yellowstone River on Saturday
Credit: Daines Staff
Missoula, MT (KGVO-AM News) - On Saturday, a Montana Rail Link train carrying hot asphalt and molten phosphorus derailed when a bridge collapsed over the Yellowstone River near Columbus, Montana. 
KGVO News reached out to Public Information Officer Andrew Garland on Sunday morning for details of the accident. 
Garland said the extent of the danger posed by the contents of the derailed cars into the river was not immediately known but he said modeling suggests that the substances aren't likely to move very far downstream. 
At this moment, federal regulators are leading the investigation into what caused the derailment.
Montana Senator Steve Daines told KGVO News that he spoke to U.S. Transportation Secretary Pete Buttigieg on Saturday and Daines' senior staff toured the scene of the accident with Montana Governor Greg Gianforte and his team. Below is a statement from Daines and an update on the situation on the ground from Daines' staff.
"My top priority is protecting our Montana way of life and that means ensuring the health and safety of all Montanans and our state's natural resources and wildlife," began Daines. "I commend Governor Gianforte and local officials on their swift response to the derailment and am pleased with the progress so far. We will continue to monitor the environmental tests and assess their impacts. "It is equally important that we get to the bottom of what caused this crash. I spoke to Secretary Buttigieg yesterday and my hope is that he will ensure his department conducts a swift and thorough investigation into the cause of this crash."
The Associated Press added; 'Authorities were testing the water quality along a stretch of the Yellowstone River where those mangled train cars carrying hazardous materials remained after crashing into the waterway following a bridge collapse.'
The latest release from Garland stated:
"Transloading of the sodium hydrosulfide car nearest the river has been completed successfully and the car will be re-railed and moved to a secure location. This process entails moving the contents from one rail car to another rail car or truck. We are aware of reports of globs of asphalt appearing down river that may be associated with the derailment and we will proactively investigate and sample this material. Water quality sampling is being performed by a contractor on behalf of Montana Rail Link with oversight by Montana DEQ and EPA. Preliminary results do not show petroleum hydrocarbons or sulfur impacts to water quality. Water quality testing will continue until the cleanup is complete and at this time there are no known risks to public drinking water. Sprint and its contractors are on site to repair a damaged fiber line associated with the incident. As of this afternoon, National Transportation Safety Board (NTSB) officials have also arrived onsite to assist in reviewing the incident.
We are appreciative of Governor Gianforte and the First Lady's visit to the site this afternoon, along with the messages received from members of Montana's Congressional delegation. Additional equipment, including a large crane, will be brought on site later this evening to assist with construction and remediation efforts. Site cleanup and remediation will be an extensive process, but we are committed to working closely with all of our local, state, and federal partners to perform all required work in a safe and efficient manner."
Montana's Top 10 Record-Setting Wild Weather Events
Montana is named Big Sky Country for several reasons, not only grandiose Sunsets but impressive weather events as well! Ask any Montana resident who has scoffed at the idea of tossing a blanket or snow shovel in the trunk of the car " just in case". Here is a list of Montana's Top 10 Record-Setting Wild Weather Events