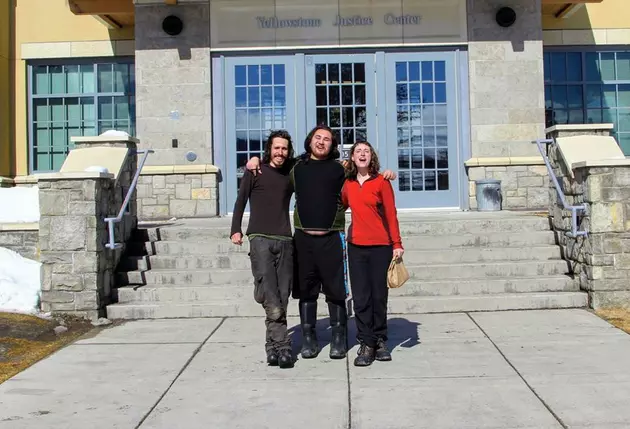 UPDATE: Bison Protesters Banned From Yellowstone: Group Responds
From left -- Thomas Brown, Cody Cyson, Hanna Ponder.          Wild Buffalo Defense, Facebook
Three people protesting the bison capture in Yellowstone National Park last week pleaded guilty to misdemeanor charges and were banned from the park for five years, during their hearings before U.S. Magistrate Judge Mark Carman at the Mammoth Justice Center on Monday.
Cody J. Cyson, 25, of Minnetonka, Minn., and Thomas L. Brown, 36, of East Hardwick, Vt., pleaded guilty to entering a closed area in the park after chaining themselves to a squeeze chute and interfering with an agency function.
Hanna F. Ponder, 22, of Donnelly, Idaho, pleaded guilty to one charge of entering a closed area near the Reese Creek drainage of the park.
They belong to an advocacy group called Wild Buffalo Defense. They were arrested near the park's Stephens Creek Capture Facility on March 6.
On its Facebook page, the group describes itself as, "a collective of indigenous and non-native organizers dedicated to seeing wild buffalo roam free on the plains and to protecting the treaty rights of native people to harvest buffalo. We use direct action physically stop Yellowstone National Park's continued slaughter of the last wild buffalo and raise awareness about the issue."
Carman sentenced Cyson and Brown to six days in jail with credit for time served, a $250 fine on the charge of entering a closed area, a $250 fine on the charge of interference with an agency function, a $500 community service payment to the charitable organization Yellowstone Forever, and a $50 special assessment, according to minutes of the hearing.
The judge sentenced Ponder to six days in jail with credit for time served, a $500 fine, a $10 special assessment, a $30 processing fee, and $500 community service payment to Yellowstone Forever.
Carman banned the three defendants from entering Yellowstone National Park for five years, and ordered them to serve five years of unsupervised probation.
According Wild Buffalo Defense, "The Park Service and federal law enforcement made it clear that interfering with their work to exterminate the last wild bison would be met with an iron fist."
Brown said this in his sentencing statement: "Our act was in defense of wild buffalo, beings who have no protection, so I just find it pretty ironic that part of our fine is to pay a wildlife fund that serves the very agency facilitating the buffalo slaughter."