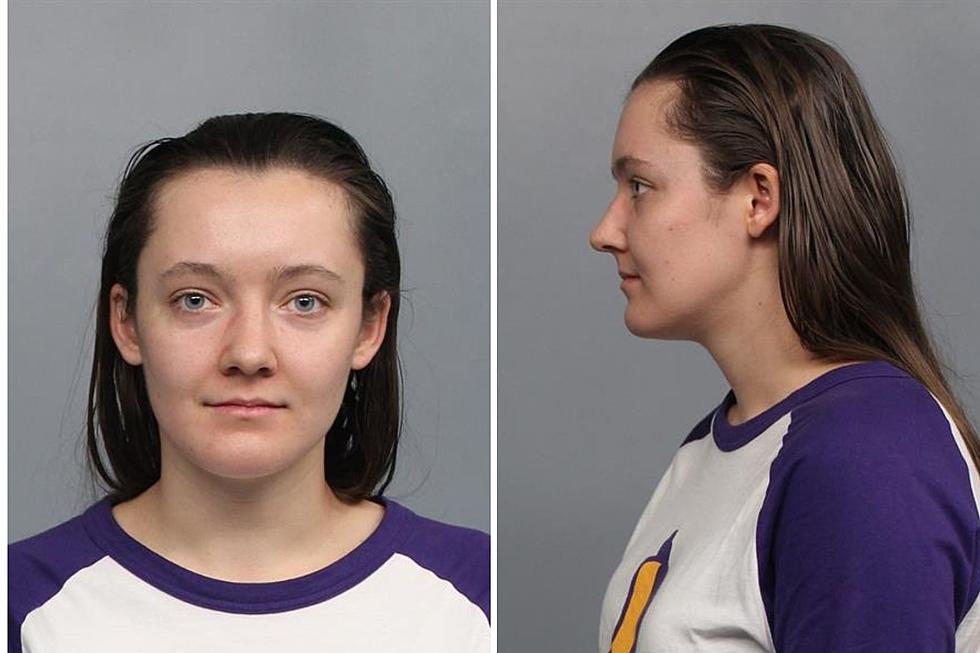 Casper Woman Pleads Guilty to Abortion Clinic Arson; Accepts Responsibility
Lorna Roxanne Green. Courtesy Natrona County Sheriff's Office.
CHEYENNE -- The Casper woman accused of burning the Wellspring Health Access clinic in May 2022, pleaded guilty to one count of arson during a hearing in federal court in Cheyenne today.
"While I deeply regret my actions, I accept full responsibility for what I have have done," Lorna Roxanne Green told the court and U.S. District Court Judge Alan Johnson during the roughly one-hour hearing.
Wyoming Assistant U.S. Attorney Stephanie Sprecher and Green's defense attorney Ryan Semerad of Casper crafted the agreement and finished it on July 10, Sprecher said.
The plea agreement also does not mitigate the severity of the possible punishment.
Congress has mandated that arson is punishable by between five years and 20 years imprisonment, up to three years supervised probation after release from custody, up to a $250,000 fine and a $100 special assessment. Parole has been abolished in the federal prison system.
Sprecher said Green will be expected to pay restitution, but that amount has yet to be determined.
Federal sentencing guidelines take factors into account including the defendant's criminal history, the severity of the crime, and the recommendations from a pre-sentence report.
But Johnson said federal law is clear that Green would be sentenced to at least five years imprisonment, although defendants can earn up to 54 days a year for good behavior.
During the plea, Johnson asked her about the facts in the case.
Green, 22, said that she intentionally started the fire and knew the building was a health clinic to offer abortion.
Johnson asked Green if she intended to destroy the building and she answered "yes."
The judge then said "the plea is accepted."
He set the sentencing for 9:30 a.m. Oct. 6.
Green agreed to surrender after the hearing, but in a rare decision the judge and probation officer allowed her to spend an hour with her family before that. Federal courts and U.S. Marshals usually forbid any contact between a defendant about to be taken into custody and their family.
Green's family declined to comment after the hearing.
However, Semerad said the plea agreement included a provision that the government would not ask for an upward enhancement for any aggravated circumstances.
Even though the mandatory minimum five-year sentence will hold, Green's youth and lack of criminal history will work in her favor, Semerad said.
After the hearing, Wellspring Health Access co-owner Julie Burkhart said the hearing was personally difficult because it evoked the memories of the day of the fire.
"I was heartened to hear she took responsibility," Burkhart said, but she nevertheless had to beheld responsible.
The irony was not lost on Burkhart because she has a daughter who is Green's age, she said.
The clinic is between an apartment complex and a gas station, and a fire could have been lethal, she said. "It was emotional and sad for anyone to commit an act of violence and the potential to harm so many people."
Besides the lost revenue, patients had to seek abortions elsewhere, and women may not have had access to contraception and possibly could have gotten pregnant, Burkhart said.
The clinic has had to enhance its security as a result of the arson and last years U.S. Supreme Court's Dobbs v. Jackson Women's Health decision that overturned the nationwide to abortion and returned that authority to the states.
Burkhart blamed the anti-abortion movement with its sometimes shrill rhetoric that can radicalize the likes of Green and incite them to commit such a crime. "The way we use words have consequences."
Semerad and Burkhart, while differing on their perspectives of Green and the crime, agreed in their condemnation of an assertion made by some in the anti-abortion movement in Casper -- that some collaboration if not conspiracy existed between Green and Wellspring.
Both were incredulous.
"Unequivocally not," Burkhart said.
===============================================
The fire was set at the Wellspring Health Access Clinic, 918 E. Second St., early May 25, 2022, a month before it was set to open. The clinic would provide services including OB/GYN, gender affirming care, and abortion procedures.
The clinic initially kept its abortion business secret, but it soon leaked and protests with 130-140 people began in March 2022. The protests still continue on Thursday afternoons.
The fire cause about $290,000 in damage and delayed the opening by nearly a year.
The case went cold until March when the Casper Police Department announced the earlier $5,000 award for information was increased by $10,000.
Police received 12 leads, four of which identified Green as the suspect.
An agent with the U.S. Bureau of Alcohol, Tobacco, Firearms and Explosives wrote in an affidavit that "[Lorna] Green stated she did not like abortion and was having nightmares which she attributed to her anxiety about the abortion clinic, so she decided to burn the building."
She told the agent she bought gas cans and aluminum pans at a store in Laramie on May 24, drove from Laramie to Casper and arrived about 3 a.m., took the cans and pans to the clinic in a bag, broke a window, poured the gas into the pans and on the floor before lighting it.
A resident of the apartment building next door was up, saw smoke and called the authorities.
Green was arrested on March 21, made an initial appearance after her arrest, and was later released on an unsecured bond of $10,000.
On May 17, the federal grand jury handed up the indictment with one count of arson of a facility engaged in interstate commerce.
Shortly after Green pleaded not guilty on June 2, the Wyoming U.S. Attorney's Office issued a press release saying a federal district court judge will determine any sentence after considering the federal sentencing guidelines and other statutory factors.
The clinic opened April 20.
Abortion remains legal in Wyoming for the time being because Teton County District Court Judge Melissa Owens has ruled the state's ban on medical procedures may violate the Wyoming Constitution and she questioned the state's assertion that abortion is not health care.
2022: This Year in Photos