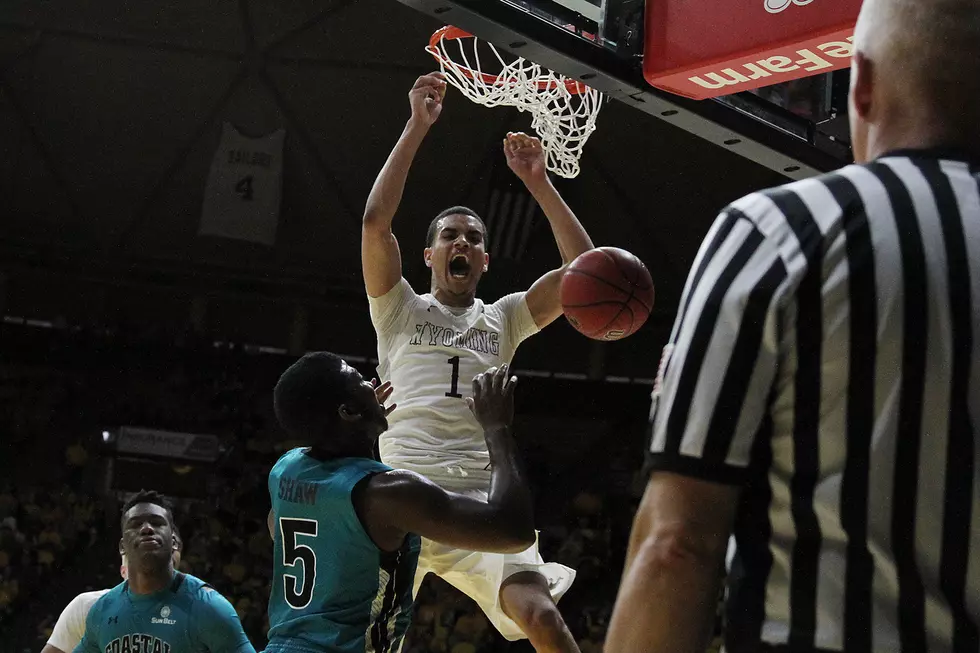 Wyoming Cowboys Crush Coastal Carolina For CBI Championship [VIDEOS]
Seneca Riggins, Townsquare Media
The Wyoming Cowboys won their first postseason national tournament in 74 years with an 83-59 blowout of Coastal Carolina in the CBI Championship.
Hayden Dalton scored 19 points and grabbed 11 rebounds, while Justin James added 17 points, five rebounds and four assists in the victory Friday night in Laramie. James was named the tournament MVP.
Wyoming never trailed in the game. They held an early 15-4 lead, as UW made six of their first nine shots. Back came the Chanticleers, as they made it a one-point game midway through the half, at 20-19. The Cowboys responded with a 15-0 run for a 35-19 lead over a six minute stretch. Dalton knocked down three 3's in that span. It eventually extended to a 22-4 run that ended the half with the Pokes in front 42-23.
In the second half, Wyoming's lead disappeared quickly. Coastal Carolina came out of the locker room on an 11-2 run and closed within 10, at 44-34. That was as close at the Chanticleers got. James made a lay-up followed by another Dalton three that pushed it back to 15. Dalton made 5-of-9 from deep in the game.
Senior Jason McManamen made a three-pointer with 3:08 left that made it a 30-point game and capped his career with 210 three's. He came out just over a minute later to a standing ovation.
The Cowboys shot 43 percent for the game. They knocked down 13 three's and shot 35 percent beyond the arc. UW enjoyed a 44-39 advantage in rebounding. In fact, they had 13 offensive rebounds that led to 18 second chance points. The Pokes also had 14 assists to only seven turnovers, which tied a season-low for turnovers by UW. Ten different Cowboys scored for a third straight game.
The bigger stat came defensively for Wyoming, as they held Coastal Carolina (20-19) to 34 percent from the field. The Chanticleers struggled from deep again, as they went 4-21, 19 percent for a second consecutive game. Demario Beck led the way with 17 points and seven rebounds. CCU had just four assists and 11 turnovers.
The Cowboys finished the season 23-15. That includes a 19-3 mark at the Arena-Auditorium. This is their first postseason championship since the 1943 NCAA title. They also concluded their season with a win for the first time since 1980. Back then, there were no conference tournaments, and UW didn't make a postseason tournament 37 years ago.