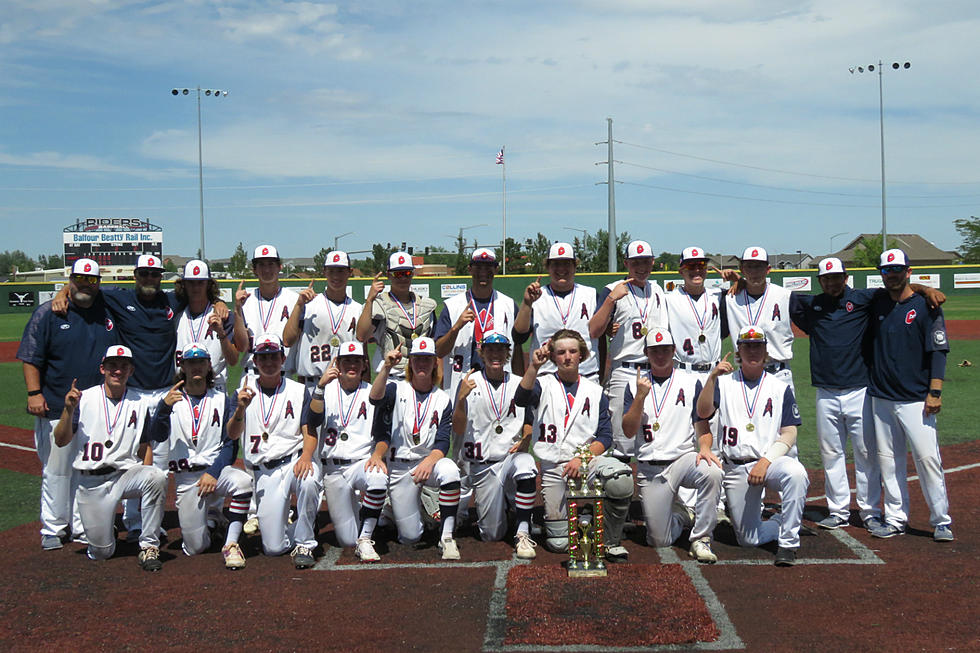 Corbin Kirk's Pitching Gem Brings the Casper Oilers a State Title
David Settle, WyoPreps.com
For the first time in 23 years, the Casper Oilers are the kings of Wyoming American Legion 'AA' Baseball.
Casper defeated the Jackson Giants 5-0 Tuesday afternoon to win the Class 'AA' State Championship. It was the Oilers first since 1996. It came at Hladky Memorial Stadium in Gillette.
Corbin Kirk and Will Clair combined on a two-hit shutout. Carter Young had three hits and an RBI that led Casper in the victory.
Kirk was dominant from the start. He threw 6.1 innings of one-hit ball. Kirk struck out 11 with only three walks on 106 pitches. He struck out the side in the second inning. He had another 1-2-3 inning in the fifth. The first hit for Jackson off Kirk came with one out in the sixth inning. Kirk walked the first two batters in the seventh and then got his 11th and final strikeout on three pitches before he was replaced by Clair.
Kirk won MVP honors of the State Tournament.
Clair allowed one hit, but got the last two outs and earned the save.
Here are the highlights:
Young started things off with an RBI-single in the first for a 1-0 Casper lead. An Adam Julian single in the third inning followed by a pair of bases-loaded walks made it 4-0. Brooks Browning's RBI-single to left field in the sixth produced the game's final run.
The Giants finally got a base runner in the third on a one-out walk by Will Walker. Their next base runner was Quentin Bruno, who was hit by a pitch in the fourth. With one out in the sixth, Nate Fairbanks produced Jackson's first hit on a single to left.
In the seventh, after the first two Giants' hitters walked, the next two struck out. Walker singled to center field, which loaded the bases. Clair got Connor Lang to ground out to second baseman Dylan Johnson, and the celebration was on.
Casper finished with eight total hits and drew nine walks. Young was the only Oiler with multiple hits. Harrison Taubert and Johnson drew three and two walks, respectively.
Casper went 5-0 at the state tournament and now have an overall record of 45-16-1. The Oilers head to the 'AA' Northwest Regional Tournament in Lewiston, ID, Aug. 7-11. Casper will play the Idaho State Champs at 4:30 p.m. on Aug. 7.
Jackson competed in the programs' first-ever 'AA' State Championship game. The Giants concluded 2019 with a 36-23-1 record.
2019 MVP = Corbin Kirk, Casper Oilers
2019 Sportsmanship Award = Evanston Outlaws