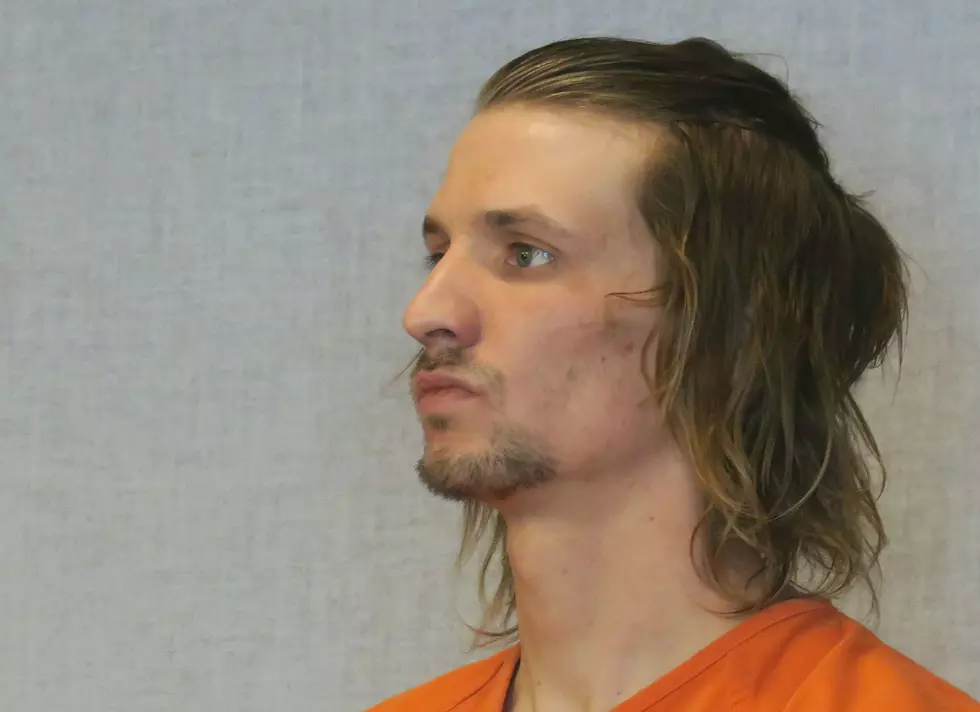 Trial Delayed for Casper Man Accused of Killing His Mother
Tom Morton, Townsquare Media
A judge on Thursday ordered the trial delayed possibly until December for a Casper man charged with killing his mother earlier this year because the Wyoming State Hospital has not yet completed a mental evaluation for him.
"I'll find due cause to continue this trial date," Natrona County District Court Judge Daniel Forgey said at the end of a motions hearing.
The murder trial for Andrew Steplock was scheduled to begin Aug. 26, however Forgey said he recently received a letter from the state hospital in Evanston saying that the evaluation would not be done until Aug. 28.
Steplock is charged with first-degree murder, second-degree murder, aggravated burglary, and possession of a deadly weapon with intent to cause bodily injury.
He pleaded not guilty and not guilty by reason of mental illness in May.
If convicted of first-degree murder, Steplock could be punished by life imprisonment, or life imprisonment without the possibility of parole. The state will not seek the death penalty.
He remains in custody on a $1 million bond.
Thursday, Assistant District Attorney Kevin Taheri asked Forgey to admit evidence that Steplock told a detective after his arrest in February that he wanted to find and kill his father after he killed his mother.
Taheri argued that statement was part of the same alleged event and showed a continuing course of conduct.
Steplock's attorney Joseph Cole said he didn't file a response to Taheri's motion because he didn't disagree that it was part of one alleged event.
Forgey said he would take that and another motion under advisement and rule on it later.
However, the big problem concerned the state hospital's delay in conducting Steplock's mental health evaluation.
Forgey said he received a letter from the hospital about the delay, adding it was frustrating because the request for the mental evaluation was sent in May and the trial date was set for Aug. 26 based on that evaluation having been completed.
Both District Attorney Dan Itzen and Cole asked that the trial be delayed.
Forgey then asked Steplock if he was willing to waive his right to a speedy trial. That right means a person must be tried within 180 days of their arraignment.
Steplock said he agreed to waive that right.
Forgey said he would write to the state hospital insisting the results of the mental evaluation be given to him by Aug. 28.
Cole said it's been his experience that once an evaluation is filed with the court, the prosecution and defense will need a month each to review it and possibly ask for a second evaluation.
Forgey finally set Sept. 6 for a status conference on the case.
The case started about 1 a.m. Feb. 26 when Casper police officers responded to a home at 10th and Center streets. There, they found Deborah Steplock with a gunshot wound to her head, according to an affidavit of probable cause.
The Wyoming Division of Criminal Investigation assisted in the investigation, as did other law enforcement agencies in Wyoming and Colorado.
Steplock was arrested about 11 p.m. that day in northern Colorado after investigators tracked his cell phone and found him asleep inside his mother's car at a truck stop.
After his arrest, Steplock allegedly told detectives that he and his mother had argued over money the day before. Later that night, he said, he returned to his parents' home to steal some money.
According to an affidavit, he told detectives, "...he walked up to her, pointed his gun in her face and shot her."
Steplock then checked in the den for his father, didn't see him, and drove away in his mother's car.