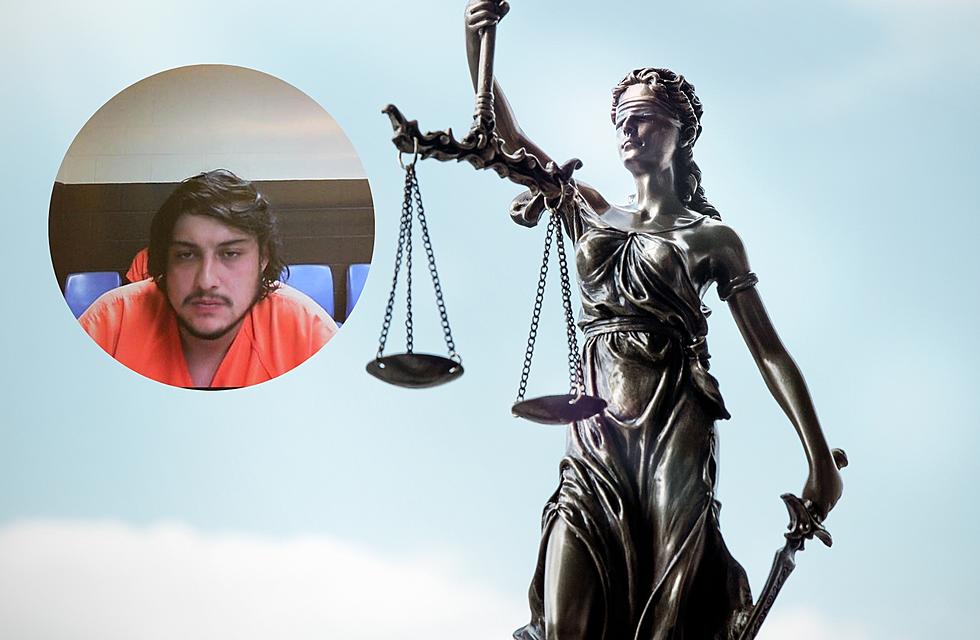 Casper Man Gets 3-5 Year Prison Sentence for Child Abuse
Nathan Sandoval during his initial appearance; Canva
After pleading guilty to a charge of child abuse on May 3, a Casper man appeared for sentencing today, Sep. 13.
Nathan Sandoval, 24, was sentenced by Natrona County District Court Judge Daniel Forgey to a term of three to five years in prison. The defendant will have credit for 76 days served.
Before the sentence was handed down, several people spoke on Sandoval's behalf including his mother, sister, three friends, and his counseler. They all asked that the judge consider a term of probation.
Defense attorney Ryan Semerad pointed out that Sandoval has not seen his children for over five months, he has not seen the victim for over one year.
"I cannot think of a more exquisite punishment than to lose an infant whose growth and change is so profound" stated Semerad, who argued that a prison sentence would be counterintuitive to rehabilitation.
Prosecuting attorney Dan Itzen was not in agreement. He stated that "Frankly, the victimization for a person who looks up to an adult for everything can't be understated... the system protects those that can't help themselves."
Forgey agreed that probation would not be apropriate in this case.
The investigation began on September 8, 2022 when Casper Police were dispatched to the Wyoming Medical Center.
According to court documents, a 3-month old child was brought to the emergency room with marks on her face that did not match the explanation given by the parents.
Doctors at the WMC stated the baby's injuries appeared non-accidental and didn't match the statement Sandoval had given investigators (he claimed the dog had injured the baby).
Per court records, In a further interview with Sandoval he told investigators that the baby had woken up at about 4:00 a.m and then again around 6:00 or 6:30 a.m. He said the baby had slipped from the swing where they put her to sleep and was crying.
Sandoval alleged that he lifted her out and she slipped from his grasp, dropping a couple feet; her head struck a metal trim piece around the swing support on her left side where the face injury resulted.
Sandoval said he was half-asleep and did not notice an injury at the time. The baby continued to cry. "Sandoval lost patience with her. He grabbed her by the neck and grabbed her left foot and twisted her leg. Sandoval could not recall which direction he twisted her leg. Sandoval then put her to bed and gave her a bottle and she went to sleep."
Pursuant to a search warrant, both the mother and Sandoval's cell phones were reviewed. Investigators saw a recent internet search on Sandoval's phone: "can a n xray show a hand print."
The court documents also state that a doctor performed a skeletal exam of the baby and found she had a non-displaced break to her left clavicle and spiral fracture to her left tibia."
Children's Advocacy Project Pinwheels for Abused Children
In 2008, Prevent Child Abuse America introduced the pinwheel as the new national symbol for child abuse prevention. Why? Because by its very nature, the pinwheel connotes playfulness, joy, and childhood. It has come to serve as a physical reminder of the great childhoods we want for all children.
Children's Advocacy Project in Casper