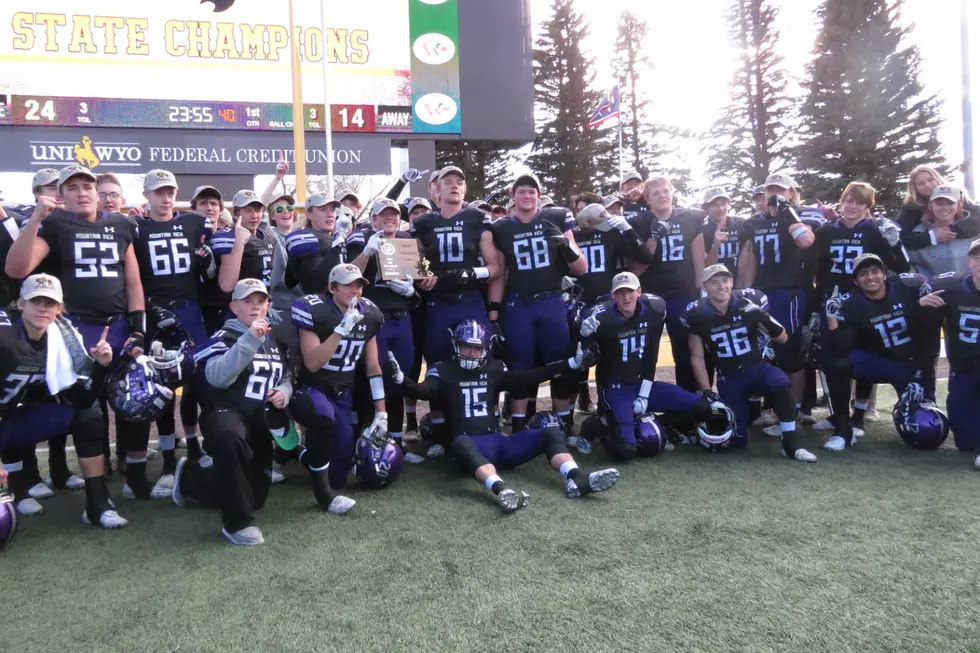 Madsen Leads Mountain View to the 2A Championship
David Settle, WyoPreps.com
Kimball Madsen ran for 244 yards and three touchdowns to lead Mountain View to a 24-14 victory over Buffalo in the Class 2A State Championship Friday in Laramie.
Madsen scored on runs of 58, 3, and 60 yards in the first half, as the Buffaloes jumped out to a 21-0 lead.
Mountain View (11-0) completed their undefeated season and got revenge for a loss to the Bison in last year's championship game. The Buffaloes won their sixth state football title in school history and third in the last six seasons.
Buffalo rallied with two touchdowns in the second half but fell short in their attempt to repeat.
Neither team scored in the first quarter. Madsen then ran 58 yards on the third play of the second quarter for a 7-0 Buffaloes lead.
A fumble by Buffalo on the next play from scrimmage gave Mountain View the ball at the Bison 7-yard line. Two plays later, Madsen scored from three yards out and made it 14-0.
Buffalo drove to the Mountain View 14-yard line, but a fumble was recovered by the Buffaloes.
After a 30-yard pass from Braeden Walk to Ashton Schofield on third down and 25, Madsen scored again. This time he took it 60-yards breaking tackles and running over defenders along the way. It was 21-0 at halftime.
Buffalo's Rowen Ruby got the Bison on the board with a 91-yard kick-off return for a touchdown that opened the second half.
Mountain View responded with a field goal by Teancum Piekkola from 29-yards away and a 24-7 lead.
An interception led to Buffalo's only other touchdown. Dallas Lopez picked off Walk at the Bison 19-yard line and returned it 39-yards to the Mountain View 42. Ruby capped the ensuing drive with a 20-yard TD run. After an unsuccessful onside kick, the Buffaloes were forced to punt. Buffalo got one first down, but the drive stalled and Mountain View ran out the clock.
The Buffaloes finished with 441 yards of total offense. Walk was 9-20 for 132 yards and the two interceptions. Briggin Bluemel led the Mountain View defense with 12 tackles, including two for a loss and two pass breakups.
Buffalo (10-1) had 225 yards on offense. Ruby ran for 108 yards and a touchdown. Mason Moon was 8-18 for 85 yards passing. Hyrum Hatch led the Bison defense with 17 tackles and 10 of them were solo stops. He had a tackle for loss and recovered a fumble.
Look for video highlights and interviews from WyoPreps in separate stories.