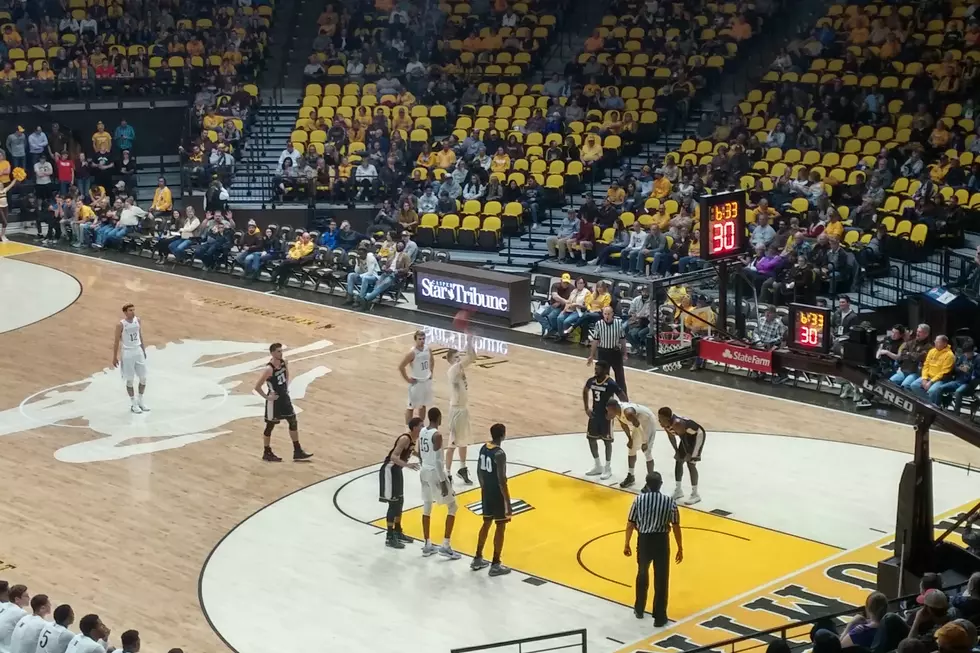 Dalton Leads Cowboys in Season Opening Victory [VIDEOS]
David Settle, Townsquare Media
Hayden Dalton scored a career-high 30 points and grabbed 13 rebounds to lead Wyoming past Chattanooga 74-65 in the season opener for both in Laramie Friday.
Dalton knocked five 3-pointers in the first half and was 9-17 from the field. He went 7-8 at the free throw line.
Wyoming (1-0) took the lead for good with a 14-0 run in the first half. Dalton made three 3-pointers in that stretch, while Cody Kelley added a three and Hunter Maldonado added two free throws. The Mocs had an 8-6 lead prior to that.
The Cowboys built their lead to 16, at 37-21, with 2:03 left in the half on Dalton's fifth 3-pointer. Chattanooga fought back within 40-29 by the break, thanks to an 8-3 spurt at the end of the half.
The Mocs closed within six, at 49-43, with 10:37 left and hung around late, but could never get any closer. Kelley and Nyaires Redding combined for 7-8 at the charity stripe, as UW held on for the nine-point victory.
UW shot 42 percent from the field, but only 36 in the second half. They went 10-21 from deep, for 47.6 percent. The Pokes were 24-30 at the foul line. They finished with 12 assists, but had 15 turnovers. Kelley and Redding both added nine points, while Alan Herndon chipped in eight.
Chattanooga (0-1) had five players in double figures led by Nat Dixon's 14 points. The Mocs shot 40 percent in the game, but were only 7-23 beyond the arc. They out-rebounded UW 38-35, but had 14 assists and 16 turnovers.
The Cowboys head to the Pacific Northwest to face the Oregon State Beavers in Corvallis Monday night. Game time is at 9 p.m., Mountain Time.