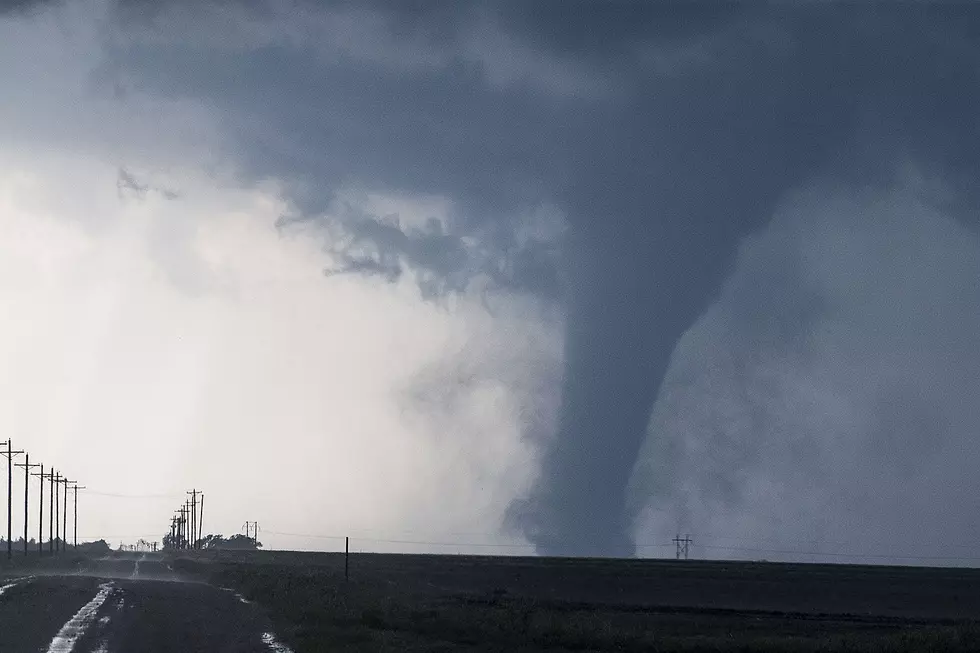 Cheyenne NWS: June 19 Bill Tornado Traveled For 13 Miles
Getty Images
The agency says the tornado traveled for about 13 miles over about 16 minutes, damaging a roof on a manufactured home. Investigators say they are still looking into the possibility of damage in the Lance Creek area. There were no injuries or fatalities reported from the tornado.
The weather service has released this summary of the investigation so far:
..NWS DAMAGE SURVEY FOR 06/19/19 BILL WYOMING TORNADO EVENT...

A LARGE SUPERCELL FORMED AND MOVED SOUTHEASTWARD ACROSS
NORTHEASTERN CONVERSE COUNTY ON THE EVENING OF JUNE 19, 2019. 
THERE WERE INITIAL REPORTS OF FUNNEL CLOUDS BY WYOMING STATE 
HIGHWAY PATROL IN THE MINUTES PRECEDING TOUCHDOWN SHORTLY AROUND 
7:50 PM MDT. VIDEO CONFIRMATION SHOWED A VISIBLE CONDENSATION 
FUNNEL MAKING CONTACT WITH THE SURFACE. THE TORNADO CONTINUED FOR
AN ESTIMATED SIXTEEN MINUTES, LIFTING SHORTLY AFTER MAKING 
CONTACT WITH A MANUFACTURED HOME EAST-SOUTHEAST OF BILL, 
PRODUCING UPON SUBMITTED IMAGE REVIEW CONSISTENT EF0 DAMAGE.

.REPORTS OF TORNADO DAMAGE IN THE LANCE CREEK AREA ARE STILL UNDER
REVIEW PENDING ADDITIONAL VIDEO AND PHOTOGRAPHIC EVIDENCE.

.BILL TORNADO...

RATING:                 EF0
ESTIMATED PEAK WIND:    65-85 MPH
PATH LENGTH /STATUTE/:  13 MILES
PATH WIDTH /MAXIMUM/:   50 YARDS
FATALITIES:             0
INJURIES:               0

START DATE:             JUN 19 2019 
START TIME:             7:50 PM MDT 
START LOCATION:         2 MILES NORTHEAST OF BILL WY
START LAT/LON:          43.23 / -105.24

END DATE:               JUN 19 2019
END TIME:               8:06 PM MDT
END LOCATION:           13 MILES EAST-SOUTHEAST OF BILL WY
END_LAT/LON:            43.12 / -105.04

IMAGE FORWARDED TO THE CHEYENNE, WYOMING NATIONAL WEATHER SERVICE
OFFICE SHOWS PARTIAL ROOF REMOVAL FROM A MANUFACTURED HOME
CONSISTENT WITH EF0 WINDS.  

EF SCALE: THE ENHANCED FUJITA SCALE CLASSIFIES
TORNADOES INTO THE FOLLOWING CATEGORIES.

EF0...WEAK......65 TO 85 MPH
EF1...WEAK......86 TO 110 MPH
EF2...STRONG....111 TO 135 MPH
EF3...STRONG....136 TO 165 MPH
EF4...VIOLENT...166 TO 200 MPH
EF5...VIOLENT...>200 MPH

NOTE:
THE INFORMATION IN THIS STATEMENT IS PRELIMINARY AND SUBJECT TO
CHANGE PENDING FINAL REVIEW OF THE EVENT AND PUBLICATION IN
NWS STORM DATA.