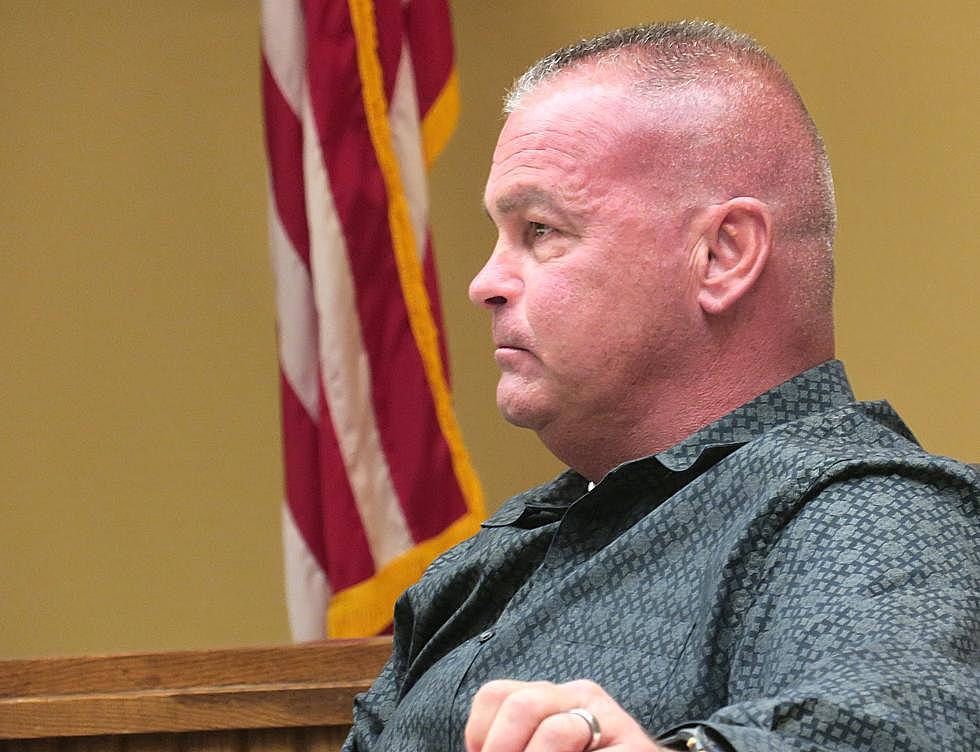 Casper Mayor's Wife Files for Divorce and Protection Order After Alleged Attack
Tom Morton, Townsquare Media
UPDATE: K2Radio News was able to reach Bruce Knell for comment at 5:38 p.m.
Knell stated that his attorney is right now preparing a statement. He continued:
"All I can tell you is, there is a reason I was not arrested in Texas. There is a woman with a tremendous gash in her head, seven policemen on sight, and the evidence proved otherwise -- between the evidence and the witnesses -- and I was never charged. I don't know what happened. All I can tell you is, I didn't do this."
---
WARNING: Images contained in this article are graphic in nature and may be disturbing to some viewers. 
---
The wife of Casper Mayor Bruce H. Knell filed for divorce and a protection order on her husband on Monday.
Court records show that Stacy Erin Casper wrote she was attacked by Knell in Austin, Texas at the Tommie Austin Hotel on Sep. 15.
"We were socializing with friends when the Respondent [Knell] got angry with me for an unknown reason and left me and would not reply to text messages. I went back to the hotel and rented my own room for the night. I went to the other room to gather my clothes and belongings. When I arrived at the room, the Respondent [Knell] opened the door and told me I could not have my items and punched me in the head. When the Respondent [Knell] punched me I was knocked off my feet, I hit the wall with my head and back of my hand before hitting the floor and landed across the hall against the wall. I was bleeding profusely and it was running in my eyes making it difficult to see. A bystander brought me a towel to staunch the blood and she called 911 on my behalf. I was taken to the hospital and my scalp was ruptured requiring 13 staples and numerous sutures. I also have two black eyes, a bruised hand, bruised ribs, a sore neck and back," wrote Casper in the petition for order of protection.
The petition was filed pursuant to Wyoming's Domestic Violence Protection Act, Wyoming Statue 35-21-101 to 112, and was signed by Converse County Circuit Court Judge Clark C. Allan.
Knell was not able to be reached for comment.
In the description of weapons used by Knell, the victim wrote: "His fist, steroids" .
In accordance with the Federal Violent Crime Control and Law Enforcement Act of 1994, it is unlawful for people subject to domestic violence protection orders to possess, ship, use or transfer any firearms or ammunition.
The petition suggests Knell owns several firearms including handguns, rifles, and an AR-15 with massive munitions.
The petition notes that Knell is not to initiate contact with the victim in any way, either directly or indirectly, including, but not limited to, communication verbally in person, communication by telephone or other electronic means, written communication in any form, communication through third persons, and nonverbal communication and gestures. This includes phone calls, mail, e-mail, texting, fax, or social media.
Furthermore, Knell is prohibited from going to the victim's place of residence or employment.
The protection order is in full effect until further order from the court.
A protective order hearing was scheduled for Sep. 22 at 12:30 p.m. but Knell filed a motion to vacate and reset the hearing at a later date as his council is scheduled to be out of state and is not available on Friday. The hearing will probably take place on Oct. 10, 17, or 18.
A police report from Travis County Sheriffs Office was not immediately available.
This is not the first time Knell has been served with a protection order.
In January 2021, K2Radio News reported that Knell pleaded guilty to violating three protection orders and threatened to kill his ex-wife.
Read More: Court Records: New Casper Councilman Pleaded Guilty to Threat
Knell told K2 Radio News that he disputed that. "I was convicted of them, I never pled guilty. I fought them from Day 1. I spent $100,000 fighting them. It was all BS."
However, the "misdemeanor judgment and sentence" minutes from Fremont County Circuit Court filed on Dec. 1, 2015, show that he did plead guilty.
Knell was ordered to pay a $910 fine, and sentenced to four consecutive 180-day jail sentences with credit for 54 days served in jail. The judge suspended the rest of the jail time on condition that he complied with four 180-day terms of probation to end Nov. 29, 2017.
Less than seven months later, Knell again violated the protection order, according to Fremont County Circuit Court records.
On Sep. 6, 2016, a judge revoked Knell's probation.
December 20, 2022 Casper City Council Meeting
Casper Vice-Mayor Bruce Knell was the subject of the first 20 minutes of the December 20, 2022 Casper City Council meeting, due to comments he's made regarding a story from K2 Radio News which alleged that Knell threatened to kill his ex-wife.