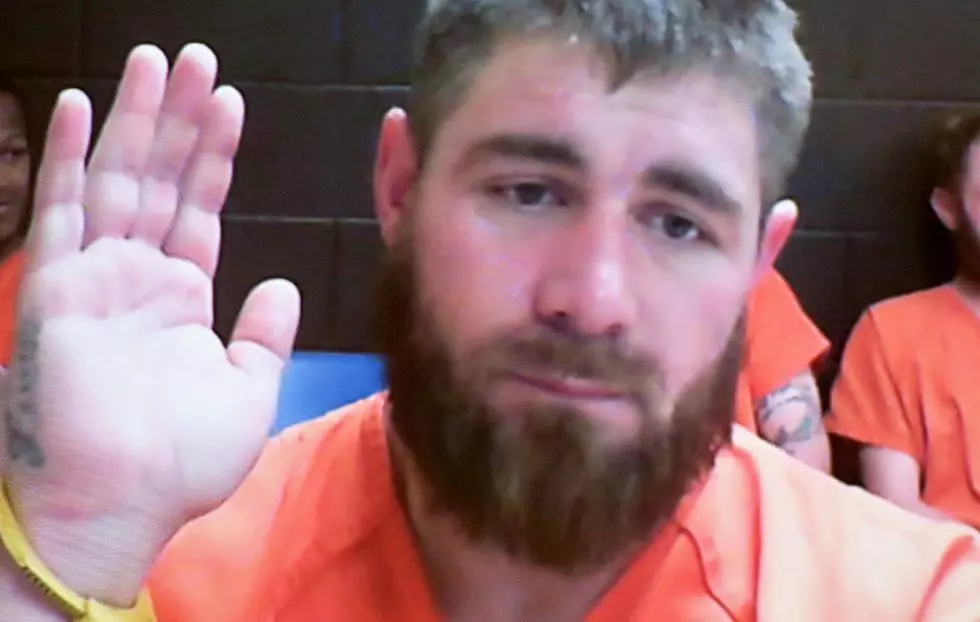 Casper Man Who Eluded Police for Months Charged With Federal Gun Crime
Joshua Crook
Tom Morton, Townsquare Media
A Casper man wanted for multiple crimes and eluded police for months on Friday heard the single count of being a felon in possession of a firearm during his initial appearance in federal court in Casper on Friday.
That single federal count against Joshua Crook started last year that resulted in three firearms-related crimes.
U.S. Magistrate Judge Michael Shickich read the count, the federal government was represented by Assistant U.S. Attorney Jonathan Coppom, and Crook was represented by Federal Public Defender David Weiss.
The federal case has been nine months in the making.
On Aug. 26, Crook took his ex-girlfriend in her Dodge Dart, fired shots out the window at her current boyfriend who was following in a Ford pickup, led police on a high-speed chase through central Casper, and ended near the Fairgrounds where he got out of the Dodge Dart and fled.
On Nov. 15, authorities were looking for him and thought they had found him when he was driving a stolen Ford Escort, again led police on a high-speed chase through central Casper,  and eluded them again.
The next day, police were surveilling a residence in the 1500 block of Westridge Place where an associate of Crook's, Billy Martin,  -- later charged as an accessory after the fact -- lived. Multiple people left the place including Martin who was holding a briefcase with controlled substances and paraphernalia.
A standoff ensued for several hours.
Crook again had gotten away.
Early on Dec. 18, he was located and arrested at a local motel and has been in custody since then.
On the day of the standoff, Natrona County District Attorney's Office filed a criminal information document about the Aug. 26 incident charging him with one felony count of aggravated assault about threatening his ex-girlfriend's boyfriend with a gun, one felony count of possession of a deadly weapon with unlawful intent, one misdemeanor count of reckless endangerment with a gun, and one misdemeanor count of eluding.
At his initial appearance on Dec. 20, Crook also was charged in separate cases with three misdemeanor counts of illegal drug possession, and one count of grand theft of a GMC Sierra pickup.
Last week, the Natrona County District Attorney's Office asked District Court to dismiss the grand theft case because the victim had died.
The District Attorney's Office also asked for, and was granted, the dismissal of the gun crimes because the Wyoming U.S. Attorney's Office has taken over the case.
The U.S. Attorney's Office has filed motion to detain Crook until trial because he's charged with a gun crime, and poses a flight risk and a risk to community safety.
He will have that detention hearing and preliminary hearing on Wednesday.
Casper Fire-EMS Throwback Thursday Pictures
Casper Jewelry Maker and Metalsmith Displays Discovery Gallery Collection