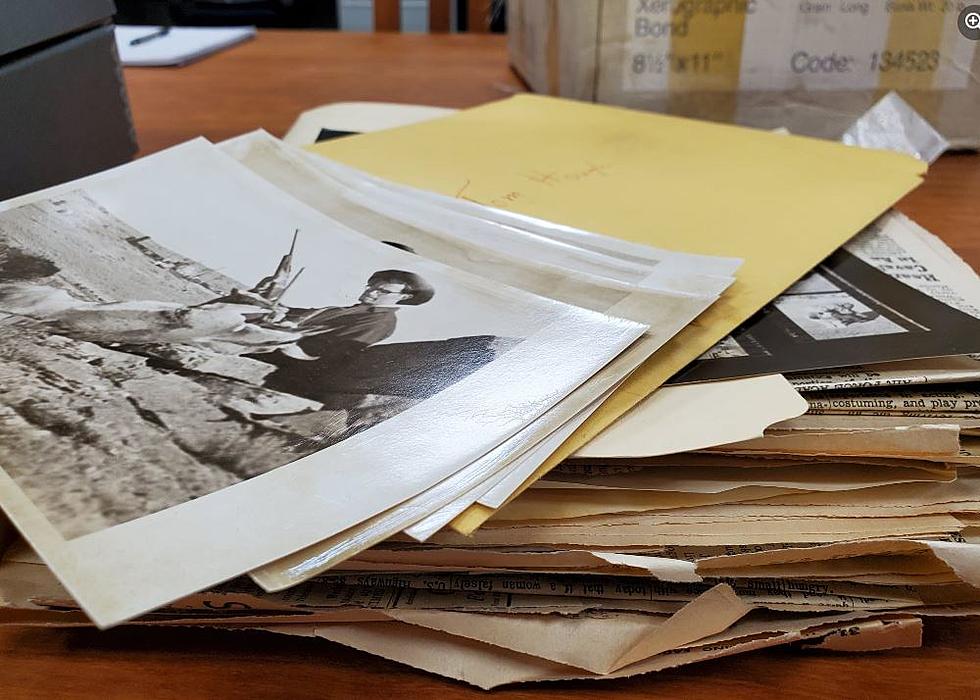 NIC to Feature Over 100 Wyoming Outdoor Photographs from Tom Hough
A stack of papers and files on Tom Hough, Western History Center, at Casper College, Facebook
Nicolaysen Art Museum Press Release
A panorama of over one hundred Wyoming outdoor photographs will be featured in the memorial exhibition "Headin' Out: The Work of Tom Hough," which opens at the Nicolaysen Art Museum in Casper on Friday, May 26th with an opening reception from 5:30 PM – 7:30 PM .
Tom Hough served as the Assistant Managing Editor of the Casper Star- Tribune from 1971 until his death in 1977.
In addition to overseeing production of the daily paper, Hough wrote a popular outdoor column called "Headin Out' with Tom Hough," which ran every Friday. Hough chronicled his adventures exploring the state both in print and with his own photographs, which featured prominently in his column and in other sections of the Star-Tribune.
Born in western Kansas during the Great Depression, Hough served in the United States Army as a paratrooper in the 101st Airborne Division in the early 1960s. He studied journalism at the University of Kansas before accepting a position at United Press International (UPI).
This job brought him to Wyoming, a state he had long wanted to explore because of its outdoor recreational opportunities. After leaving UPI, Hough worked for three years as editor and publisher of the Jackson Hole Guide before moving to Casper in 1971.
Always ready for a challenge, Hough scaled the Grand Tetons and climbed Devil's Tower three times, taking photos during ascent and descent. Mountain climbing, hunting, fishing, and many other outdoor adventures featured prominently in "Headin' Out." Hough also included anecdotes from his personal life in his columns, including stories about his large extended family and his young children.
The exhibition, which will include photographs, newspaper columns, and artifacts, has been organized by his children, Christina Wilson of Washington, DC, and Steven Hough of Casper, Wyoming in cooperation with their uncle David Hough of Olpe, Kansas.
"Headin' Out: The Work of Tom Hough" will be on view at the Nicolaysen until August 24, 2023.
Evansville Police Department Share Trail Cam Shots
While investigating an issue down by Veteran's Bridge, Evansville PD set up a trail cam to catch the wildlife in town. Check it out!
Casper Artist Showcasing Images of War in Ukraine at Scarlow's Gallery,