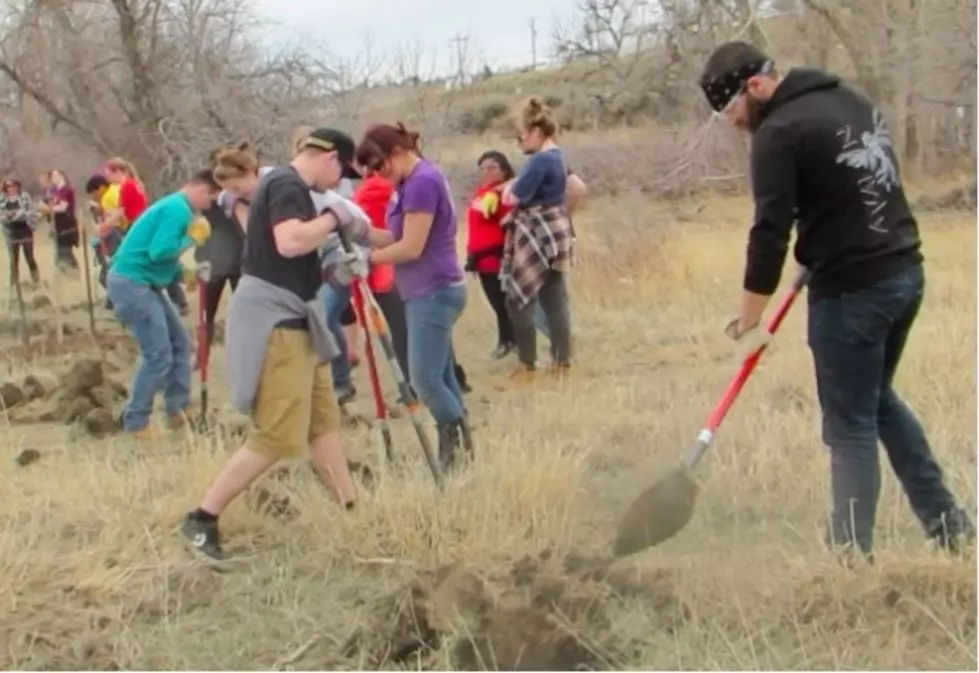 Minnesota Students Plant Trees For Morad Park Restoration
Tom Morton, Townsquare Media
Kaitlin Adams majors in actuarial science.
Jack Sauer majors in cell biology
Sauer's twin brother Tony majors in cell and molecular biology major
Unlike many of their fellow University of Minnesota-Duluth students who hit the beaches for spring break, Adams and the Sauers joined more than 40 others with the school's "Students Today, Leaders Tomorrow" chapter to ride a bus across the west to perform community service "pay it forward" projects.
"They almost laugh, actually," Tony Sauers said. "They're out relaxing some place while we're planting trees and cleaning up parks and that sort of thing."
Early last week, they arrived in Casper to help city crews with the restoration of Morad Park by getting their hands dirty by planting trees, installing irrigation, and clearing debris.
They often don't know what kind of projects they'll be performing until the night before when the organizers tell them what to wear, which in the case of Morad Park was boots, jeans and work gloves, Adams said.
This marked the sixth such "pay it forward" tour in Casper, said Jolene Martinez, the City of Casper's special projects manager. Besides the immediate benefit of a community project, the long-term benefit may be the return of these students when they have businesses and families, she added.
They arrived in Casper on Sunday, stayed overnight at the Casper Recreation Center, and the local Rotary clubs fed them, Martinez said.
After their work in Casper, they boarded their bus for another project in Evanston, followed by another trip to and project in Grand Junction, Colo. They and the students on other project buses elsewhere in the west will converge in Denver at the end of the week for a major project, she said.
City crews have already removed thousands of Russian olive trees, regarded in Wyoming as an invasive species, Martinez said.
In the place of the Russian olives, the students planted cottonwood, box elder, black hawthorne and other trees and bushes to launch this year's phase of the Morad Park restoration, she said.
"When we can get a group of 45 people to come in and truly extend our park staff and the  volunteers and plant 60 trees and lay irrigation lines in three hours, that's amazing," Martinez said.