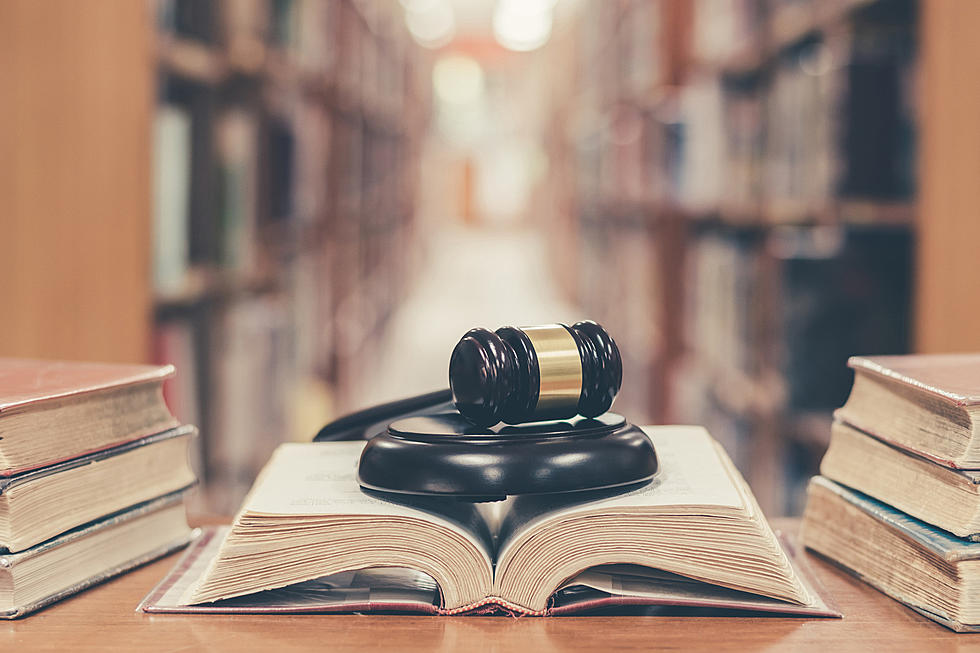 Judge Dismisses Traffic/Gun Case Against Natrona County Man With Sovereign Views
Chinnapong/Getty Images
Last week, Frank Ray Berris represented himself in a bench trial in Natrona County District Court on motor vehicle and firearm charges, and argued that as an individual, the law enforcement agencies, the court and justice systems were corporations and had no authority over him.
"I am the sovereign," Berris said. "No one has control over me."
Natrona County Assistant District Attorney Sam Forshner called witnesses including Wyoming Highway Patrol troopers to testify about what happened on Nov. 9 when they stopped Berris speeding westbound on U.S. Highway 20/26 west of Casper.
Much of what they said was filed in an affidavit about the incident. (See below.)
Berris was charged with one count of possession of a deadly weapon with unlawful intent and one count of driving under suspension.
Thursday, Natrona County District Court Judge Catherine Wilking issued her order about the case.
Wilking said no courts acknowledge the legal arguments Berris made about government agencies being corporations and the sovereignty he declares for himself.
Just because he believes those things doesn't make them reality, she added.
Instead, her decision in the case is based on the U.S. Constitution and Wyoming law, she said.
The prosecution, Wilking said, failed to present sufficient evidence about the incident, that witnesses were not called who could explain what happened, problems with how troopers conducted the traffic stop, how they failed to tell Berris his outstanding warrants, and that officers were unaware of a firearm in his vehicle until Berris lifted his shirt to show a holstered handgun.
"The court must be governed solely by evidence," she said.
"The state has failed to meet its burden of proof on count one and count two," Wilking concluded.
Despite winning the case, Berris declined to comment after the hearing.
=====================
This case started on Nov. 9 when a Wyoming Highway Patrol trooper was patrolling eastbound U.S. Highway 20/26 when he clocked Berris' westbound vehicle speeding 83 mph in a 70 mph zone and pulled him over at mile post 26, according to an affidavit filed with Natrona County Circuit Court.
The plate on the back of Berris' vehicle read "(Wyoming, Private Property, No Trespassing, American State National)."
The trooper told Berris he was driving too fast.
Berris responded, "'Actually I'll bet you $1000 you can't show me a law where I have to have a driver's license, let alone the authority to tell me how fast I'm going," according to the affidavit.
The trooper asked him if he had a driver's license, to which Berris said, "'Why would I need one?'" The trooper asked if he had any identification, and Berris said "'I'm not dealing in commerce, here's my passport.'"
The trooper didn't want to escalate the situation, so he went to his patrol car and looked up the information Berris gave him, and found he had a warrant out from Mills and another one that was countywide.
So the trooper went back to Berris' vehicle and asked if it was registered to him.
"Mr. Berris laughed at me and then asked me, 'You really don't understand the law do you?' I asked what he meant by that. He stated, 'I'm an American State National, so I don't register anything. I'm a sovereign individual, allowed to travel freely down public thoroughfares without being detained.' I observed frustration in his tone," the trooper wrote in the affidavit.
The trooper realized asking anything more would just aggravate the situations he called for two more troopers, who then spoke to Berris at length.
Berris wanted his passport, but the trooper told him he wouldn't get it until he stepped out of the vehicle because he needed to be arrested on the two warrants.
One of the deputies asked Berris several times to get out of the vehicle, finally saying if he didn't get out the deputy would break the window and pull him out.
Berris responded, "'If you do that, this is going to go south quick.'"
The deputy said he didn't want the situation to "go 'south,'" to which Berris responded, "'We are going to have a gun fight on the side of the road is what we are going to have.'"
Berris lifted his shirt to show the other deputy that he had a firearm on his hip.
The troopers decided to let Berris go because they felt like he would use his firearm if they attempted to get him out of the vehicle, according to the affidavit.
=============================
Last week, Berris called the court hearing a sham.
"I didn't commit a crime, so what are we doing here," he asked the court.
Because he was representing himself and had witnesses who would testify, Wilking instructed him how to behave and she sequestered the witnesses.
Berris protested that he's already been found guilty, he said. "Sounds like railroading to me, ma'am."
He asked Wyoming Highway Patrol troopers, and county and municipal clerks what they know about the law and if they were acting lawfully when they filled out paperwork for warrants for his arrest.
"They're ignorant of the law," Berris said of the troopers. "All they know is codes and statutes."
Likewise, he said of the clerks, "These women aren't bad people, they're just ignorant of the law."
Bands of Beartrap Summer Festival 2022
The bands of Beartrap Summer Festival fill the meadow with their incredible music. Country, Blues, Bluegrass, and Rock, it's all up here on the mountain.