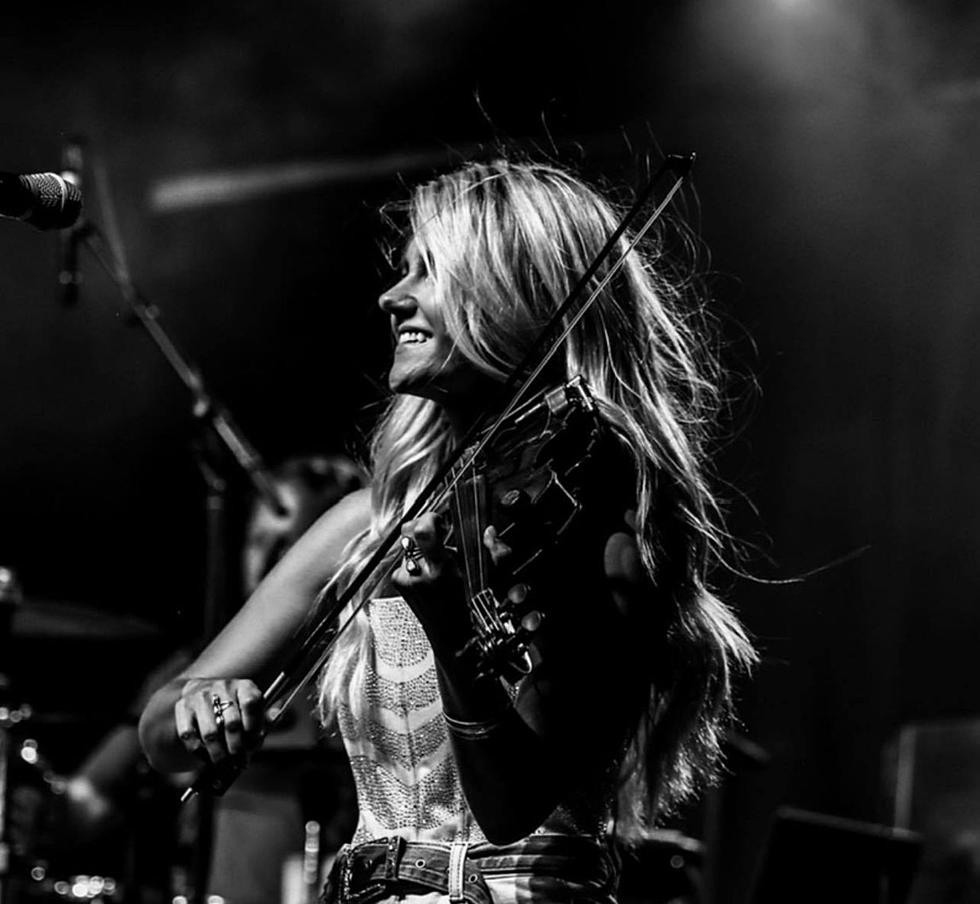 From the Kelly Walsh Choir to the Grand Ole Opry – Casper Native Brooke Latka on 'Making It' in Music
Photo Courtesy of Brooke Latka
Brooke Latka was seven years old when she first picked up a violin.
She's loved music her whole life; it's a love she got from her parents.
"My dad always had his classic rock an roll records playing in the house when I was little," Latka told K2 Radio News. "I loved dancing around to music and my sister and I always loved singing songs. Music has been huge in my family, and such a big part of my life."
That love for music eventually evolved into a desire to play it. Latka began taking private Suzuki violin lessons from Becky Mothersbaugh, the concert mistress of the Wyoming Symphony Orchestra.
"I give her all the credit for my playing," she said. "She is the reason I am where I am today. When I was little, though, I never thought I would be performing on stage for a living. But I knew that if I wanted to get to do these great things, if I wanted to perform for thousands of people, I had to dig deep, practice, and take all the musical advice I could get growing up."
She loved music, and she was good at it. But she did not love performing as a child.
"I really struggled, and still do struggle with shyness," Latka said. "It was really hard for me as a child to do recitals because I would be so nervous that it would make me sick. I thought that being so shy would probably stop me from going any further in music."
Luckily, that didn't happen. Latka began playing in her junior high and high school orchestra and eventually joined the Kelly Walsh High School choir as well.
"It wasn't until 9th grade that my best friend told me I needed to try out for Marcia Patton's choir," Latka said. "I almost didn't do it because of my shyness and not having the confidence in my voice, but I finally got the guts to do it and it was one of the best decisions I ever made."
Latka said she met some of her closest friends and was also able to travel to New York City to play at Carnegie Hall, one of the most hallowed performance venues in the country.
Latka said she learned a lot during those pivotal high school years, and she owes a lot of her confidence to the lessons she learned in Marcia Patton's choirs.
One of the lessons she learned was to take a chance, because you never know where it would take you. Latka took a chance by trying out for choir, and it was a chance that eventually led to Carnegie Hall.
"If I wouldn't have tried out for Mrs. Patton's choir, I may not be where I am today with my music," Latka said. "Mrs. Patton believed in me and gave me a chance to sing in her choir. If it weren't for her, I don't think I would be singing. I never even knew that I could sing until she helped bring it out of me."
Mrs. Patton tends to do that with her students. Latka is just one of hundreds of students who have learned from her; not just lessons about music, but lessons about life.
Another lesson that Latka learned, in choir and just in high school in general, was to be kind to everyone, because you may not know what the person is going through.
"I was bullied my first year of high school, and it really taught me to be kind to everyone, because I know how it feels to be bullied, and it's not a good feeling. We carry those traumatizing moments throughout the rest of our lives, and I hope that kids realize what an impact their actions have on other kids."
Latka made it out of high school relatively unscathed. She attended and graduated Casper College. She'd been studying classical music for years but after graduating, she became more and more interested in "fiddling."
There's not actually a difference between a violin and a fiddle - it's all in how you play. While a violin is used to play more classical music, a fiddle is used in bluegrass, country, folk, and more.
Latka found more of herself in fiddle music and she began having more fun. She joined an all-girls band and would play local gigs throughout Casper and beyond. She joined fiddle competitions and even started traveling just a little bit, demonstrating her skills and, most importantly, having fun.
And that's when she met Chancey Williams.
"I met Chancey at The Beacon Club during the College National Finals Rodeo," Latka shared. "I told him that I played fiddle and had a show at the Casper Events Center before the rodeo. He had just gotten back from Nashville, finishing up his first album, 'Honky Tonk Road,' and he was starting up his band, 'The Younger Brothers Band' again"
Latka said that Williams was looking for a fiddle player, so he came to her performance and like Jackson Maine discovering Ally, a star was born that night.
"It was kind of like an audition," Latka said. "He loved my playing and I joined the band a few weeks later and the rest is history."
History in the making, in fact. Because as Chancey's star grew, so too did Latka's. They did it together, along with the rest of their band. They went from Casper to Nashville; from The Beacon Club to Cheyenne Frontier Days.
Latka, herself, went from the John F. Welsh Auditorium to the Grand Ole Opry.
"Many great artists have played at the Grand Ole Opry," she said. "It means a lot to me to be able to perform on that stage. We have worked so hard throughout the years, and I feel like our hard work and music is being recognized. There haven't been too many musicians from Wyoming to get to perform on that stage, so it's definitely going to be a special moment and a huge honor."
15 years ago, Latka met Chancey Williams and played her fiddle for him. Was it love at first sight? We may never know. But it was certainly the start of something special.
Read More: Wyoming's Chancey Williams Is About To Make Grand Ole Opry Debut
"I'd really like to thank Chancey," Latka said. "I really don't know how far I would have made it in the band if it weren't for his kindness, positivity, and encouragement throughout the years. He and the band have taken such great care of me for the past 15 years, and I'm the luckiest gal to get to play music with the best of friends that I call family."
When Brooke Latka first picked up her violin - nay - her fiddle at just seven years old, she had no idea where it could lead her. She had no idea that it would take her from a Kelly Walsh choir to the Grand Ole Opry. But that's exactly where it led. So, if she had advice for any other little girl that might see her play and be inspired to follow their own dream, what would Latka tell her?
"Just go for it," Latka said. "Don't let your comfort zone hold you back. You will never grow unless you take a chance and do something that scares you. Remember, if I can do it, you can do it."
The Chancey Williams Band will be playing the Grand Ole Opry on April 22. Tickets are available here. 
Concert of Hope Featuring Chancey Williams