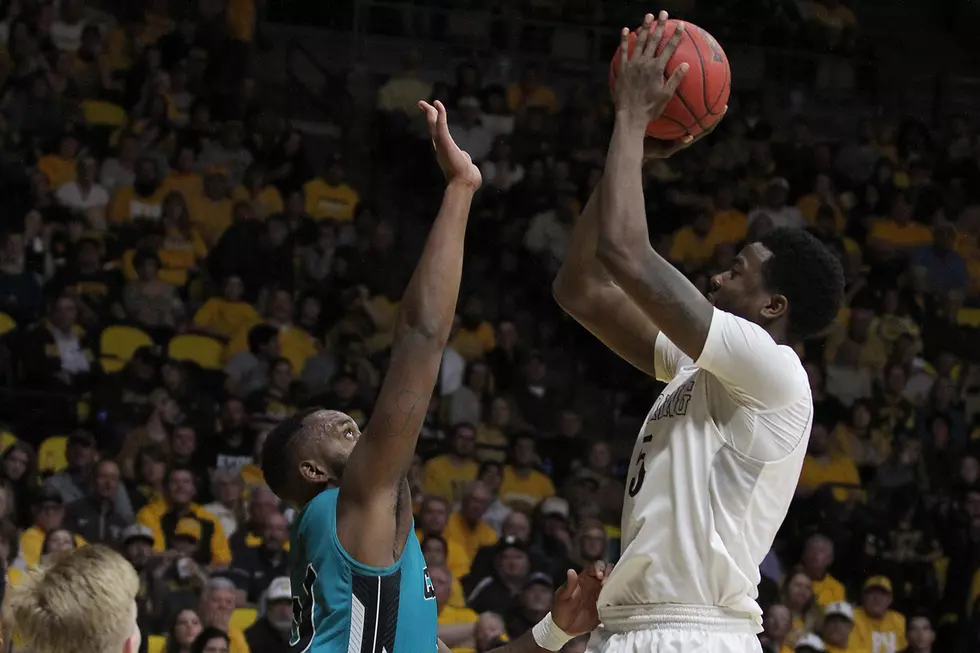 Conference Play Is Here For The Cowboys
Seneca Riggins, Townsquare Media
The grind of Mountain West Conference play begins Wednesday for the Wyoming Cowboys, as they host the San Diego State Aztecs in Laramie.
Wyoming (9-4) will find out how they stack up quickly, as they face three of the top five teams in the current MW standings in their first three games. After San Diego State at home, UW heads to Nevada (Jan. 3) and hosts Boise State (Jan. 6).
Cowboys' head coach Allen Edwards said they'll have to continue to work and put themselves in position to win.
"These first three, to our team, will be a really good tale, tale sign of where we'll fare in conference. I don't like to talk to our guys about where someone picked us, or what someone outside of our family feels about us. It's more about us putting in the work, believing in the process and just going forward."
Coming off a small break ahead of Christmas, UW had players reported back on Dec. 24. Since then, they've gone through a few two-a-day practices to gear up for league play.
Senior forward Alan Herndon said they've gotten after it.
"Just came back just more focused; getting back to our old habits, just practicing harder, more focused and just taking everything serious. Not that we weren't before, but just bringing that energy and bringing that more competitive nature to practice. Getting more live drills in, so definitely getting back to it."
Herndon added it was a little responsive to the UNC loss on Dec. 19, but they would've needed it because they haven't been enough on edge defensively lately.
Herndon also knows they must be ready for the Mountain West.
"You definitely need an edge every night in this league… I think it was just we had to get back to practicing hard, really been being focused and getting back to being competitive. I think sometimes we were a little bit too relaxed, so we're definitely getting back into it with these practices that we've had."
San Diego State (8-3) is just in front of the Pokes in the league standings. The Aztecs enter with some momentum, having just beaten No. 12 Gonzaga in their last game last Thursday, Dec. 21.
Edwards looks at SDSU and says, "We have to be able to surpass their intensity, but we still have to be able to play our brand (of basketball). We can't adjust every time we play an opponent, in the sense of getting away from what we do."
He does see some similarity in the Aztecs compared to the Cowboys, especially with some of the line-ups they can put on the floor.
San Diego State is pushing the tempo more, but still relies on and is one of the better defensive teams in the MW. The Aztecs are averaging 78.3 points per game, but allow only 64.7, which second in the conference. They are also No. 1 in field goal percentage defense at 39 percent per game. SDSU is second in the MW at 41 rebounds per game.
For comparison, UW is averaging 77.3 points per game and allows 75.3. They grab 37 rebounds per game. The Cowboys feature four players averaging in double figures led by junior Justin James at 16.6 per contest. He's scored 20 points and grabbed nine boards per game over the last five. Hayden Dalton adds 16.1 points and team-leading 7.5 rebounds per game.
San Diego State is led by junior transfer guard Devin Watson at 13.1 points per game, one of four Aztecs that average in double figures. Senior Trey Kell came off the bench in their last game, but may start tonight.
Edwards said, "I think Kell brings a different dynamic. I think he puts them over the hump… He's just crafty; knows how to play; uses his body well; angles; can play downhill off ball screens; can shoot the basketball; go against smaller guards and just shoot right over them; and he's crafty on the defensive end, as well… He makes that much of a difference."
Kell is averaging 12.4 points, four rebounds and 3.3 assists per game.
The Aztecs won the lone meeting last season, 77-68, in San Diego on Jan. 31, 2017. UW is 26-10 all-time versus San Diego State in Laramie.
The game will tip-off at 7 p.m. You can watch online via ESPN3.
Mountain West Notes
UNLV leads the league standings going into conference play with an 11-2 record. The Rebels have won five straight games. No other team has won or lost more than two straight as MW play begins. Boise State is second at 10-2, followed by Nevada at 11-3 and Fresno State at 10-3. The Aztecs and Cowboys are next, then Utah State at 7-6 is the only other team with an above .500 record.
The rest of tonight's opening MW schedule has Air Force at New Mexico, San Jose State visits Utah State, Colorado State at Boise State and Fresno State hosts Nevada. UNLV opens with its first bye. Wyoming will have a bye on Dec. 30.