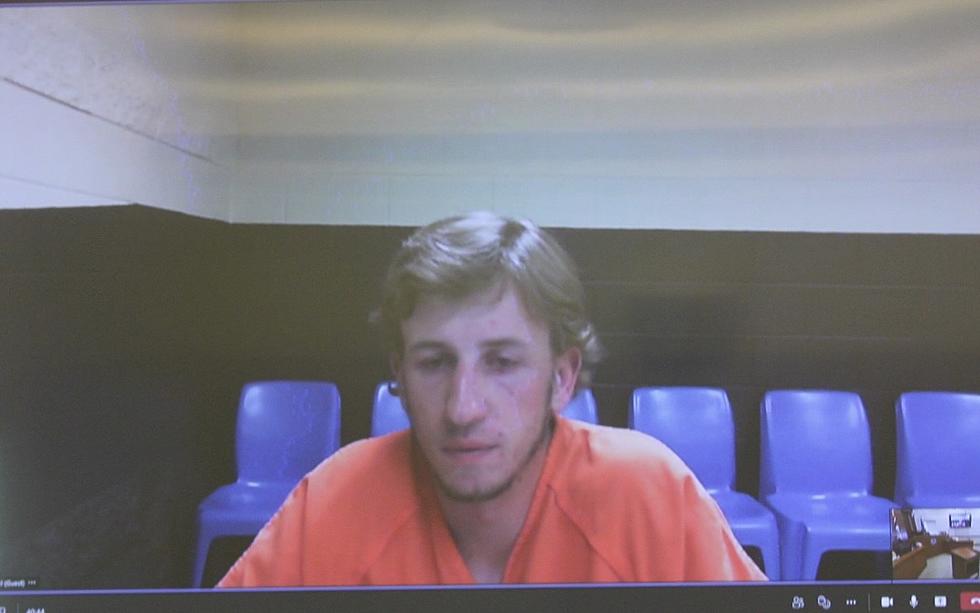 Colorado Man Jailed for 8 Alleged Crimes Against Wyoming Wildlife
Dylan Zuber appears by video for an intitial appearance in Natrona County Circuit Court; photo by Kolby Fedore, TSM
A Colorado man appeared by video conference in Natrona County circuit court for eight wildlife violations.
Dylan Zuber, 25, was charged with five seperate counts of taking a big game animal without a license--four buck mule deer and one buck antelope.
Zuber was also charged with taking a swift fox without a license, taking game after legal hunting hours, and using artifical light.
These allegations stem from October of 2017 to September of 2019. Zuber said in court that they occured while he was working in Wyoming.
These are all misdemeanors that carry fines up to $5,000 and jail time up to a year.
Furthermore, there could be repercussions from the Wyoming Game and Fish including loss of hunting privileges.
Zuber told the judge that he drove 10 hours to turn himself in. He said, "These happened in my troubled youth days," and added "I would give up my hunting rights for the rest of my life."
The defendant pleaded not guilty to the charges.
Assistant District attorney Stephanie Arrache provided that when law enforcement tried to contact him three years ago Zuber repeatedly hung up the phone.
She added that he has current cases in Colorado that he is currently in the process of fighting. Arrache believes they are similiar in nature to today's charges.
In August, 2021 CBS News Colorado reported that Zuber faced 20 counts of wildlife violations in the Centennial State.
They wrote that, as part of a plea deal, he pleaded guilty to one count each of willful destruction of wildlife, illegal possession of three or more big game animals and hunting with an artificial light. He has since paid $3,360.50 in fines according to Colorado Parks and Wildlife.
Zuber was also ordered to donate $2,500 to Colorado Operation Game Thief and is prohibited from hunting or possessing firearms.
In Natrona County, Arrache recommended the judge set bond at $25,000 cash only due to Zuber's "willful lack of disregard for Wyoming and our wildlife, which we take very seriously here in Wyoming."
Ultimately, Judge Collier set bond at $10,000 cash or surety.
We will update this story as more details become available.
Staff Members at the Wyoming Game and Fish Share Spring Photos
Photo Essay: Rejuvenation. Springtime 2023. You can subscribe to
Wyoming Wildlife
to see more like these.
Wyoming Game and Fish Wildlife Calendar Photo Contest Entries
The Wyoming Wildlife 2024 Calendar Photo Contest Underway. The contest accepts photos of wildlife taken in Wyoming, including Grand Teton and Yellowstone national parks. Wildlife includes mammals, birds, reptiles, amphibians and fish.