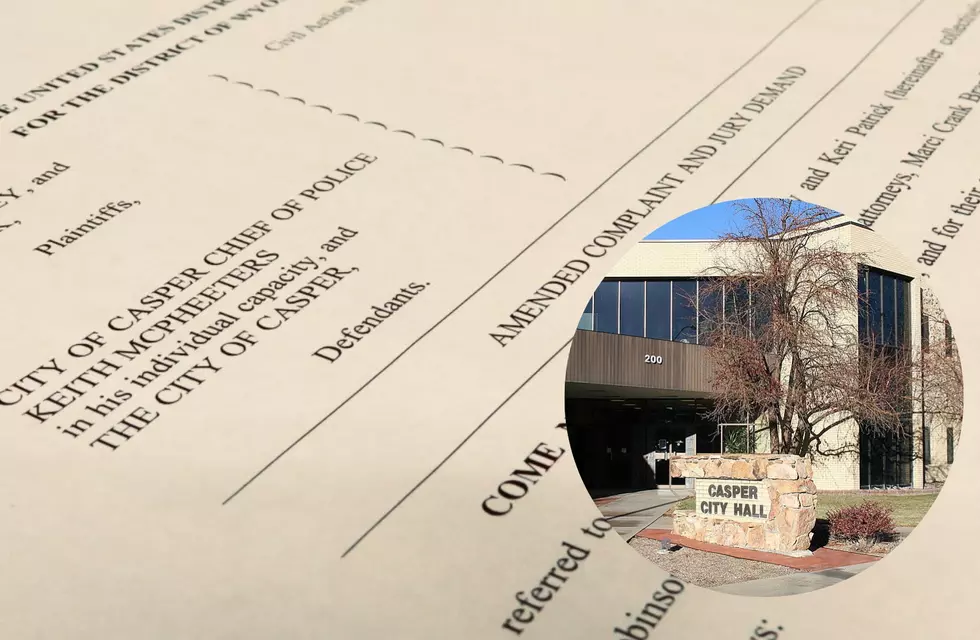 Casper PD Detectives Add City of Casper to Police Chief Lawsuit
Canva, City of Casper, Tom Morton by Townsquare Media
The former and current police detectives who filed a civil rights lawsuit against the Casper Police Chief have now named the City of Casper as a defendant, according to a recently filed court document.
The initial complaint by former detective Shannon Daley and current detective Teri Patrick only named Chief Keith McPheeters as a defendant, even though it mentioned actions by city officials who knew about his refusal to act on recommendations to fire detective Chase Nash for sexual and other harassment.
The amended complaint, filed Jan. 19, now names the city as well for violating Title VII of the Civil Rights Act which prohibits employers' discrimination based on race, color, religion, sex and national origin.
In the original complaint, Daley and Patrick demanded the following relief from McPheeters.
"All statutorily available damages in an amount to be determined at trial;
"Compensatory damages in an amount to be determined at trial;
"Punitive damages in an amount to be determined at trial;
"Costs and pre- and post-judgment interest; and
"Any and all further relief which the Court deems just and equitable."
They now want the same from the City of Casper.
On Oct. 7, Daley and Patrick sued McPheeters under Title VII of the Civil Rights Act of 1964 because he knew that now-retired detective Chase Nash should have been terminated after reports found Nash constantly made inappropriate sexual comments, retaliated against Daley and Patrick and created a hostile work environment.
On Dec. 5, McPheeters, through Wyoming Assistant Attorneys General Debra Hulett and Prentice Olive, responded by asking U.S. District Court Judge Alan Johnson to dismiss the case.
The attorneys argued Title VII does not apply to individual supervisors; the detectives failed to state enough facts that McPheeters was deliberately indifferent to Nash's harassing behavior; that Nash's sexual comments stopped after remedial action was taken; and McPheeters is entitled to qualified immunity because he did not violate a federal statutory or constitutional right, among other issues.
On Jan. 10, Daley and Patrick, through their attorneys John Robinson and Marci Crank Bramlet, responded by recounting their initial allegations about Nash's behavior, the two investigations about his behavior, McPheeters' indifference to the detectives' concerns, the impact on the detectives' physical and mental health, and that qualified immunity is not a defense in this case.
On Jan. 19, Johnson denied without prejudice McPheeter's motion to dismiss, (meaning the matter could again be brought before the court) because Daley and Patrick filed an amended complaint that same day naming the city as a detective.
The amended complaint recounted the facts and law from the first complaint:
Daley's and Patrick's history with the Casper Police Department.
Reports to the department's internal investigations division about Nash's public and inappropriate sexual comments from other detectives, and Casper and Natrona County agencies.
McPheeters' overruling the recommendation from that investigation that Nash be terminated.
Nash's retaliation campaign against the detectives even though they weren't involved with that first investigation.
Nash's filing an Equal Employment Opportunity Commission complaint that he was being discriminated against as a "straight, white male."
Nash's interference with investigations.
Meetings among Daley, McPheeters, Patrick, the Police Department's deputy chief, and City of Casper officials.
A problem with Nash as a potential witness in a federal criminal case.
The city's recommendation, based on a second investigation, that Nash be fired.
Nash being placed on administrative leave on Jan. 17, 2022.
Daley buying out the remaining 20 months of her retirement for more than $94,000 so she could leave the department.
The defendants' attorneys will have until Feb. 16 to file their answer to the amended complaint.
Photos from Saturday's Shop with a Cop
Christmastime at the Tate Museum