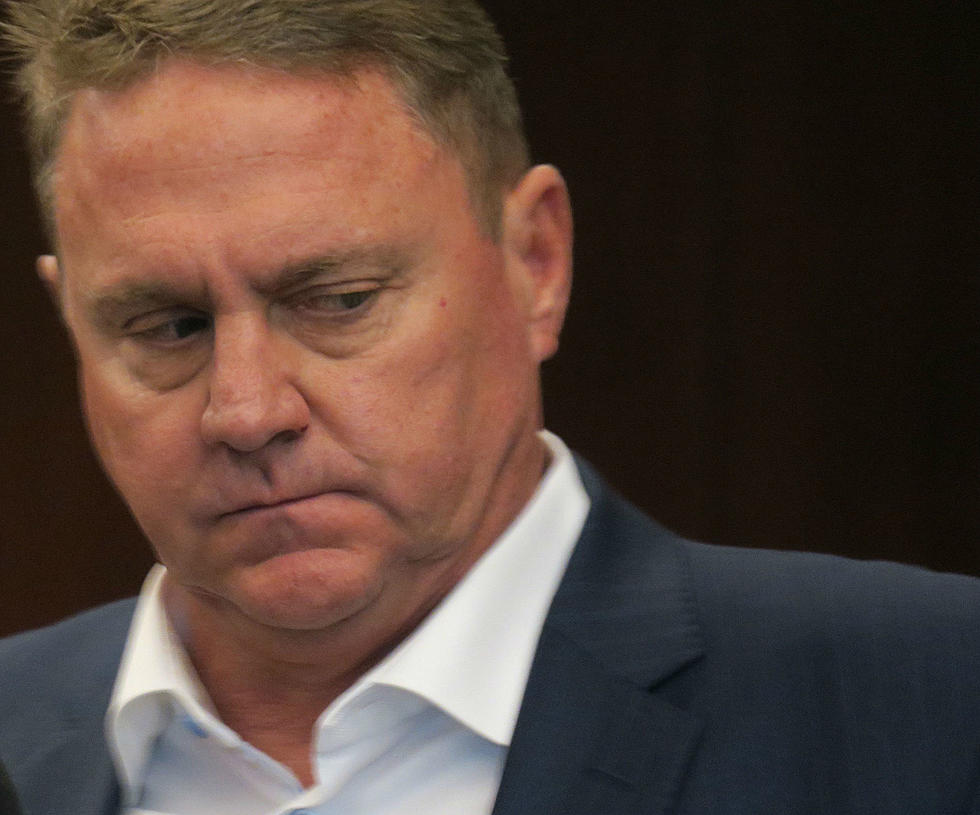 BREAKING: Tony Cercy Gets 6-8 Years for Sexual Assault
Tom Morton, Townsquare Media
Former Casper businessman  Tony Cercy was sentenced to six to eight years imprisonment on a third-degree sexual assault charge Wednesday in Natrona County District Court.
Cercy, convicted of third-degree sexual assault by a jury in November, declined to speak on his own behalf after the prosecution, defense, the victim and Cercy's friends told their stories to Natrona County District Court Judge Daniel Forgey during the nearly two-and-a-half-hour hearing.
Forgey called a 15-minute recess to review his notes before handing down the sentence.
Beside the prison term, Forgey said Cercy would be listed as a qualified offender because of his alcohol use, that he would be required to pay the cost of prosecution, and that he would not be released on bond before beginning his sentence because he has the means and ability to flee.
After the court adjourned, special prosecutor Mike Blonigen said he was satisfied with the sentence, even though he argued for 13 to 15 years of incarceration, which is the maximum for third-degree sexual assault.
Even so, he said it sent a message that this was a serious crime with serious consequences, that the culture needs to change about blaming victims, and that perpetrators with power and money will not be treated differently than those who don't.
However, the sentence will do little to restore the damage the assault did to the victim, Blonigen said.
Blonigen prosecuted the first trial a year ago in which Cercy was acquitted of first- and second-degree sexual assault, but the jury deadlocked on the third-degree count.
The victim asked Blonigen to retry Cercy on the third-degree count, and a jury in Hot Springs County Court in Thermopolis convicted him in November. Blonigen did not run for re-election, but Forgey granted the District Attorney's office request to have him be the special prosecutor for the sentencing.
After the sentencing, lead defense attorney Pamela Mackey -- recently hired by film producer Harvey Weinstein for his defense -- said she had no comment.
-----------------------------
The courtroom was filling with people an hour before the hearing set for 10 a.m. It was at capacity when a thin Cercy entered wearing an orange jumpsuit but without handcuffs.
After Forgey convened the hearing, he granted Blonigen's motion to allow the testimony of two men who saw the aftermath of Cercy choking a dancer and biting her nipple at the Rack's Gentleman's Club about nine years ago.
He asked Mackey and Blonigen if they had any corrections to the presentence investigation, and they said no.
Blonigen then called the victim who read a prepared statement on her life since the assault in June 2017
"A year-and-a-half later and my new normal isn't at all normal and I am unsure if it ever will be," she said. "I went to sleep that night and from the moment I woke up on June 25th at three in the morning, it's been a nightmare, one that you can't wake up from. Never in my life did I think I would be here, speaking like this, trying to put something into words when there are no words that do it justice."
She recounted how Cercy was surprised as her when she woke up; how he threatened to kill her if she told anyone; how the threat and embarrassment kept her from speaking about it; the shame of coming forward and being tested for sexually transmitted diseases; the difficulty of deciding whether to finish her senior year in college; sleeping with the light on because of the terror of being alone; the depression's effect of not wanting to eat, get out of bed or talk to people; and the loss of her friends.
"The people I was with the night this took place were friends I had since seventh grade. From the moment I spoke out against Tony Cercy and held him accountable I lost everyone I previously called a friend. Not only did I lose them but I was shamed by them and watched them actively protect the man who assaulted me," she said.
Besides the pain to her, she said it's been even harder for her family. "My attack and bringing Tony Cercy to justice have consumed my parents."
The trials were humiliating for the testimony she had to give, the video taken of her when she was passed out on the couch at Cercy's former Alcova home, and the invasive questions from Mackey about her clothes, boyfriend and drinking.
She closed her comments saying Forgey's sentence should not be influenced by Cercy's prominence as a businessman in the community.
"Tony Cercy has inflicted damage on me that it  irreversible. Remember, he isn't a good man that made a bad mistake, he is a sick human that was acting in character." she said.
"You honor, you cannot give me back the life I had before this assault. But you can hold Tony Cercy accountable. You can help me heal and protect other girls out there. I respectfully request that you give Tony Cercy the maximum sentence. Thank you."
People who testified on behalf of Cercy were his wife, two former employees of his former company power service, and therapist Lori Hicks who began offering a psychological evaluation of Cercy.
Blonigen objected, saying witnesses were supposed to give their personal views, not present expert testimony.
So Hicks said she worked with him in support therapy, how he was a hard worker, had no prior criminal history, is financially stable, and should be laced on probation adding that he is not a danger to the community.
After Forgey adjourned the hearing, families and friends of the victim and Cercy filed out of the courtroom.
Cercy's wife Caryl turned to the crowd outside the courtroom on the first floor of the Townsend Justice Center and said, "Jesus will forgive you."