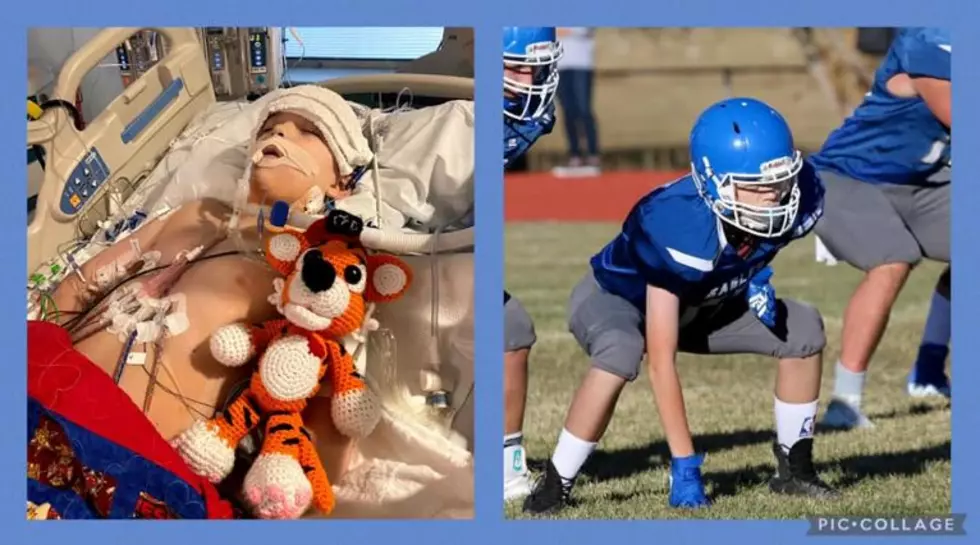 Wyoming Father-Son Team Work to Spread Awareness about Organ Donation Through License Plates
Courtesy Eric Quinney
A father and son from Lyman have teamed up with Uinta County Senator Wendy Shuler to develop legislation to create a special license plate for the state of Wyoming to promote organ donation awareness.
Last week Eric and Bryson Quinney testified in the senate transportation committee when they were discussing legislation. The committee passed the license plate with a 4-1 vote, on the Senate floor it has passed the third reading, so now goes over to the house side.
"We want people to support this legislation so we can continue the work of awareness on behalf of Bryson and all the people waiting for life saving organs."
Bryson Quinney was born with only half a heart.
The right side never developed.
At just four days old, Bryson had his first heart surgery in order to stay alive.
Over the course of the next several years, he had three open heart surgeries, and he was doing well, but by teenage years needed oxygen because his heart wasn't quite keeping up with daily activities.
By twelve he started having problems with his liver, connected to the way his heart functioned.
In the fall of 2019 when he was almost 13, he was put on the organ waiting list.
Bryson received a new heart in March 2020.
He spent about two months at the Primary Children's Hospital in Salt Lake City prior to getting the transplant.
His dad recalled that it was right in the middle of the pandemic, which meant everyone took extra precaution to prevent him from getting sick during that especially vulnerable time.
Three years later, he's thriving.
His heartaversary is March 5.
He's playing football, involved in drama, and living his best life, said his dad.
Now that he's gotten his heart, Bryson and his family have started to promote organ donation awareness to save other lives.
While in the hospital there was a sweet young girl next to Bryson.
She was 13.
She was waiting for a heart and a kidney, but unfortunately, a few months after Bryson got his heart, McKenzie Madsen passed away from her heart condition.
"That was a hard time because Bryson became pretty close to McKenzie as they were in the hospital together waiting for organs to sustain their lives."
People are dying as they wait for organs.
Right now 100,000 people in the U.S. are waiting for life-saving organs.
There are 100 people in the state of Wyoming on the waitlist.
Bryson's dad believes license plates are only a piece of the puzzle in increasing awareness about organ donation.
"Our license plates are a source of pride in Wyoming and can be rolling billboards in terms of some of the things you see out there right now--wildlife conservation, veterans, UW alumni...what this bill is trying to do is start conversations with people and families so they can understand the importance of organ donation and the difference it makes in people's lives."
Right now there's no design set in stone--if and when they get the green light to develop the plates they will work with the Wyoming Department of Transportation to find the perfect look. Below is simply a picture that shows what's possible.
The Quinneys' goal is to get families talking about organ donation as they're driving along Wyoming's long stretches of road.
Yes, organ donation comes at the expense of tragedy, but so much good can come out of those tragedies, says Quinney.
"Sometimes people think of organs in terms of heart, liver, kidneys. Eyes and tissue donation is huge in terms of helping other people that may have been burned...there's just so many opportunities to help other people through organ, eye and tissue donation."
At the time of their death, just one donor can save up to eight lives and help more than 75 lives through eye and tissue donation.
If signed into law, the license plates could be on vehicles in January 2024.
You can listen to the full interview in our Report to Wyoming Podcast HERE!!
These Are the Doggos You Can Adopt Right Now From the Casper Humane Society