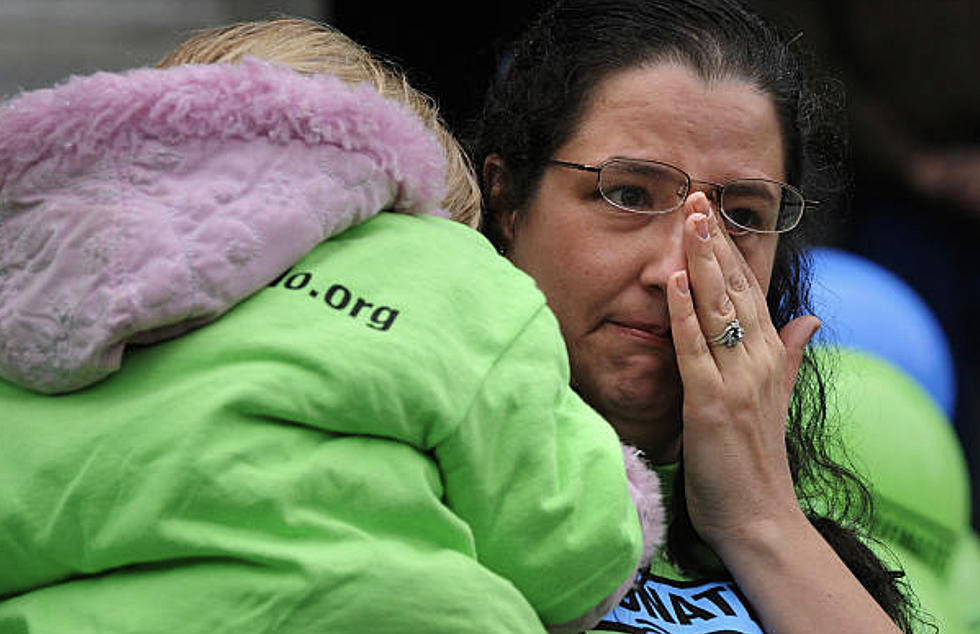 National Donate Life Month Brings Colorado and Wyoming Residents Together to Shine a Light on Organ, Eye and Tissue Donation
Brecca Renz holding her daughter Julia Renz, 5, at the Colorado State Capitol on the West Steps, on Thursday, during a celebration of National Donate Life month. The Colorado Donor Registry will be re-launched as Donate Life Colorado at the Colorado State Capitol. Julia had a heart transplant on May 15, 2008. Her mother tears up when they thanked the families who donated their organs. RJ Sangosti/ The Denver Post (Photo By RJ Sangosti/The Denver Post via Getty Images)
DENVER--(BUSINESS WIRE)--Mar 30, 2023--
This April, Colorado and Wyoming residents and businesses are 'Shining a Light' to show support for organ, eye and tissue donation with light displays, proclamations and flag raising events to honor, celebrate, and recognize National Donate Life Month. Participating organizations—including area hospitals and city landmarks—will be illuminated in blue and green light displays throughout the month to raise awareness for the cause. Local governments throughout Colorado and Wyoming are also declaring April Donate Life Month in their cities. The annual Donate Life Month celebration honors the generosity of organ, eye and tissue donors and their families while celebrating transplant recipients and recognizing those who continue to wait for a lifesaving transplant.
"The widespread show of support for National Donate Life Month is growing and bears witness to the impact donation and transplantation has in our communities," said Jennifer Prinz, president and CEO, Donor Alliance. "Both Colorado and Wyoming are some of the most generous states in the country when it comes to donation, but even with the incredible generosity of our residents, there are still nearly 1,500 people in our area waiting on a lifesaving transplant. Donor Alliance is hopeful that as we increase awareness through Donate Life Month activities that more residents are inspired to consider giving the gift of life by registering as organ, eye and tissue donors."
Donor Alliance, the federally designated non-profit organization that facilitates organ and tissue donation in Colorado and most of Wyoming, is hosting the events and encouraging community members to enjoy the light displays throughout the region while also shining their own light for the cause. Residents can request a free #ShineALight Lighting Kit to display at their home or office to show support for the cause. Please share a picture on social media using #ShineALight to help raise awareness and give hope to the nearly 1,500 people waiting for a lifesaving organ transplant in Colorado and Wyoming.
Here are some of the stories that local Donor Alliance Advocates for Life volunteers are sharing with their communities at events this April:
Joe Kovarik, heart recipient, Colorado Springs: Joe received a heart transplant in 2001 after being diagnosed with a genetic heart disease a decade prior. Thanks to his generous donor, Joe is living his life to the fullest. Joe is passionate about sharing his story of hope with others and is endlessly thankful for the selflessness of his donor and his donor's family, who he remains close with to this day.
Babette Canacari, mother of a donor, Denver: Babette lost her daughter, Brianna, at just 12 years old. She grieves the loss of her daughter but is able to take solace knowing that through Brianna's death, she gave life to at least three others through organ donation and healed even more lives with her tissue. Babette shares her family's story in hope that everyone thinks about giving the gift of life and providing hope to other families.
Linda Seavey, liver recipient, Evergreen: Linda received a successful liver transplant in 2011. She is eternally grateful to the family of her donor, who in a time of extreme sadness and grief chose to give her the precious gift of life. Cherishing and savoring each moment she has with her family, Linda is living life to the fullest. She is sharing her story to give those waiting on a transplant hope and to inspire others to register as donors.
Jeremey Mares, liver recipient, Pueblo: Jeremy received a liver transplant in 2018 when his liver suddenly failed due to a health condition he unknowingly had since birth. Jeremy's lifesaving transplant was made possible because someone said "yes" to organ, eye, and tissue donation and he's thankful for the heroic gift of life that his donor granted him.
In addition to the formal proclamations and lighting events, communities and businesses throughout both states are showing their support for organ, eye and tissue donation by flying Donate Life flags, hanging posters and banners, displaying window clings or decorating for National Blue & Green Day on Friday, April 14 th. National Blue & Green Day is another fun opportunity to wear or decorate in blue and green to show support for the cause.
For more information on National Donate Life Month events, or to sign up to become an organ, eye and tissue donor, please visit DonorAlliance.org.
About Donor Alliance
Donor Alliance is a non-profit organization dedicated to saving lives through organ and tissue donation and transplantation. As the organ and tissue procurement agency for Colorado and most of Wyoming, Donor Alliance serves more than 6.3 million residents and 112 hospitals. Donor Alliance adheres to the highest medical, regulatory and ethical standards, and meets every performance standard. By respectfully working with the families of organ and tissue donors, maintaining partnerships with hospitals, educating residents on the life-saving benefits of donation and inspiring them to sign up on the state's donor registry, Donor Alliance is able to save lives through organ and tissue donation and transplantation. Colorado and Wyoming boast some of the highest rates of donor registration in the country, which directly translates to more lives saved and healed through organ and tissue transplantation. Donor Alliance is one of 56 federally designated organizations of its kind in the United States. For more information visit DonorAlliance.org or the Donate Life Colorado or Donate Life Wyoming Facebook pages.
Wyoming Photographer Shares Breathtaking Pictures of Northern Lights
Various Casper Photographers captured the beauty of the Northern Lights on March 23, 2023.