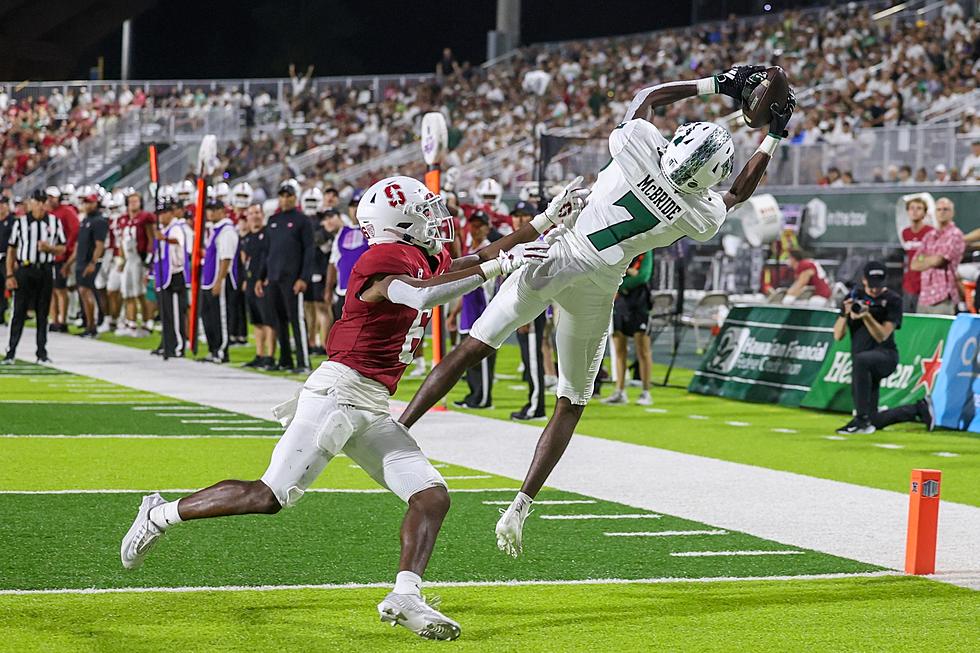 Know Wyoming's foe: Hawaii Rainbow Warriors
HONOLULU, HAWAII - SEPTEMBER 1: Steven McBride #7 of the Hawaii Rainbow Warriors makes a catch in the end zone over Collin Wright #6 of the Stanford Cardinal to score a touchdown during the second half of the game at the Clarence T.C. Ching Athletics Complex on September 1, 2023 in Honolulu, Hawaii. (Photo by Darryl Oumi/Getty Images)
LARAMIE -- Another week, another elite receiver -- or two -- to deal with.
Boise State's Eric McAlister, Colorado State's Tory Horton and UNLV's Ricky White all got their crack at the Wyoming secondary.
Now, it's Steven McBride's turn.
Containing the 6-foot-1 Kansas product will be enough of a task. To make matters even tougher for the Cowboys, Hawaii has two wideouts with more than 700 receiving yards to go along with 17 combined touchdowns.
McBride leads the Rainbow Warriors with 839 receiving yards. Pofele Ashlock has the most catches on the roster, hauling in 72 receptions for 726 yards. The 6-foot-2 speedster also has a team-high nine touchdown grabs.
"They've got a great group of receivers," Wyoming head coach Craig Bohl said. "They're passing the ball about 270 yards per game."
Hawaii's run-and-shoot offense is racking up the stats. Brayden Schager and Co. are also starting to put points on the scoreboard.
MORE UW FOOTBALL NEWS VIA 7220SPORTS:
* Around the MTN: UNLV QB Jayden Maiava the real deal
* Cowboys, Hawaii battle for Paniolo Trophy at noon Saturday
* Wyoming's battered, bruised Cole Godbout 'gutting it out'
* Wyoming Cowboys in the NFL: Week 10
* Wyoming Football: News and notes ahead of Hawaii
* Tuck's Take: Craig Bohl, Wyoming football is at a crossroads
* Behind the numbers: Wyoming vs. UNLV
* Wyoming's title hopes dashed in 34-14 loss at UNLV
* Turning point, unsung hero and what's next for UW football
* Live File: Wyoming Cowboys at UNLV Rebels
* 7220sports.com Kickoff Show: It's crunch time in the desert
In their last two outings -- wins over Nevada and Air Force -- the 'Bows have averaged 27 points per game. Schager has thrown for 379 yards and four touchdowns during this streak. He hasn't tossed a single interception.
That's a new revelation.
The 6-foot-3 junior signal caller from Dallas was picked off 12 times through the first nine games, including a pair of three-interception performances. The gunslinger is starting to limit mistakes and let his playmakers go to work.
McBride and Ashlock have snagged 30 balls for 260 yards and four touchdowns. Those scores all belong to Ashlock.
"Defensively, we have got to play for contested balls, because the ball is going to be up in the air," Bohl added. "We can do that a lot easier if it's 3rd-and-10, as opposed to 3rd-and-3. So, that means shutting down their running game."
Wyoming's pass defense ranks 44th in the country, allowing just 212.7 yards per game through the air. Surprisingly, it's been the run stoppers that have struggled this fall. The Cowboys are allowing opponents to rush for 165 yards an outing.
Getting to the quarterback has also been a struggle for this team (15 total sacks, 1.5 per game). The visitors haven't exactly kept Schager upright (35 total sacks, 3.18 per game).
Something has to give.
The Cowboys and Rainbow Warriors are slated to kickoff at noon Saturday inside War Memorial Stadium. The game will be exclusively broadcast on Hawaii Spectrum PPV.
* Head coach: Timmy Chang (2nd year) 7-17 overall record, 4-10 in MW play
* Offensive coordinator: Ian Shoemaker (2nd season) and Roman Sapulo (2nd season); Defensive coordinator: Jacob Yoro (7th season)
* Record in 2022: 3-10 overall, 2-6 in Mountain West Conference
* Offense in 2023: Average 22 ppg, 340 ypg (70.1 rush, 269.9 pass)
* Defense in 2023: Allow 32 ppg, 373.8 ypg (178.3 rush, 195.5 pass)
* Key Returners - Offense: Brayden Schager (QB - 277-438, 2,944 yds, 24 TD, 12 INT; 82 rush, -14 yds, 5 TD), Landon Sims (RB - 46 rush, 203 yds, TD; 10 catch, 61 yds), Jordan Johnson (RB - 34 rush, 198 yds), Steven McBride (WR - 52 catch, 839 yds, 8 TD), Pofele Ashlock (WR - 72 catch, 726 yds, 9 TD), Alex Perry (WR - 24 catch, 277 yds, 3 TD),
* Key Returners - Defense: Peter Manuma (DB - 78 tackles, PBU, 3 INT), Isaiah Tufaga (LB - 72 tackles, 2.5 sacks, 2 FF), Jalen Smith (LB - 53 tackles, 1.5 sacks, PBU, FF), Meki Pei (DB - 43 tackles, 0.5 sack, PBU, FR), Virdel Edwards (DB - 35 tackles, 8 PBU, FR, FF), Andrew Choi (DL - 34 tackles, 2 sacks)
* Overview: Hawaii is two wins away from bowl eligibility after Stunning frontrunning Air Force 27-13 last Saturday in Honolulu. That's pretty remarkable considering the 'Bows started the season 2-7, most losses coming by double digits. How have they turned it around? Simple. The defense has forced six turnovers in the last two games and held its opponent to just over 13 points per game. On offense, they aren't handing out any more freebies. How bad was it? Despite being a plus-6 over the last two weeks, Hawaii is still minus-10 in turnover margin. Schager has been picked off a dozen times and has thrown at least one interception in seven games this fall. That won't get it done. The visitors are finally starting to figure it out, though, getting the ball into the hands of outside playmakers like McBride and Ashlock. If you read above, that dup is on an absolute tear and has made life miserable on the back end. Jakorey Hawkins, Kolbey Taylor, Tyrecus Davis, Wrook Brown and even freshman Ian Bell, will all have their hands full, attempting to slow down a run-and-shoot attack that deploys at least four receivers at all times. Wyoming gave up 232 yards through the air in last Friday's 34-14 setback at UNLV. Ricky White was responsible for 144 of those. Schager has been sacked 35 times in 2023. The Cowboys have to take advantage, something they haven't done all season long. DeVonne Harris leads the team with just three QB takedowns.
* Thoughts on Hawaii: "Moving on to this next week, the Hawaii Rainbows -- we've had some battles with them. Coach Chang is a hometown Honolulu guy. I think he went to St. Louis High School. You know, he's a disciple of June Jones and it's great to see him lead that program. They've instituted, installed the run and shoot to the truest form. Schager is, I think, an excellent quarterback. His numbers speak for themselves. He's got one of the top arms in the country ... They're on a two-game winning streak and they beat Air Force. So, like I said, a lot of parity in this league. A lot of people are scrambling around. We're trying to do everything we can to get to 1-0. We've got a big battle at hand and we're excited about playing at home." -- Wyoming head coach Craig Bohl
University of Wyoming's Top 50 Football Players
The rules are simple: What was the player's impact while in Laramie? That means NFL stats, draft status or any other accolade earned outside of UW is irrelevant when it comes to this list.
This isn't a one-man job. This task called for a panel of experts. Joining 7220's Cody Tucker are Robert Gagliardi, Jared Newland, Ryan Thorburn, and Kevin McKinney.
We all compiled our own list of 50 and let computer averages do the work. Think BCS -- only we hope this catalog is fairer.
Don't agree with a selection? Feel free to sound off on our Twitter:
@7220sports
- #Top50UWFB
Gallery Credit: 7220Sports.com
- University of Wyoming's Top 50 Football Players