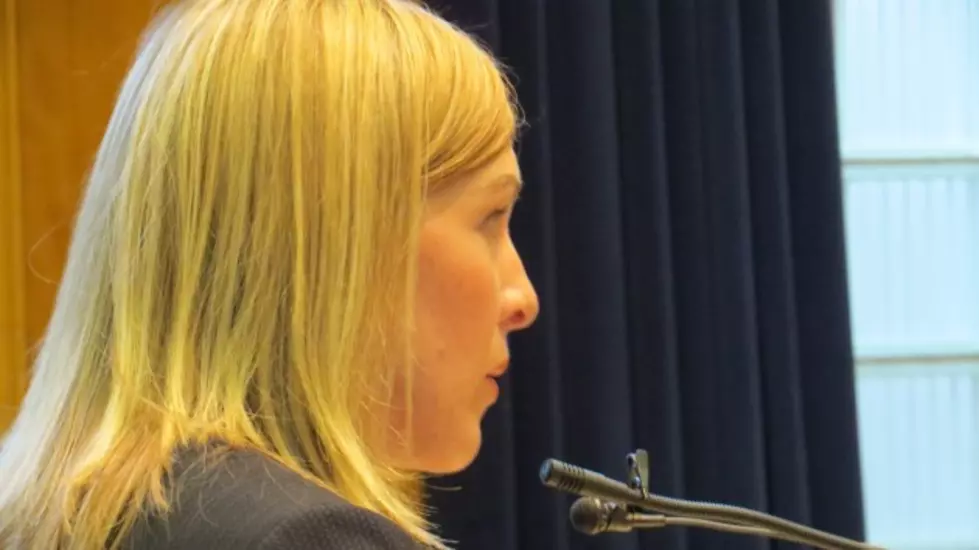 Commissioners Approve AT&T Cell Tower Over Neighbors' Opposition
Kristin Larson of the Busch Law Firm of Seattle represents AT&T in the company's request to the Natrona County Commission on Tuesday for a conditional use permit for a cell tower north of Casper.
Tom Morton, Townsquare Media
Despite angry protests, the Natrona County Commission on Tuesday approved AT&T's conditional use permit request to install a 134-foot-tall cell tower in the Homa Hills subdivision north of Casper.
AT&T representatives told commissioners during a public hearing that the company needs the tower to fill a gap in reception along Interstate 25 near Ormsby Road, and that landowner Glen Bray Sr., is willing to lease them the land.
Cheryl Riley, AT&T's director of external affairs in Cheyenne, said the company changed its original petition by moving the proposed tower away from a pipeline. Company representatives also held two community meetings with neighbors in April, she said.
Seattle lawyer Kristen Larson represented AT&T and told commissioners the proposal met all the criteria required by the county's Planning and Zoning Commission, which previously approved the conditional use permit request.
AT&T would be locating the tower in the least intrusive site available, and it had no other alternative, Larson added.
But AT&T's offer was one that dozens of Homa Hills residents wanted to refuse.
Gareth West said he lives on West Ormsby Road, and Bray doesn't.
""That property is out my front door," West said. "I don't want to have something obstructing my view."
George Tillman, a member of the Planning and Zoning Commission who opposed the project, said AT&T will lose customers if this goes through. "No one has told me they want this."
Commissioner Rob Hendry told Riley and Larson that they should be able to find another location for the tower.
Commissioner Matt Keating favored AT&T's request and told Riley and Larson they met all the requirements for the permit, and that the county will be safer with the tower's capabilities.
Hendry and Terry Wingerter voted against it. Keating and Forrest Chadwick favored it. Commission Chairman Bill McDowell broke the tie in favor.
After the meeting, Riley said she didn't know when construction would begin, but that it was necessary. "We have a responsibility to provide coverage to our customers and we only want to put up infrastructure when we absolutely have to."