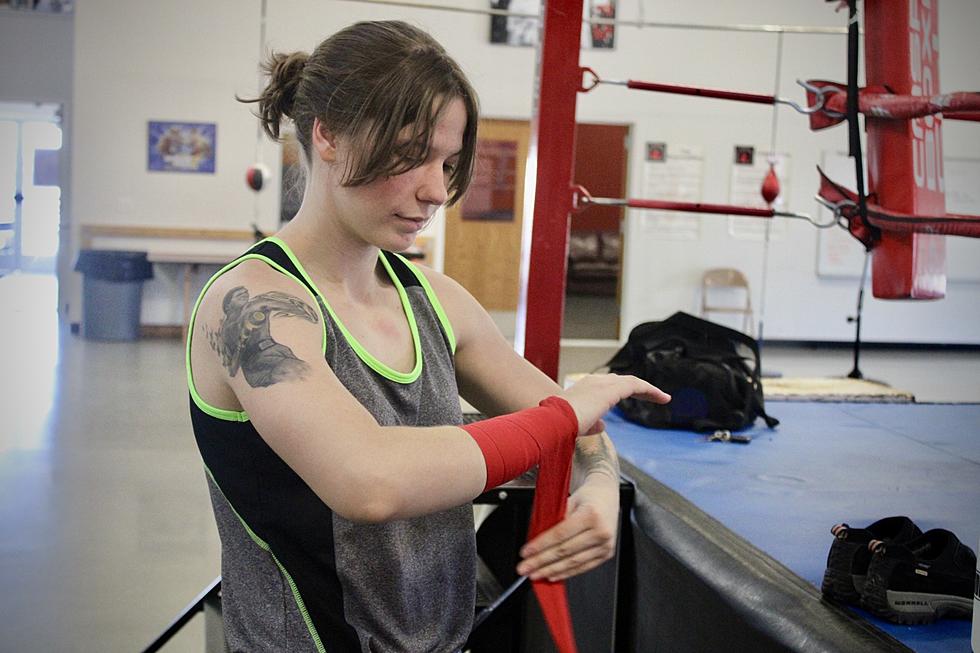 19-Year Old Casper Boxer Will Take a Crack at Fighting for Team U.S.A. in the Olympics
Paige Gilbert prepares for speed sparring; photo by Kolby Fedore, TSM
It is hard to believe Paige Gilbert has a mean bone in her body. Sitting across from me, she is all smiles and we jabber about our love for the Rocky series. The 19-year old admits she is a little nervous to fight in the Olympic boxing trials in December, but once she steps in the ring, she thinks of one thing: winning.
"I have to be the meanest. I push hard" she explains.
Gilbert was born in Elizabethtown, Kentucky. Her family moved to Casper about 11 years ago and she started boxing soonafter. At first, she says she wasn't interested in boxing competitively. She was interested in the self-defense aspect, but two months in she had her first match and fell in love with the sport.
Finding other female fighters to compete against is not easy. Gilbert and her coach (her dad) go all over the country to make it happen.
She once traveled all the way to Kansas City for a match that ended in 33 seconds when Gilbert knocked out her opponent.
It's not cheap, either. The cost of traveling coupled with the gear adds up, and finding sponsors has been difficult. Gilbert says people aren't eager to sponsor a female boxer. Right now, she's earning the money to cover costs by splitting and stacking firewood. Many, many cords of firewood. Carrying logs is a whole different kind of workout. It takes grit, and that is what Gilbert believes sets her apart from competitors.
She is grateful for her sparring partner, Damarian Kelly -- a professional boxer out of Casper. "He doesn't hit back like a woman," she states. "He tries to push me to be better, but withought hurting me."
Before her brother left home and joined the Marines, they would spar. "You know how siblings are..." chuckled Gilbert before divulging that he once broke her nose on accident. But other than that, she's never been injured in the ring. She prays twice before going in. Her mother gets nervous, but Gilbert says staying calm is key. She tries to stay even-keeled, never getting too mad or too confident.
Earlier this month, Gilbert fought four days in a row at the Last Chance Qualifier in Pueblo, Coloardo. She took second place in the 132 lb. elite female division to earn a spot at the Olympic trials.
Now she has three months of training before testing her luck against women who are older and bigger. Gilbert's dad says she is trying to build as much muscle as possible because right now she's at the bottom of the bracket.
Currently she is training five days a week, but will ramp it up to six in the coming month.
Gilbert is feeling confident after her performance in Colorado. She used to doubt herself sometimes when she was younge but has become much more comfortable in the ring.
Five years from now, Gilbert predicts she will be fighting professionally. That or bare-knuckle boxing.
"I want to make money!"
Muhammad Ali's Michigan Estate
Girls State Wrestling Tournament-Championship Round
Girls State Wrestling Tournament-Championship Round
Gallery Credit: Frank Gambino