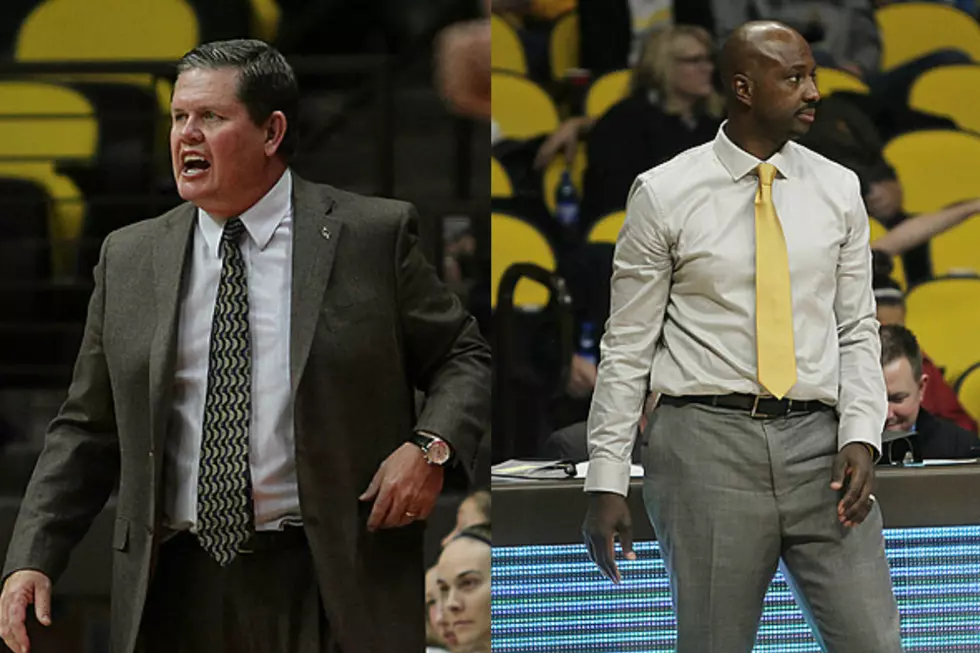 Wyoming Faces Big Challenges in Nevada
Seneca Riggins, Townsquare Media
A big night of conference action is ahead for Wyoming basketball, as both teams face the Nevada Wolfpack.
The Cowgirls host the Wolfpack at 6:30 p.m. in the Arena-Auditorium. The Cowboys are in Reno to face Nevada at 8:30 p.m.
Wyoming Cowgirls
Wyoming (7-5, 0-1) hasn't played since last Thursday's conference-opening loss at San Diego State.
Head coach Joe Legerski said Tuesday that anytime you can get on the practice floor to work on yourself is beneficial.
Legerski said their focus has been on improving offensively. He says they have to better at scoring.
"We're getting good looks at the basket. We're just not converting enough shots, and that's one of the concerns I have going in… It's a problem we've looked at and addressed, but sometimes shooting comes and goes from game-to-game. Hopefully we can get it turned around quicker than later or else we're going to be on the short end of the scoreboard more times than not."
Nevada (8-5, 1-1) enters off a road loss at New Mexico last Saturday in Mountain West action. They have a balanced attack of seven players that average between seven and 14 points per game. Senior Teige Zeller leads the way at 13.9 points and 7.7 rebounds per game.
Legerski says the Wolfpack's improvement stems from veteran players. They have size and rebound very well.
The Cowgirls won last year's game in Reno, 72-59. UW has won four of the last five and 11 of 13 in the series. They hold a 15-6 record versus Nevada all-time.
Wyoming Cowboys
Tonight's game for the Pokes means a date with the preseason league favorite on their floor. It's a match-up between two of the MW's three undefeated teams in conference action.
Wyoming (10-4, 1-0) comes off a 13-point win over San Diego State at home last Wednesday.
Head coach Allen Edwards said the week off was good for them to continue to compete in practice, but had a nice balance with the right amount of rest.
Edwards believes that on-the-ball defense will be key to a positive outcome.
"This game comes back to personnel-based. A lot of times you go in and say principles within the structure of your defense, but I think with these guys it has to be more personnel-based. Everybody on the team has to understand what each guy on their team strengths and weaknesses are… Just taking it personal, one-on-one, like you guard your guy. Don't worry about the help, you guard your guy makes everything else easier."
Nevada (13-3, 2-0) was the preseason pick to win the MW. They have wins over Fresno State and New Mexico thus far. The victory over the Lobos was only three in Reno last Saturday.
Edwards also said he thinks this will be a good game. He likes the match-up with what they do versus what the Wolfpack does. He says one key will be trying to get into Nevada's bench. Another Edwards said is attacking and shot selection.
Wyoming leads the series 13-5 all-time, but the Wolfpack has won three straight, which includes last year's 74-59 victory in Laramie over the Cowboys.