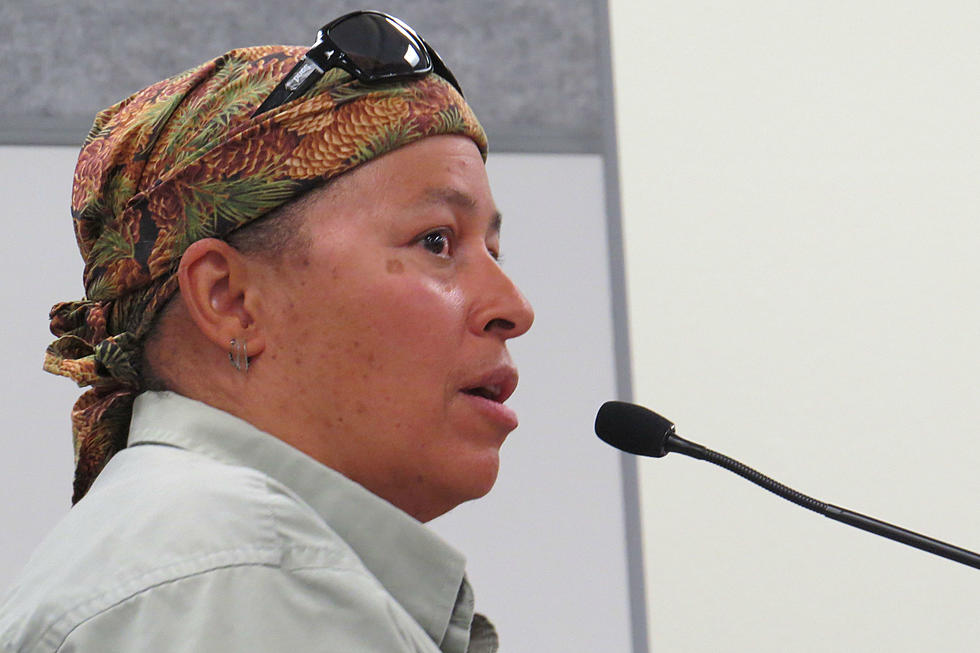 Parents, Students Voice Support For Charter School
Teresa Johnson, a supporter of a proposed charter school, spoke to the Natrona County School District's board of trustees Aug. 27, 2015. Tom Morton, Townsquare Media
The proposed Guild Charter School would offer Briar Kisiel-Johnson challenges to learn that he and other students cannot otherwise receive in the Natrona County School District, his mother said Monday.
"I want to see an education for these students that's comparable to an education anywhere else in the world, because when they grow up and they go to college, they're going to be competing with children from all over the world," Teresa Johnson said. "This is now a global economy."
Johnson told the district's board of trustees she pulled Briar from the school system for an online education program because he was bored and fell one point short of the 130 IQ level to qualify for the district's gifted and talented program.
"They could not accommodate his needs," she said. "He did not fit inside the box."
Johnson was among the parents, students, teachers and others who supported the charter school during a nearly hour-and-a-half formal hearing. No one disagreed with the idea.
According to The Guild Charter School's website,  charter schools are tuition-free public schools that are innovative and self-governing, but still accountable to the same standards as other public schools.
The Guild school will offer a Kindergarten through 8th grade program open to all Natrona County students, with the intent adding 9th through 12th grades. It intends to open Fall 2016, but it needs to find a building. It already has about 150 students interested in the program. Students will be tested before they enter so parents and teachers can determine their needs for an individualized learning plan.
Charter School co-founder Wendy McGregor said the school will not diminish any of the work at the district's other schools.
The school will offer a four-day school week with classes limited to 16 students, McGregor said. The curriculum would include the Singapore math program, problem-based learning, and hands-on programs such as gardening and mentoring of younger students by older ones.
Amber Christianson, a school board member, parent and potential teacher said the program also will do more to encourage students who may have difficulties in more traditional educational settings. "We want children to be focused on their strengths and not their weaknesses," she said.
Starting a charter school in Wyoming takes more than people wanting it and the district agreeing.
"According to the statutes, there must be a public hearing held with regard to the charter school application," the board's attorney Kathleen Dixon said later.
The application is a nearly 8-inch thick binder that the trustees must study.
"So what you saw this evening was the first of three hearings," Dixon said. "This is classified as the public hearing. It's the public's opportunity to comment."
The public may comment to the board, she added.
The meeting was moderated by Casper attorney Keith Nachbar in order for the board to present a neutral stance, she said.
The next meetings will be overseen by board Chairman Dave Applegate, and will like Monday's meeting have a court reporter to take a full record of the proceedings.