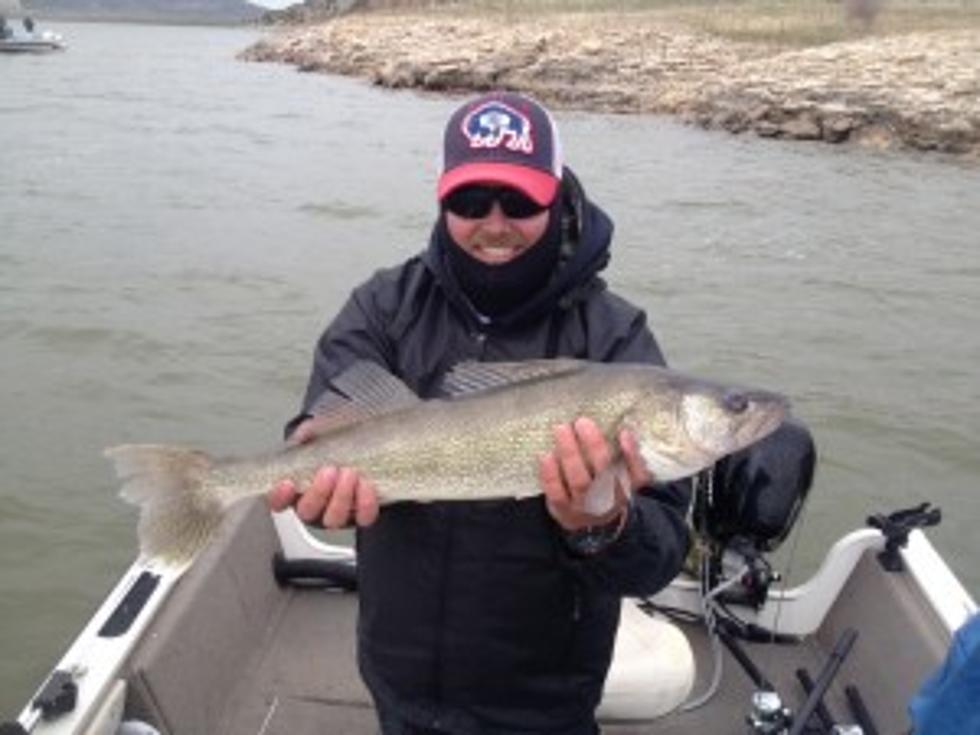 Wyoming Walleye Stampede – Glendo Results May 16th-17th [PHOTOS]
I have had a fishing bug to catch walleye, since my friend Cody took me out to Alcova and gave me a lesson on how to catch a walleye or two.  Two short years later, I'm addicted to walleye fishing and over the past weekend, I got the chance to participate in my first 2-day walleye fishing tournament and the experience I had was out of this world!!
The Wyoming Walleye Stampede is a tournament series run by fishermen for fishermen and fisher-women.  Last weekend, the WWS held their first tournament of the year at Glendo Reservoir where 109 teams competed to take home bragging rights as well as the $10,000 prize for the winning team. (See the complete Final Results listed below)
Saturday turned out to be a beautiful day on the water and there were lots of big fish caught and at the end of the day, my teammate Jimmy and I were near the top of the leaderboard and had really high hopes for improving our position on Sunday.  However the weather and our fishing luck changed on day 2 as we fell down the board and failed to catch any keeper walleye.
This was a great experience for me as I learned a lot about fishing for walleye over the 2 days as well as about myself and my equipment.  Even though I was a little disappointed with our finishing position, this was a great opportunity to hang out with like minded individuals who love walleye fishing.  We enjoyed a lot of laughs as well as some good hearted ribbing and I made a lot of new friends.  I for one, cannot wait to compete in the next WWS tournament event scheduled at Glendo on June 6th and 7th.
There are those in Wyoming and elsewhere that think tournaments harm or remove the fish in our precious waterways, but the reality is that these "LIVE RELEASE" tournaments help provide a lot of statistical data on details on the health of our fish populations on our Wyoming Lakes.  The WWS provides tournament results to the Wyoming Game and Fish for statistical analysis to help better manage our fish populations.
Here are a few fun facts from this weekend:
109 Teams (218 anglers)
There were 847 fish caught and released
Only 2 dead fish that were harvested
2,250 total pounds fish caught and released
Boats used at the tournament: 49 Ranger boats / 28 Lund boats / 9 Crestliners / 4 Trackers and 3 Allumacrafts
Here are a few photos of some of the big fish from this weekend, courtesy of the Wyoming Walleye Stampede, be sure to follow them on Facebook for more pictures and info.
Here are the official results from this weekend. (Note: My team finished in 72nd place)