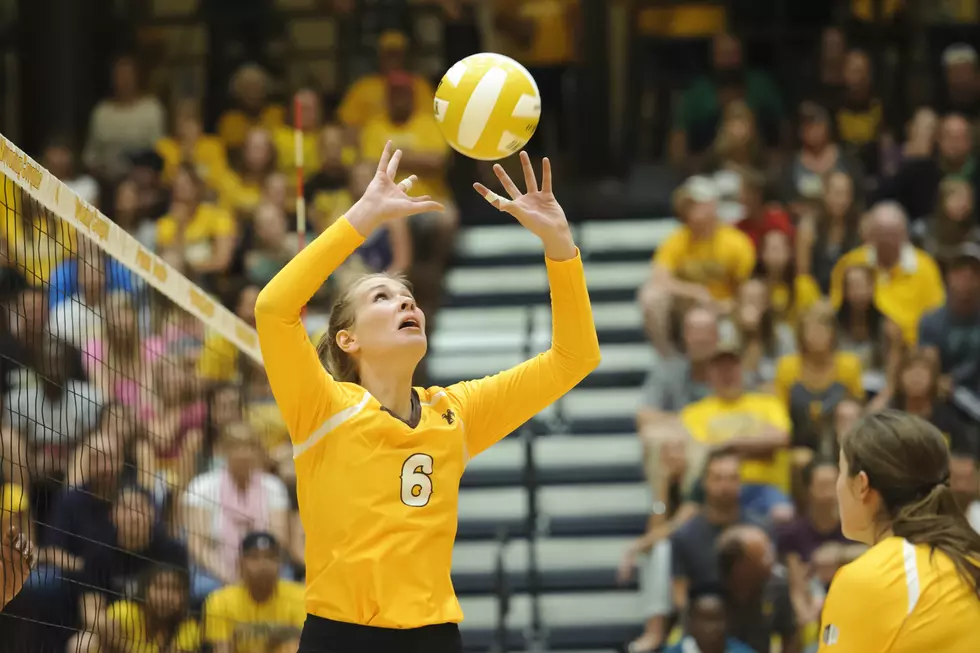 Wyoming Cowgirl Volleyball Reveals 2018 Schedule
Courtesy: UW Photo Service
Visits from two PAC-12 opponents and matches against seven teams that were in the post-season last year highlight the 2018 Wyoming Cowgirls volleyball schedule.
Next season's slate was released Wednesday and includes 15 matches in the UniWyo Sports Complex. Nine of those are Mountain West games. The Cowgirls will host two non-conference tournaments. The Rumble in the Rockies (Aug. 24-25) opens the season, and two weeks later, UW will hold the UniWyo Invite (Sept. 7-8).
The four NCAA tournament foes are Colorado (PAC-12), LIU-Brooklyn (Northeast Conference), Iowa State (Big 12) and Colorado State. In addition, Oral Roberts (Sun Belt), Syracuse (ACC) and Boise State took part in the NIVC (National Invitational Volleyball Championship) tournament last year.
The Buffs, North Florida and Oral Roberts are part of the Rumble in the Rockies tourney. Arizona State (PAC-12), Binghamton and Murray State will be in the UniWyo Invite.
The Cowgirls will play in two tournaments on the road. The Portland Tournament in Oregon features LIU-Brooklyn, Portland and Montana State Aug. 31-Sept. 1. Two weeks later is the Iowa State Tournament in Ames, where Wyoming faces the Cyclones, the Orange and Iowa Hawkeyes.
Three of UW's first four matches in the MW are on the road. League play begins Sept. 20 at San Jose State. The Cowgirls also have a four-match home-stand and a stretch of four straight on the road in conference.
Most MW matches are Thursdays and Saturdays with the exception of the two "Border Wars" against rival Colorado State. Those are on Tuesday, Oct. 2 (Laramie) and Tuesday, Oct. 30 (Fort Collins).
Wyoming concludes league play at home against New Mexico Nov. 15 and UNLV Nov. 17. The Cowgirls one-time opponents are at San Jose State and home to Nevada (Sept. 22) to begin MW action.
UW returns nine letterwinners from last year's 17-14 team that lost in the first round of the NIVC Tournament. Junior Tara Traphagan and sophomore Jackie McBride were All-MW selections, while sophomore Marissa Harmon was the MW Freshman of the Year last season. Head coach Chad Callihan returns for his sixth season.