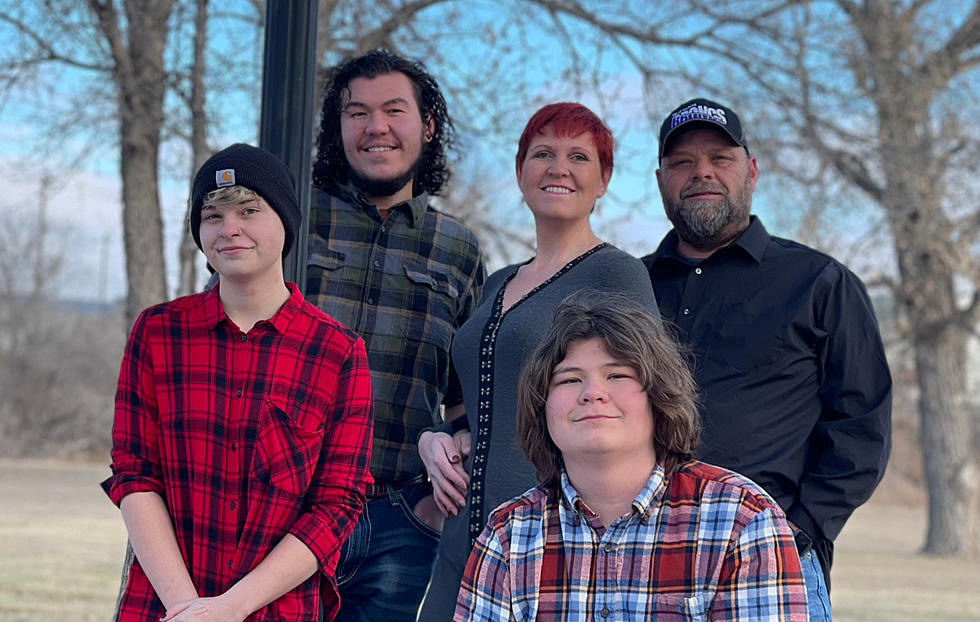 They Began Building Their Wyoming Dream House Together; Then, He Died
Photo via Lynn Hanzlik
He was never the plan. And she knew he'd be trouble from the minute she saw him.
Lynn Hanzlik met her husband, Curt, while she was in nursing school. He was the brother-in-law of her best friend and it may not have been love at first sight for her, but it certainly was for him.
Hanzlik was a single mom, putting herself through school. She had her son, and her classes, and her work and the last thing she needed was a whirlwind romance.
"I remember leaving class," Hanzlik told K2 Radio News. "And [my friend's] husband pulled up in this little white Ford Ranger and sitting in the passenger seat was this other burly, hairy man. And I looked at my friend and I said 'Oh, no. That's one's trouble. No. Not even. No.'"
Hanzlik said her friend introduced the two of them and she kept running from the potential romance. She'd been hurt before and, as the saying goes, she was a strong, independent woman. She really didn't need a man. But it was never about need. It was about want.
Hanzlik said that her plan was to finish school and take care of her son, Nicholas. That was the goal. That was the plan.
But plans change.
Curt never gave up his pursuit. For three years, all three years of Hanzlik's schooling, he pursued her. He would show up at the best friend's house simply because he knew Hanzlik would be there.
Eventually, Hanzlik said, she gave in. Once she graduated from the University of South Dakota, she finally said she'd go on one date with Curt. She'd give him one chance.
It was all he needed.
"That's all it took," she laughed. "We dated for quite a short period of time, and then we were engaged for about three months and I said 'Yep, this is it. This is the one.' So we were married on September 25, 2004 and then we had our honeymoon baby, Chloe, nine months later."
Going from a 'No' to a 'Let's get married' is quite the dramatic switch but, Hanzlik said, he didn't give her a choice.
"I think it was his pursuit," she said. "He had not given up. There was no quit in him. He was just like, 'You are my everything.' He always called me his queen, and he treated me like a queen."
It's one of those stories that sounds like a fairy tale. It was a story of boy meets girl and it should have ended with happily-ever-after. But, life is no fairy tale and sometimes the ending we have in mind is not the one that we actually get.
For 17 years, Lynn and Curt got to live their fairy tale, though. They got to go on dates, and raise a family, and dance in the kitchen. They got to play practical jokes on each other and they got stay up until the early morning hours, talking and laughing and falling deeper and deeper in love.
For 17 years, they lived in South Dakota. She was a nurse. He was a handyman. They had one more child together, Curt Jr., and then they decided they wanted a new adventure.
Hanzlik had grown up on a ranch in Sundance, Wyoming. And together, the two decided that they wanted to move back to Sundance and build a house on her family's ranch.
Hanzlik found a nursing position open at the Crook County Medical Services District, in Sundance, Wyoming. She spoke with the CEO there and it felt like a perfect fit. She just had to tell her husband.
"I came home from work and I sat down and Curt looked at me and said, 'I've got some news,'" Hanzlik remembered. "And I said, 'I've got some news too. I'm going first.' And I said 'I pretty much have a job in Sundance. What do you think about moving?' And he said, 'I had a cash offer on the house. What do you think about moving?'"
And so, on April 1, 2021, the two decided that they were going to move to Sundance, they were going to live in RVs, and they were going to build their dream house. Most importantly, they were going to do it together.
But plans change.
The two spoke with Hanzlik's parents and they said it was okay to build the house on their land. They outlined the plans on graph paper, and they got to work.
"He knew building," Hanzlik said of her husband. "I mean, it was his life. So he said, 'Okay, we're gonna go to Menards and we're gonna get a pole barn kit.' He enlisted the help of our local Amish to help him set poles and get the start of it going. And he pretty much built the whole structure."
Hanzlik said they tinned the house, enclosed it, put up all the windows and doors, spray foamed it, and more. Curt framed almost the entire house and Hanzlik and their kiddos helped when they could; after work and school, or on the weekends. It was something to do as a family.
That was during the spring and summer of 2021 - it was the perfect time to be outside, to be under the sun, to be building something.  But after a few months, the sun started setting earlier and the night started coming faster. It got cold.
Winter was coming and there was nothing they could do about it.
"There's a weekend that I remember when we were putting up walls, and he goes, 'I'm just really tired. I'm super tired,'" Hanzlik remembered. "He was a smoker and wasn't super healthy with his cholesterol. Us nurses, we like to fix things. So I constantly barked on him about his eating habits, but guys are guys..."
They rested through November, knowing that their house would still be standing come spring.
But then, on the morning of December 5, everything changed.
"He woke up that morning and said he didn't feel good," Hanzlik said. "He vomited. And within 15 minutes, he was face down on my camper floor. He passed away in front of me. And he was like, 250 pounds. He was a big guy, and I'm not that big. So I couldn't roll him over. As a nurse, you think 'I'm gonna fix it. I'm gonna stop it. I can do something.'
"And sometimes you just cant. You can't fix everything."
Hanzlik immediately called 9-1-1 but there was nothing they could do.
"There was no autopsy, but we're pretty sure it was a massive heart attack or what we call an abdominal aortic aneurysm, because he went so fast," she said. "The ambulance had gotten there and they had turned him over and started CPR, but there was nothing."
Luckily, Hanzlik said, their two younger children were not at home. But Hanzlik called her oldest son, Nic, and he came right over.
"You're in shock," she said. "In your mind, you go, 'He's gone and he's not coming back.' And then you start thinking about, 'What am I going to do? I'm not prepared for this. This was not supposed to happen to me.' Your life partner leaves you and you have all these hopes and dreams and it's really hard."
Hanzlik said that Nic was her rock during that period. Eventually, they called the younger two kids and explained what had happened. They also called Curt's other daughters from a previous marriage.
"It's such a shocking experience," she shared. "You just don't believe it. And even though it happened right in front of me, I still don't believe it. You think they're gonna walk into that door and give you a hug and a kiss and say 'How was your day?'"
When somebody you love dies, the world stops. For a long time, nothing else matters - not work, not friendships, not anything. Some people fall into their grief, wrapping themselves in it like a blanket. Others try to be productive; they focus on the tasks at hand to keep themselves moving. Lynn Hanzlik fell somewhere in the middle. She knew she had to finish the house. It was their dream project, their biggest goal. And even though he was gone, she knew that she had to finish the house. So, the plan was to wipe her tears, take a deep breath, and finish it herself.
But plans change.
Sundance is a small town. It's picturesque, in a lot of ways. Like in the movies, everybody knows each other, everybody cares about each other and, when tragedy strikes, everybody helps each other.
Hanzlik works for Crook County Medical Services District and, much like the town itself, CCMSD is something of a family. So when Dr. Waddell, a physician with the clinic, heard about what happened, he got to work.
"I sent Dr. Waddell's wife a video of what we had accomplished so far, which was not a lot," Hanzlik said. "I had no plumbing. But I had walls And so Dr. Waddell came out and said, 'I know how to do plumbing stuff. I'll help teach you stuff, too."
Hanzlik said that her husband had already laid the groundwork; he'd bought all of the supplies. It was all ready to be put together, even down to the sheet rock waiting to go up on the walls. It was almost, almost, like Curt had prepared everything for them. Just in case.
"So Dr. Waddell came out, he climbed into my rafters, and he started putting pecks together and teaching us how to put pecks together," she said. "We had the plans laid out about exactly how everything was supposed to go. And he helped a lot. We got plumbing put in and we started putting up sheet rock at night and screwing it in, and then just started mudding and taping."
Dr. Waddell was not the only person to offer his assistance to the Hanzlik family.
"We had some other friends that would come out and help us, too," Hanzlik said. "An amazing woman named Pam Jensen helped me out so much. She was retired, and she would show up at my house and mud and tape while I was at work. I would come home at night and she would have the walls filled in, and she'd just motivate me."
It's hard when somebody dies; nobody really knows what to say. Well-wishers want to say they're sorry for the loss, but nothing ever actually feels comforting. Jensen knew that, so she didn't talk much.
"She was just calm and helpful," Hanzlik said. "She wouldn't tell me what needed to be done, she would just ask 'Is it okay if I do this?' Or 'Can I just show up and do things?' And over even just a few weeks of working together, it's been a wonderful friendship that we've made."
Coworkers and neighbors helped as much as they could to get the house done. But Lynn's biggest helpers were, unsurprisingly, her children.
"It was a good distraction and something that we knew we needed to do," Hanzlik said. "My son CJ said 'Mom, dad showed me how to do all this stuff. I know how to do this.' And I'm like, 'Well, he showed me how to do stuff too!' You wouldn't expect a nurse and some teenagers to know how to put up sheetrock or to have the equipment. But I do."
She continued, stating that "It was a good bonding experience with me and the kids. A little butting of heads at times because we all get cranky and tired. But we were always together in the house, working on something."
They worked through the winter, the spring, another summer, and more. The house isn't quite finished yet, but it's close. It even withstood what could have been another tragedy.
On July 31, 2022, the National Wildlife Coordinating Group reported that a wildfire had started near Sundance and it prompted evacuations.
"The Fish Fire was reported on Sunday, July 31 at 11:30 a.m," the NWCG wrote. "The fire is located 7 miles south of Sundance, Wyoming and east of Wyoming Highway 585. It is on the Bearlodge Ranger District, Black Hills National Forest in steep, rugged terrain on Iron Mountain. The fire started on private land and was human caused."
Hanzlik said that she and her kids had to evacuate the area.
"We ended up putting everything we owned in our campers to pull away, and we had to leave this house behind that we had worked so hard on," Hanzlik reflected. "And the last thing I said to the Forest Service guy was 'Please, out of anything, just save the building. Save the house.'"
Luckily, they didn't need to. The fire did spread, but it didn't reach their house. It was eventually put out by firefighters and tragedy was averted.
"We had no idea, from the time we left until two days later when we actually got back to the property, if we even had our house left," she shared. "So I bawled my eyes out when I saw it. Once we finally got back and started moving beds in I said, 'We're done. I don't care. We're never leaving this place again.' And the kids agreed."
So, they haven't. They're putting the finishing touches on the house now; those little things that turn a house into a home. This was a dream project for Lynn and Curt, and it turned into a dream project for Lynn, her children, her coworkers, her neighbors and, really, the entire community.
"I couldn't have done anything without any of them," Hanzlik said. "I love them all dearly, and I just can't thank them enough. When you go through a tragedy, unless someone else has been through something like that, it's hard to offer comfort. But there are no words that can truly say how much appreciation I have for how much help everyone has given."
Maybe Lynn Hanzlik didn't get the exact ending to her happily-ever-after that she wanted. She misses Curt, every single day. But she still sees him - in CJ's eyes or in Chloe's smile or in Nic's sense of humor.
She still sees him. She still hears him. And, in those early evening hours when the sun is setting just past the horizon and she steps out of her front door to take the whole scene in - the house, and her children inside of it - sometimes she can even feel him, as though he were standing right next to her.
She allows herself to feel that, to feel him, as he puts his arm around her shoulder, pulls her in close and says 'Boy, isn't it purdy out here?'
To hear K2 Radio News' with Lynn Hanzlik for Report to Wyoming, visit our On Demand link here.
Photos of the family, and their house, can be seen below:
They Began Building Their Wyoming Dream House Together; Then, He Died
Lynn Hanzlik and her husband, Kurt, began building their dream house on a ranch in Sundance, Wyoming. He died suddenly, so her neighbors, boss, and children stepped in to help her finish building it.