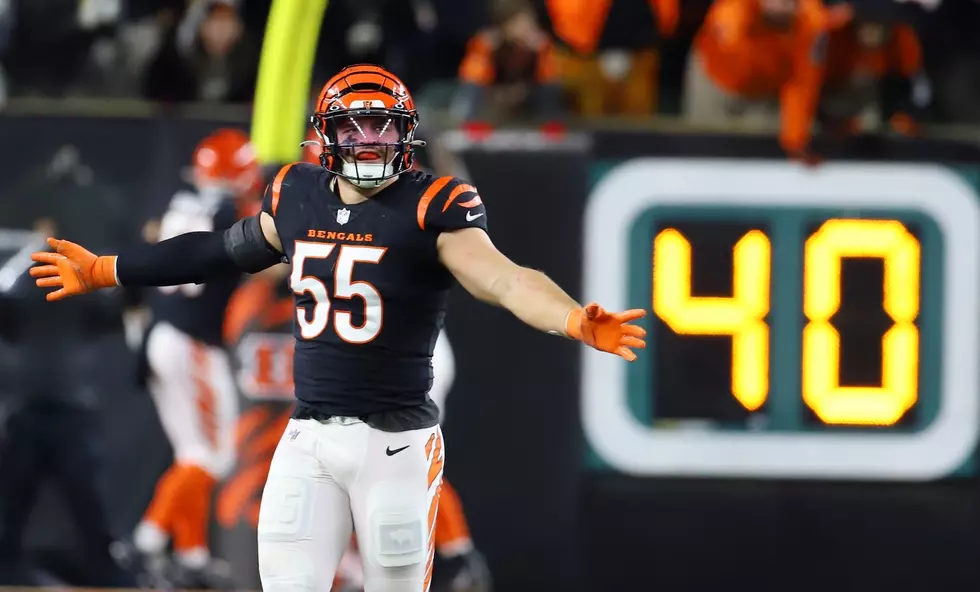 Cowboys in the NFL: Wildcard Round
CINCINNATI, OH - JANUARY 15: Cincinnati Bengals linebacker Logan Wilson (55) celebrates in an AFC Wild Card Playoff game between the Baltimore Ravens and the Cincinnati Bengals on January 15, 2023, at Paycor Stadium in Cincinnati, OH. (Photo by Jeff Moreland/Icon Sportswire via Getty Images)
LARAMIE -- Logan Wilson said he knew what was coming.
Based on the Ravens' formation, and with the visitors perched on the 1-yard line, facing a third-and-goal with less than 12 minutes to go in regulation, Cincinnati's middle linebacker set his sights on Tyler Huntley.
Right on cue, Baltimore's quarterback stepped under center, took the snap and attempted to go up and over with the QB sneak, extending the ball over the goal line.
That didn't happen.
Wilson, the third-year linebacker from Wyoming, met Huntley at the white stripe, violently swatting away the attempt with both hands. What happened next is already being called the biggest play in Bengals playoff history.
Sam Hubbard raced 98 yards for the go-ahead game-winning touchdown, whipping a record crowd of 66,399 inside Paycor Stadium into a frenzy.
"I knew there was space," Wilson told Bengals.com postgame. "I don't remember exactly what yard line he was on -- it was at least a yard-and-a-half to the goal line -- so I knew I had some time before he reached across the goal line and I just jumped up and made a play and punched the ball out and Sam was able to go to the house."
Cincinnati escaped with the 24-17 victory and will travel to Buffalo next Sunday for a showdown with Josh Allen and the Bills in the Divisional Round. Wilson, who finished with a team-high 10 tackles against the Ravens, will face his former college teammate with a trip to the AFC Championship game on the line.
Kickoff is scheduled for 1 p.m. Mountain Time and the game will be televised on CBS.
Here's how the other Pokes in the playoffs performed this weekend:
Josh Allen - Quarterback - Buffalo Bills
It wasn't exactly a masterpiece, but Josh Allen found a way. The former Wyoming signal caller completed 23-of-39 passes for 352 yards and three touchdowns in Sunday's 34-31 victory over Miami. That's the good news. The bad? Allen was sacked seven times on the day, one of which resulted in a scoop and score that gave the visiting Dolphins 24-20 lead in the third quarter. The fifth-year pro also tossed a pair of interceptions in the win.
Chad Muma- Linebacker - Jacksonville Jaguars
Andrew Wingard - Safety - Jacksonville Jaguars
Just when it looked like this black-and-teal fairytale was coming to a crashing halt, the youngsters from Duval got off the mat. Trevor Lawrence, who tossed four first-half interceptions and watched the Chargers lead swell to 27-0, answered with four touchdown passes in the second frame, leading the third biggest comeback in playoff history. Riley Patterson drilled a 36-yard field goal as time expired to lift Jacksonville to an improbable 31-30 win, sending the Jags to the AFC Divisional round and a meeting with the Chiefs Saturday inside Arrowhead Stadium. Chad Muma, the rookie middle linebacker from Wyoming, tallied just three tackles in the victory. Former UW safety Andrew Wingard didn't register any stats.
Tashaun Gipson -- Safety - San Francisco 49ers
This former Wyoming safety tallied three tackles, including one for loss in San Francisco's 41-23 rout of the visiting Seahawks Saturday afternoon inside a rainy Levi's Stadium. Tashaun Gipson, who's in his 11th year in the NFL, barely made the Niners' practice squad out of training camp. Now, the Dallas native is fully entrenched in one of the best secondaries in the NFL. Gipson has 61 tackles and five interceptions to his credit this season, his first in the Bay Area.
MORE UW FOOTBALL NEWS VIA 7220SPORTS:
* Wyoming's Logan Wilson has Bengals fans crooning in his honor
* Former Wyoming QB has NFL's top-selling jersey in 2022
* Titus Swen accepts invite to NFLPA Collegiate Bowl in LA
* Explosive, physical edge rusher heading to Laramie
* Marcus Epps - Safety - Philadelphia Eagles: Philly has the No. 1 seed and doesn't open its playoff run until next Saturday when the division-rival New York Giants pay a visit to Lincoln Financial Field.
* Tanner Gentry - Wide receiver - Buffalo Bills: Currently on the team's practice squad.
* Jacob Hollister - Tight end - Seattle Seahawks: Currently on the team's practice squad.
University of Wyoming's Top 50 Football Players
The rules are simple: What was the player's impact while in Laramie? That means NFL stats, draft status or any other accolade earned outside of UW is irrelevant when it comes to this list.
This isn't a one-man job. This task called for a panel of experts. Joining 7220's Cody Tucker are Robert Gagliardi, Jared Newland, Ryan Thorburn, and Kevin McKinney.
We all compiled our own list of 50 and let computer averages do the work. Think BCS -- only we hope this catalog is fairer.
Don't agree with a selection? Feel free to sound off on our Twitter:
@7220sports
- #Top50UWFB
- University of Wyoming's Top 50 Football Players